GemSelect Newsletter - Peach Gems; Ripe for the Picking
Exactly What is Peach?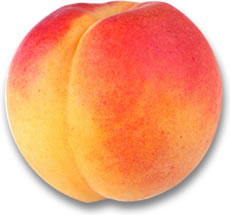 Peach Fruit Color
We often get a request for a peach gemstone that is not orange and not pink, but something between the two. The color "peach" is named after the skin color of the delicious eponymous fruit. However, therein lies some confusion, because if you take a close look at a peach fruit, you will see various hues; yellow, orange, pink, red and some in between. This means that some people's idea of peach color may differ from others'. Furthermore, when searching for peach gems, it is difficult to know how to filter by color, which means raking through pages of pink, yellow, golden and orange in order to find anything suitable. Therefore, we would like to offer a guide to peach colored gemstones, to save our customers from a fruitless search.
Like the skin of the fruit, some peach gems are pastel, some are more vivid and they vary in their blend of pink and yellow. The best peach colors have a good balance of pink and yellow. Let's take a look at the available options.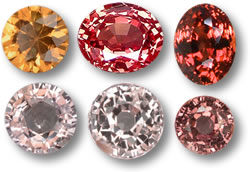 Peach Sapphire Gems
One of the most sought-after peach gemstones is padparadscha sapphire. This is a rare pinkish-orange sapphire named after the Sinhalese word for lotus flower. Due to the rarity of padparadscha sapphire, it comes at a high price, but many consider it a great investment gem. For those who cannot find or afford padparadscha sapphire, there are sapphires available in various colors between pink and orange. Color change sapphire also occurs in peachy hues, which may appear warmer under incandescent lighting. When it comes to brilliance, hardness and color, sapphire is hard to beat.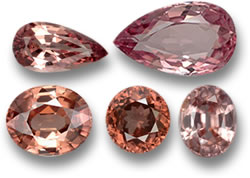 Peach Spinel (Top) and Zircon Gems (Bottom)
Another brilliant peach gem is spinel, which like sapphire, has many different colors, from blue to pink. Spinel gems can tend toward pinkish-gray or violet-pink, but perfect peach gems can also be found. Spinel gems can be on the small side, but they pack a mighty sparkle and like sapphire, they are suitable for lasting jewelry designs.
Zircon can be more yellow or brownish, but can also be found in some beautiful pale orange and pink hues. In fact, some of our new zircon gems have stunning peach colors with a great balance of pink and yellow. Such zircons were traditionally called "jacinth". Apart from its color, another benefit of zircon is its brilliance. Since zircon is a dense stone, it is a good idea to buy by size, rather than carat weight. Unlike sapphire and spinel, zircon gems are not suited for pronged ring settings in jewelry that will be worn daily, but are fine for bezels.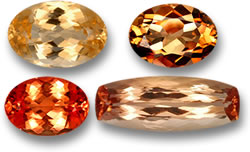 Imperial Topaz Gems
One of the most important and valuable peach gem types is imperial topaz. This combines great hardness and durability with a stunning blend of pink and golden hues. The exact color of imperial topaz used to be orange with red dichroism, but nowadays, the definition has widened to include yellow, pink, red and peach-pink topaz. Imperial topaz is not the most affordable gem, but its wonderful hard-to-find color and large sizes make it unique and worth investing in. Similar and more affordable golden apricot colored gems include citrine quartz, though these lack the pinkish tones of imperial topaz.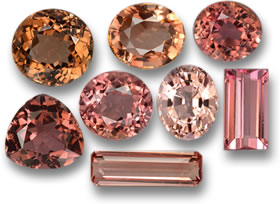 Peach Tourmaline Gems
An increasingly popular gemstone that is available in a whole array of colors, including pink, orange and peach is tourmaline. The choice of colors, shapes, sizes and cutting styles is phenomenal when it comes to tourmaline gems, with both pastel and highly-saturated color options. Tourmaline has it all, from orange and apricot to pinkish-orange and bicolored gems in which both orange and pink can be discerned. Indeed, those having trouble finding padparadscha sapphire may consider being open to tourmaline, which can be found in similar colors at a fraction of the cost.
Morganite, Malaya Garnet & Color Change Garnet
Back to Top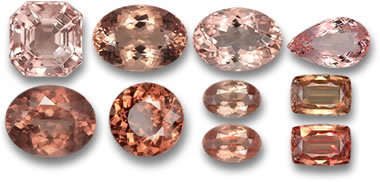 Morganite (Top), Malaya Garnet (Bottom Left) & Color Change Garnet (Bottom Right)
An extremely popular peach stone that is currently in high demand is morganite, which occurs in wonderful pastel peach, pink and salmon colors. The balance of pink and pale orange varies in morganite. Some prefer the pastel pink, while others are more partial to the pale apricot hues. Since it is a variety of beryl, morganite is sometimes referred to as "pink beryl" or even "pink emerald". It is one of the rarest forms of beryl, but unlike emerald, morganite is quite clean and more affordable.
Malaya garnet tends to be rose than peach, lacking the yellow balance, but peachy malaya garnet stones can be found. All garnet stones possess excellent durability. Color change garnet often occurs in beautiful pink and peach colors, which become warmer under incandescent light, so color change garnet may be peach or cool orange in daylight and then pinkish-peach in incandescent light.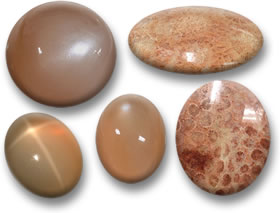 Peach Cabochons: Moonstone (Left) & Fossil Coral (Right)
Peach cabochon gemstones include moonstone and fossil coral. Moonstone varies between cream, orange and mocha, and may show asterism (the star effect) or a characteristic silvery sheen known as adularescence. Fossil coral has beautiful flower-like patterns, which are made by the fossilized remains of the coral, which over time were replaced by agate. This is why fossil coral is known as "agatized coral". The patterns vary according to the type of coral that the stones are formed from. Peachy fossil coral may be cream, beige, pink or often a multicolored combination of all of these hues.
Organic gems such as pearls (including conch pearls and melo pearls) occur in golden, pink and peach colors. These can have a silvery or golden secondary hue. Another organic gem that varies from cream to pink, peach and orange is coral. Coral has been used as a gemstone since ancient times and is popular with Native Americans and Tibetans, who traditionally make fabulous silver jewelry with coral and turquoise gems. Loose coral gems are often carved into interesting and unique gemstones in the shape of flowers and other natural objects.
Peach is a neutral color that suits every skin tone. Depending on the warmth or coolness of the particular stone, peach gems may be set into white metals, yellow gold or rose gold, which is particularly popular at the moment. Peach can be toned down by white metal or warmed up by yellow and rose gold. Those who intend to make a statement can pair peach gems with blue, aquamarine and turquoise colors for an extra pop of color. Since it is quite neutral, peach is very easy to wear. This may be why peach gems are so popular. The feelings inspired by peach colors include warmth, contentment and comfort. Therefore, when you wear peach, everything will be just "peachy".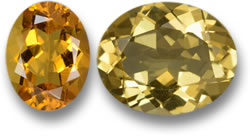 Golden Beryl (Heliodor) Gems
Golden beryl is one of the lesser-known members of the beryl family, which includes the more famous gemstones green emerald, pink morganite and pale blue aquamarine. This golden variety of beryl also goes by the name, "heliodor", which comes from the Greek meaning "gift from the sun". Looking at the gem, it is easy to see why, since it appears like a golden drop of sunshine. While golden beryl is a relative of emerald, it is much more affordable, yet just as beautiful in its own way. Golden beryl gems range from pale yellow to deep, golden hues. For those who love sunny gems, golden beryl comes highly recommended.
Spessartite Garnet Gems
Spessartite is a member of the garnet family and belongs to the same group as color-change and malaya garnet. It is orange to red-brown, ranging from golden yellow to mandarin orange and red-orange. Spessartite garnet's high refractive index and vitreous luster give it great brilliance. In fact, it has a higher refractive index than even sapphire, which is prized for its brilliance. Spessartite gems were rarely seen until deposits were found in Namibia, Mozambique and Nigeria in the 1990s. Now, spessartite is more readily available for those who love sparkly orange gemstones.
An "impossibly rare" violet diamond was discovered recently at the Western Australian Argyle Mine. The 2.83-carat, oval grayish-blue violet gemstone has been named "The Argyle Violet" and will be showcased at the 2016 Argyle Pink Diamonds Tender. It is expected that the uncommon find will achieve between $2.5 and $5 million US.
The highest ever price paid for a rough diamond was set at $63 million US early last month, when an 812.77-carat piece of rough called "The Constellation" from the Lucara Karowe Mine in Botswana was sold. An even larger piece of rough weighing 1,109 carats, known as the Lesedi la Rona is anticipated to achieve an even greater amount at Sotheby's at the end of the month.
Every month we answer questions of general interest from our customers. Please feel free to send your questions or suggestions to our support team at help@gemselect.com!
Question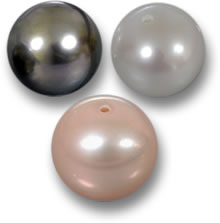 Undrilled, Half-Drilled and Fully-Drilled Pearls
I notice that you stock partially-drilled pearls, fully-drilled pearls and non-drilled pearls, but how can I tell the difference between these?
Answer
Yes, we have a variety of drilled, half-drilled and non-drilled
spherical gems
, including pearls. The pearls that are drilled all the way through are labeled "drilled sphere" in the "shape" detail field. Half-drilled (partially-drilled) pearls are labeled "half-drilled sphere" and undrilled pearls are described as "spherical", "near round", "drop" or "pear". If you would like to find only drilled gems, you can see these in our dedicated
drilled gems
page. We also have a page of
half-drilled pearls
and one of
undrilled pearls
. This makes it easier to find exactly what you are looking for, without having to check each description. Alternatively, you can use our "shape" search filters at the top of the page to find "half-drilled" and "drilled" pearls. Simply select the desired shape and click "submit".
Question
I am interested about gem optical phenomena, could you tell me more about adularescence and iridescence?
Answer
Adularescence is a white, milky or bluish light or "schiller" that seems to float like a cloud of light from within
moonstones
. It comes from the ancient name for moonstone, "adularia". Mild adularescence can also occur in other gems, such as opal and rose quartz. Iridescence is a rainbow-like effect that seems to come from the surface of a gemstone. Gems that show iridescence include
ammolite
, labradorite, fire agate and rainbow pyrite. For further information about such optical effects, please read our
gemstone phenomenon
article.
We always welcome your questions, comments and feedback! For those who are interested in attending some gem and jewelry events, please see the details below.
Venue
Four Seasons, Mandalay and Delano, 3940 S Las Vegas Blvd, Las Vegas, NV, USA
Dates
May 31 - June 6, 2016
Venue
Expo Krakow, Galicyjska 9, 31-586 Krakow, Poland
Event Name
TIMA - Tokyo International Mineral Fair
Venue
Space Seven Event Hall, 2-7-1 Nishi-Shinjuku, Shinjuku-ku, Tokyo, Japan
Event Name
Hyderabad Jewellery, Pearl & Gem Fair
Venue
HICC, Novotel, Hyderabad, Andhra Pradesh, India
Event Name
Jewellery & Watch Show
Venue
Saatchi Gallery, Duke Of York's HQ, King's Rd, London, UK
Venue
Palexpo SA, CH-1218 Le Grand-Saconnex, Geneva, Switzerland
Event Name
Hong Kong Jewellery & Gem Fair
Venue
Hong Kong Convention & Exhibition Centre (HKCEC), 1 Expo Dr, Wanchai, Hong Kong
Event Name
Florida Jewelry & Apparel Expo
Venue
Osceola Heritage Park Exhibition Hall, 1875 Silver Spur Ln, Kissimmee, FL, USA
Event Name
Singapore International Jewelry Expo
Venue
Marina Bay Sands, 10 Bayfront Ave, Singapore
Dates
June 30 - July 3, 2016
Keep up with our new arrivals before they hit the newsletter by joining our thousands of fans and followers on our social networking pages. We love interacting with our customers - you can visit us on Tumblr, LinkedIn, Twitter, Facebook or Pinterest!
To ensure you can receive our emails, please be sure to add help@gemselect.com to your list of safe contacts, or you add us into your email address book! Please feel free to contact us with any questions, comments and queries! We respond to each and every email we receive.
Happy Gem Hunting!
Your friends at GemSelect
First Published: May-30-2016
Last Updated: June-15-2017
© 2005-2021 GemSelect.com all rights reserved.
Reproduction (text or graphics) without the express written consent of GemSelect.com (SETT Company Ltd.) is strictly prohibited.