Gemstone Fashion Trends 2020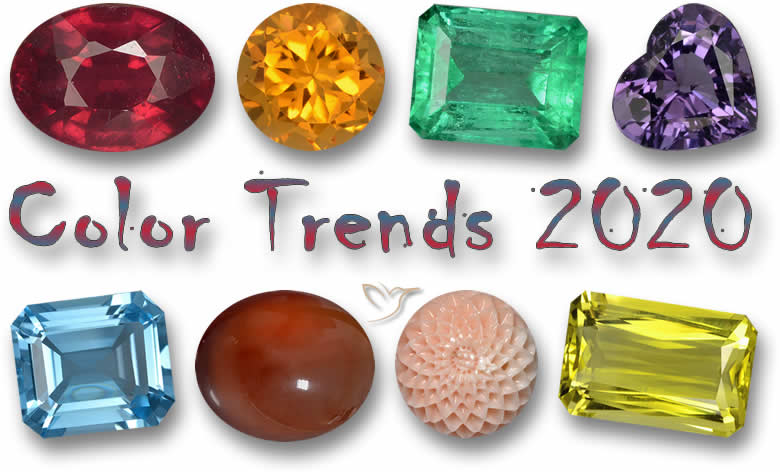 Welcome to 2020, we hope you had a great 2019 and a lovely holiday season and are ready to work to accomplish all your dreams and ambitions for the new year.
It is that time of year again when all the fashion houses, jewelers, magazines and influencers announce the coming trends for 2020, what's in and what's out, what's hot and what's not! So, today, I got to spend the afternoon reading magazines and articles instead of working, to see what those in the know are saying about what will be fashionable in the world of gemstones and jewelry in the coming year and luckily for us color is well and truly in!
First of all, the new color trends of 2020 were announced, not just for gemstones but for everything from clothes to walls to cars. If these are the colors everyone will be using next year we will need the gemstones to match.
Trending Colors and their Gemstone Matches

| | Trendy Color | Gemstone to Match |
| --- | --- | --- |
| | Scarlet | Ruby (also the July Birthstone) |
| | Saffron | |
| | Biscay Green | |
| | Faded Denim | |
| | Sunlight | |
| | Coral Pink | |
| | Cinnamon | |
| | Grape | |
Colored gemstones will be all the rage in 2020 (they have been all the rage in our offices for years) and this year starts off with the January birthstone, the multi-hued Garnet which encapsulates this new trend perfectly, as this gemstone has every color you could possibly desire. If you love red then the deep crimson Pyrope Garnets are for you or if you prefer orange, then look out for Hessonite or Spessartite Garnets. If it is green you are looking for then look no further than the Tsavorite or Demantoid Garnets, simply unbeatable. There are purple, pink, yellow, brown and even a few that change color too.
Garnet is a particularly powerful stone spiritually. The wide array of colors mean they are very versatile as a Chakra cleansing gemstone and it is known as a gemstone of prosperity, abundance and strength. It would be difficult to find a better gift for a person born in January than a Garnet Birthstone or, if you are lucky enough to be getting engaged in January, then this could be the ideal commemorative gem.
See our detailed article on Garnet right here
Apparently December to February is the most popular time to announce engagements - Christmas, New Year and Valentine's Day help I guess - so looking for rings will be on many people's to-do list. Color is the new trend not just in gemstones but in engagement rings so I have compiled a list of perfect alternatives to the traditional white diamond.
Of course diamonds are not just white, they can be found in amazing blues, yellows, greens and pinks so you can stick with a traditional diamond but give it a modern twist with a splash of color.
Other obvious candidates for this most memorable of gifts are sapphires, rubies and emeralds, all very valuable, meaningful and stunningly beautiful ways of pledging your love.
Outside this Big Four there are a few gorgeous options, some as rare and as valuable and a few just as alluring, but a bit easier on your pocket. Morganite makes a great engagement ring, lovely pink colors, solid durability, amazing clarity, a range of sizes and a rareness and value that makes it a special gemstone for a special occasion.
Equally beautiful are Spinels, Tourmalines, Peridots and Aquamarines, these are all premium gemstones and I would be very surprised if one of them could not be found in the right size and color to match the desires of your future partner. A little bit rarer are the blue Tanzanites and sunset orange Imperial Topaz, which are both stunning gemstones.
More affordable although equally attractive are amethyst, citrine, blue topaz and zircon which are especially captivating if blue, purple or yellow is the color of preference.
If there is going to be a single color dominating the choice of colored gemstones in 2020 it is going to be green with emeralds coming back as the top colored gemstone. However other green gemstones will also be fashionable too, take a look at our recent article on Green Gemstones for Jewelry to see the best around.
Styles of jewelry that will be popular include vintage, antique and art deco for ring settings, sun and sand and tribal features for pendants, bracelets and necklaces and wearing mismatched earrings or just one earring! Maybe this is a money saving exercise as you can share with your sister or best friend, however, the earring does need to be a unique statement piece.
I think we will finish our first newsletter of the year with a bit of spiritual help to maintain your New Year resolution. It will depend a little bit on what type of resolution you have made but since most seem to be changing lifestyle let me recommend Labradorite if you are trying to give up cigarettes, alcohol or other harmful toxics as it reminds you of what you could achieve without these harmful impediments. The second choice is Carnelian, a gemstone to help you focus and to reach your goals - perfect for a resolution.
Customer Questions
Every month we answer questions of general interest from our customers. Please feel free to send your questions or suggestions to our support team at help@gemselect.com
Is a red songea sapphire a ruby?
Strictly speaking, there is no such thing as 'red sapphire', since all red corundum gemstones are referred to as 'ruby' in the gems and jewelry trade. All other colors of corundum are referred to as sapphire. Some exceptions can apply, such as corundum gemstones that are red-orange or pink-red. These can often be referred to as either sapphire or ruby since it is more of a judgment call. If the stone is predominantly red with only a secondary pink or orange hue, then the gemstone should be regarded as ruby.
Another exception for 'red sapphire' applies when the red color is the result of an enhancement process that involves beryllium heat treatment. If corundum is 'be-heated' through lattice diffusion, the material should be traded as simply sapphire rather than ruby.
Hi, what is a Water Sapphire?
A Water Sapphire is not a Sapphire at all but in fact an Iolite. Iolite's strong pleochroism (gems that appear to have different colors or depth of color when viewed from different angles) earned it the misleading trade name of 'water-sapphire'. From one direction, Iolite can appear Sapphire-like blue and from another, it can appear as clear as water.
To ensure you can receive our emails, please be sure to add help@gemselect.com to your list of safe contacts, or add us into your email address book! Please feel free to contact us with any questions, comments, and queries! We respond to every email we receive.
Happy Gemstone Hunting!

Team GemSelect
First Published: January-06-2020
Last Updated: January-07-2020
© 2005-2021 GemSelect.com all rights reserved. Reproduction (text or graphics) without the express written consent of GemSelect.com (SETT Company Ltd.) is strictly prohibited.
Article Categories
Total Number of Articles: 1863