GemSelect Newsletter - Merry Meaning of Red Ruby & Green Emerald
Merry Colors
For anyone interested in making seasonal jewelry, two of the most important colors of the season are red and green. Even cultures that do not celebrate Christmas are familiar with Santa in a red suit and green Christmas trees. It is thought that the use of these two colors goes back to pre-Christian times.
The "pagans" (an umbrella term for anyone who was not an adherent of one of the main world religions) used evergreens in homes during the winter solstice. Since they remain green in the winter, evergreens were symbols of everlasting life and renewal. For the Vikings, wreaths and evergreen trees were believed to protect from evil. The ancient Romans held a feast in honor of Saturn; the god of agriculture, and evergreen branches were used as decorations to symbolize new growth and nature's bounty. The ancient Egyptians decorated their homes with palm leaves during the winter to encourage the recovery and return of the sun god, Ra.
The quintessential red and green gemstones are ruby and emerald. When it comes to gemstone meanings, as well as the Christmas symbolism, each gemstone color has meaning, and then each gem type has further associations. Thus, all red gems generally stand for passion, energy, power and love. Green gems represent nature, health, growth, renewal, healing and sometimes, money.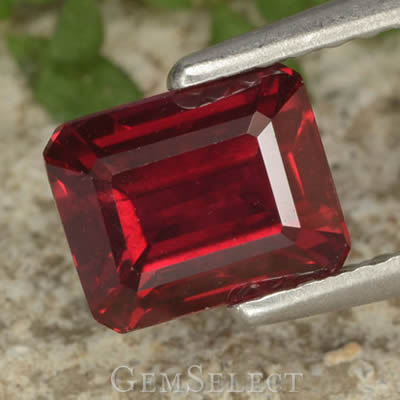 Emerald-Cut Ruby from GemSelect
It is said that those who own a ruby will enjoy peace, wealth, vitality, positivity and a healthy libido. Ruby is also a symbol of friendship and love, and the stone for Capricorns - those born between December 22 and January 19. Ruby jewelry is also worn as a July birthstone and given in celebration of the 15th and 40th wedding anniversaries. Not only is ruby said to bring all these wonderful things to its owner, but it is also believed to provide protection from bad luck and poor health. Ruby is not the only red gemstone, but remains the most popular and one of the most valuable colored gemstones of all time.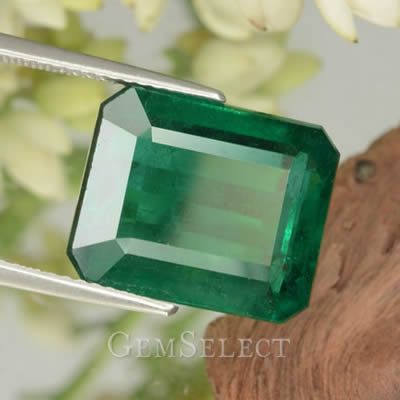 Emerald-Cut Emerald from GemSelect
Those who wear emeralds are said to enjoy good luck and general well-being, including positivity and peaceful dreams. Emerald engagement rings are popular because emeralds are also thought to assist fertility and encourage harmony. Emerald is the official May birthstone and is given in celebration of 20 and 35 years of marriage. Green is one of the most popular gemstone colors, and like red, there are many more choices of green gemstones available for beautiful gemstone jewelry designs.
1. Sapphire
Sapphire is and will always be one of the most popular gems of all time. Blue sapphire is a classic gemstone, but let's not forget that fancy sapphire can be found in almost every color of the rainbow. Furthermore, sapphire is an incredibly durable and brilliant jewelry gemstone. It never surprises us that sapphire is always number 1. Everlasting in jewelry, sapphire is etched on our hearts.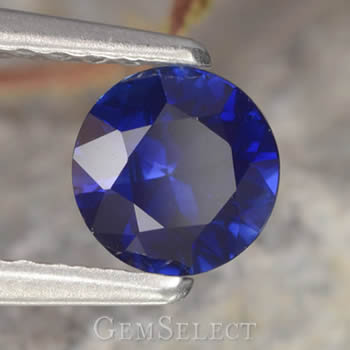 Sapphire - Bestselling Gem of 2017
2. Topaz
Blue topaz is the second-most popular blue gemstone and consistently comes up as a bestselling gemstone due to its affordability, hardness and great color. However, let's not forget about white topaz, which is almost as popular; unparalleled imperial topaz; and multicolor mystic topaz, which is another firm favorite.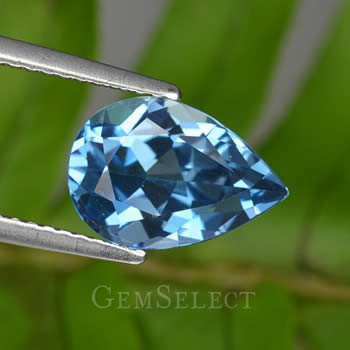 Topaz - Second Bestselling Gem of 2017
3. Amethyst and Citrine Quartz
Purple amethyst and golden citrine are affordable, durable and beautiful. Mostly mined from Brazil, amethyst ranges from a soft purple, known as "Rose de France" to a deep purple referred to as "Siberian" amethyst. Citrine is the yellow, amber or golden brownish quartz variety that gets its name from the French word for lemon.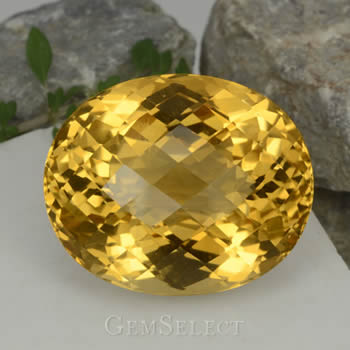 Citrine Quartz - Third Most Popular in 2017
4. Tourmaline
Pink and green tourmaline are hugely popular this year. Some of the pink tourmaline stones we have seen are phenomenal and range from baby pink to hot pink. Serene green tourmaline may also be several different hues or sometimes combined with pink in bicolor tourmaline gems and multicolor watermelon tourmaline. Other popular tourmaline colors include golden tourmaline and black tourmaline.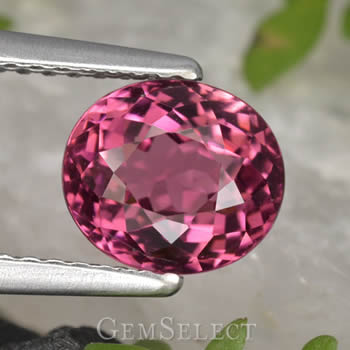 Popular Pink Tourmaline
5. Pyrope Garnet
It seems that things are hotting up this year with a preference for bright red gems this year - the previous year, raspberry rhodolite and mandarin spessartite were the most popular garnets. Pyrope is the original "Bohemian garnet" and the best-known red garnet; perhaps the revival of Bohemian-style pyrope garnet jewelry has contributed to its popularity this year.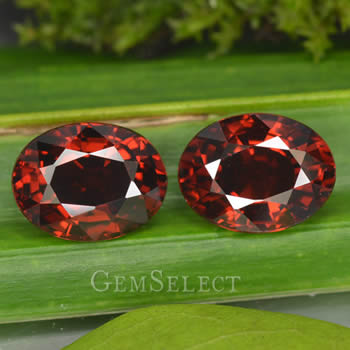 Popular Pyrope Garnet Gems
The largest D-color, flawless, emerald-cut diamond sold at auction achieved an astounding $33.7 million at Christie's Geneva last month. The 163.41-carat diamond is the centerpiece of an emerald and diamond necklace by de Grisogono, named "The Art of de Grisogono, Creation 1". The buyer remains anonymous.
A new auction record has also been set for a piece of Art Nouveau jewelry. An Art Nouveau enamel, diamond and pearl necklace by René Lalique, estimated to sell for sold for $131,000 sold for $978,480 at Christie's Geneva. The pendent necklace features four enamel and gold wasps with diamond-studded wings on a hawthorn branch above a baroque pearl.
Prince Harry and Meghan Markle have officially announced their engagement after dating for over a year. They are due to marry in spring 2018. Prince Harry designed the yellow gold, diamond engagement ring with a center stone from Botswana and two side stones from his mother, Diana's collection, saying he did this "to make sure that she's with us on this crazy journey together". The couple met on a blind date and shortly thereafter fell in love.
Zsa Zsa Gabor's Harry Winston Diamond Riviere necklace was auctioned by Bonham's on 4th December. The necklace featuring 45 round brilliant-cut white diamonds was expected to achieve between $1.2 and $1.5 million. The Moulin Rouge actress was known for her love of diamonds. She was married nine times and recently passed away before her 100th birthday.
Every month we answer questions of general interest from our customers. Please feel free to send your questions or suggestions to our support team at help@gemselect.com!
Question
Hi, I am looking for sugarloaf gems, but I can't find them on your website, do you have any?
Answer
Yes indeed, we have some sugarloaf cabochons. These are
gemstone cabochons
that come to a point rather than a rounded of flat dome on top, making them look like a sugarloaf or a pyramid. Since these are popular, to make it easier to find them, we have made a dedicated sugarloaf cabochon page that you can find by clicking
here
.
Question
I've been using the mobile site and can't find the list of gem types for easy navigation. Is this still on the mobile site? If so, could you please tell me how to find it?
Answer
Yes, we do still have the gem type list, from which you can click on any gem type to find all items for sale. To find it on a mobile device, just go to the menu on the top left-hand side and then select "All gemstones" (the 2nd item in the list under "
New Arrivals
") and this will open up the
gem type list
. From here, you can select a gem type to access all products for that type.
We always welcome your questions, comments and feedback! For those who are interested in attending some gem and jewelry events, please see the details below.
Event Name
Hong Kong International Jewelry Manufacturers' Show
Venue
Hong Kong Convention & Exhibition Centre, Hall 1 & 3FG, 1 Expo Dr, Wan Chai, Hong Kong
Dates
November 30 - December 3, 2017
Event Name
Dallas Christmas Bead & Jewelry Show
Venue
Grapevine Convention Center, 1209 S Main St, Grapevine, TX 76051, USA
Dates
December 1 - 3, 2017
Event Name
31st GeMin 2017 International Mineral, Gemstone, Jewellery & Fossil Exhibition
Venue
Royal Olympic Hotel, Athanasiou Diakou Street 28-34, Athens, 11743, Greece
Dates
December 1 - 3, 2017
Event Name
Mineralien Hamburg
Venue
Halls B1 GF/UP, B2-B3 GF, Hamburg Messe und Congress GmbH, Messeplatz 1, 20357 Hamburg, Germany
Dates
December 1 - 3, 2017
Event Name
Best Adornments of Russia
Location
Russian Federation
Venue
VDNH Expo, Prospekt Mira, 119, Moscow, Russia
Dates
December 6 - 10, 2017
Event Name
International Gem & Jewelry Show - Chicago December 2017
Venue
Donald E. Stephens Convention Center (Hall G), 5555 N River Road, Rosemont, IL 60018, Chicago, USA
Dates
December 8 - 10, 2017
Venue
Scottish Rite Event Center, 1895 Camino del Rio S., San Diego, CA 92108, USA
Dates
December 15 - 17, 2017
Event Name
Mineralien und Schmuckmesse Wien
Venue
Haus der Begegnung Floridsdorf Wien, Angerer Strasse 14, A-1210 Wien, Austria
Dates
December 16 - 17, 2017
Event Name
Jaipur Jewellery Show
Venue
Jaipur Exhibition & Conference Centre (JECC), Exhibition Ground, EPIP, Sitapura, Jaipur, India
Dates
December 22 - 25, 2017
Keep up with our new arrivals before they hit the newsletter by joining our thousands of fans and followers on our social networking pages. We love interacting with our customers - you can visit us on Tumblr, LinkedIn, Twitter, Facebook or Pinterest!
To ensure you can receive our emails, please be sure to add help@gemselect.com to your list of safe contacts, or you add us into your email address book! Please feel free to contact us with any questions, comments and queries! We respond to each and every email we receive.
Happy Gem Hunting!
Your friends at GemSelect