Winter Festivals of the World


No matter where you are or where you're from, GemSelect wishes you Happy Holidays!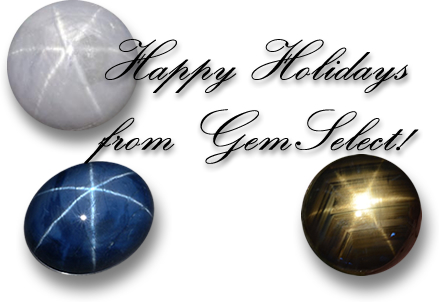 Happy Holidays from GemSelect


The holiday season is celebrated for more than just Christmas. At this time of year there are festivals involving people from all parts of the world.

Many festivals take place during the period of time around the winter solstice (the time where the sun reaches the southernmost part of the sky - right around December 21st - 22nd).

Some of the great festivals taking place this time of year are:
Advent: Advent begins 4 weeks before Christmas and is practiced and celebrated by Christians all over the world.
Hanukkah: Hannukka is the Hebrew word for dedication. It is celebrated over 8 days from December 8th until December 16th.
Saint Nicholas' Day: Saint Nicholas' Day is celebrated on December 6th. Saint Nicholas was a 4th century scholar and Greek Bishop of Myra. He had a legendary habit of giving gifts; because of this, he unknowingly became the model for modern-day Santa Claus (AKA Saint Nick).
Bodhi Day: Celebrated on December 8th, Bodhi Day is the Buddhist Day of Enlightenment. This is the day Buddha (Shakyamuni or Siddhartha Gautama) was said to have reached bodhi (enlightenment).
Yalda: Celebrated on December 21st, Yalda is the Persian celebration of the turning point for winter solstice. This day has the longest night and the lengthening of daytime hours finally begins.
Soyal: Also celebrated on December 21st, Soyal continues for a period of 16 days. Soyal is celebrated by Zuni and Hopi Indian tribes, marking the date when the sun has returned from its winter slumber.
Pancha Ganapati: This is a 5 day celebration in honor of the Hindu God, Lord Ganesha. It is often described as the Hindu equivalent of Christmas and is celebrated by Hindu families around the world. It begins on December 21st and ends on December 25th. One of the common festivities is for children to dress or decorate a Ganesha statue in certain colors for each of the 5 days: Beginning on the December 21st, Ganesha will be dressed in golden yellow, royal blue, ruby red, emerald green and finally, brilliant orange. Each of the colors represents one of his five powers.
Christmas Eve: December 24th. This is the day or the evening before the Christian celebration of Christmas.
Christmas Day: December 25th. This is celebrated by Christians as the day that Jesus Christ was born. He is believed by the Christians to have been the Son of God.
Boxing Day: December 26th - A gift giving day, widely celebrated in the UK, Australia, Hong Kong, Canada, New Zealand and some other Commonwealth Nations. The term Boxing Day was slowly adapted from "Christmas Box Day". In the past, this was the day when servants and tradesmen would open gifts received from superiors or employers. In South Africa, Boxing Day was renamed "Day of Goodwill" and in Ireland, it is known as St. Stephen's Day. In Greece, the Netherlands, Germany, Poland, Hungary, Slovakia, Czech Republic, Austria, Latvia, Lithuania and Estonia, it is celebrated as the second Christmas Day.
Kwanzaa: December 26th is a time for celebrating and focusing on traditional African family values. In Swahili, it translates as "First Fruit of the Harvest". It was created in 1966 by Ron Karenga in order to celebrate African-American heritage.
New Year's Eve: December 31st. This night, people of various cultures celebrate the end of one year and the beginning of a new one.
New Year's Day: January 1st. The first day of the year.
As do you, we have a lot of reasons to celebrate. Since the GemSelect team is comprised of a diverse group of people from several cultures, ethnic backgrounds and religions, we are happy to celebrate all of the days with you.
On a final note, when shopping for your holiday gifts this holiday season, be sure to shop safely. Shopping during the holiday season should be fun, but above all else, safe. By taking a few preventive measures, you can ensure that your experience is joyful and not stressful.
During this time of year, it is not uncommon to get carried away by the holiday spirit, but don't let your guard down.
Here are some helpful tips to keep your holiday happy and jolly!
Always be sure to check out return and exchange policies. Policies vary from store to store. If your purchase is a gift and it won't be unwrapped until after Christmas, be sure to factor this in; a 14 day return policy may not be helpful if a gift won't be opened for 2 weeks. GemSelect provides a full 30 day inspection and return policy, guaranteeing you plenty of time.
Save yourself some both time and money by having your orders shipped directly to the lucky, intended recipient. Why ship to yourself and then ship it again, when we can do all the legwork for you?
Always check and double check your personal data, especially shipping address information, billing and product info. Print a copy and always keep it on file, even after you receive your order. You may need this for returning, exchanging and etc.
Shopping Online:
Make sure your computer is secure. It is recommended that you always ensure that you have downloaded and installed the latest security updates. Be sure to check that your anti-virus and anti-spyware software is up to date and working properly. It is also best that you install a firewall before shopping online.
Be careful of pop-up links or messages in untrusted websites. Activate your pop-up blocker and do not click on pop-up messages. If you are really interested, enter the link URL into your browser and visit the site directly, rather than clicking through to it from a mysterious pop-up.
When providing confidential and personal data to place orders, be sure to check for a secure connection. There should be a padlock icon on the browser and the URL should begin with HTTPS (rather than HTTP). The "S"stands for "secure" and indicates that information is being encrypted. When entering in your personal or payment information, do not make the purchase if you don't see these indicators.
Always use strong passwords. Don't use birthdays, names or similar obvious choices. It is best to use at least 8 digits with a combination of lower-case and capital letters, as well as numbers and symbols too. Never use the same password twice.
Do not email any personal data, including credit card details and other confidential information. Emails are not secure or encrypted so the only information you send via email should be that of non-private matter.
Pay by PayPal or credit card. These are the most secure options with buyer protection.
December Birthstones
If you're fortunate enough to be born in the month of December, you have three fabulous blue gemstones to celebrate with!

Turquoise


One of the best things about turquoise is the infinite variations in patterns available. In the US, spiderweb-like veined patterns are the most sought after, but in the East and parts of Asia, a solid blue with minimal veining is preferred. Whatever the preference, one thing is for sure - turquoise and polished silver are like two peas in a pod.



Tanzanite


What can we say about tanzanite that hasn't been said already? Tanzanite is remarkable in every way, period. The unique color of tanzanite is unrivaled and for being a newcomer in the gemstone market, it truly is unbelievable (or is it?) that the AGTA declared it to be one of December's birthstones.



Blue Topaz


Beautiful, remarkably brilliant, yet very much affordable and durable, topaz is available in a variety of colors and has no significant sensitivity to chemicals. It's hard to go wrong with topaz. No wonder blue topaz is the second most popular colored gemstone in the world! A deep London blue color is the most valuable of blue topaz, but many people still prefer nice Swiss blue colors too.
In addition to December's tanzanite, blue topaz and turquoise, if you happen to be planning ahead for January, the birthstone for the New Year is an all-time favorite - garnet.

You can read and learn all about this timeless gemstone here.
We hope you found this article interesting. If you have any comments or suggestions, just drop us a line. We really do read and reply to every single email we receive.
Please make sure you can receive email from help@gemselect.com.
Happy Holidays!
Your friends at GemSelect