Gemstones for Autumn or Fall - choosing the right gemstone for each season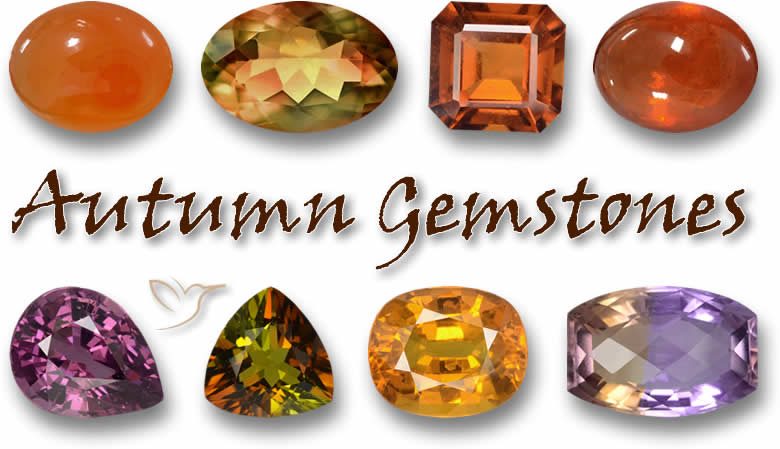 The weather cools down, the light changes, the classic fall colors of orange, red and yellow fill the trees, Halloween and Thanksgiving approach – Autumn is here!
It is time to put away the breezy summer colors and get out some Autumn gemstones but what makes a perfect gemstone for the Fall season?
In selecting the best gemstones to wear in Autumn we based our choices on the classic fall colors, birthstones and a spiritual energy to help you through the shorter days and colder nights.
Our first choices reflect the autumnal palette perfectly.
If you can imagine a forest of trees such as aspen or maple at the height of its spectacular autumn display you will picture the amber, burgundy and russet colors against a deep blue sky. Garnet is one gemstone type that can capture all these colors and we recommend three varieties that are ideal for the fall season:
Then we have the traditional birthstones for this time of year which include:
Finally we have a couple of gemstones which have special spiritual significance for the autumn season.
Gemstones for Autumn - Summary

| Gemtone | Attribute |
| --- | --- |
| Carnelian | Burnt Orange Autumn Color |
| Andalusite | Earthy Autumn Color |
| Fire Opal | Intense Autumn Color |
| Hessonite Garnet | Honey Gold Autumn Color |
| Spessartite Garnet | Fiery Orange Autumn Color |
| Rhodolite Garnet | Purple Autumn Color |
| Tourmaline | Autumn Birthstone |
| Sapphire | Autumn Birthstone |
| Citrine | Spiritual Energy |
| Ametrine | Spiritual Creativity |