Valentine's Day, from Past to Present

Heart-Shaped Garnet
The origins of Valentine's Day celebrations are somewhat controversial and unclear.
Everyone assumes that it all goes back to St Valentine.
However, Valentine's Day could have begun as a pagan ritual before Christianity. In fact, pre-Christian Valentine's Day festivals sound a little more sensational than performing forbidden marriage ceremonies. Ancient Romans celebrated what we now know as "Valentine's Day" as "Lupercalia", which was a pagan fertility festival.
Apparently, this fertility festival was celebrated not by sending cards, flowers or jewellery, but by young men stripping naked and using whips made from goat or dog skin to whip the bottoms of nubile women. This raucous practice was not just for fun, it was thought to improve the fertility of young women, and encourage easy childbirth. In those days, so many women died during childbirth that they needed all the help they could get, and would have embraced any solution, including having their behinds whipped for the amusement of the men, by the men.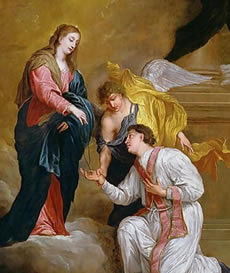 Bishop Valentine
The first official "St Valentine's Day" was declared by Pope Galasius in the year 496. This Christian Valentine's Day was thought to have honoured between one and three martyred priests. It is unclear as to which priest was being recognized by Pope Galasius and the history of only one of these martyred priests; Bishop Valentine, is known. This Bishop Valentine, who lived during the second century AD, was a bit of a rebel who steadfastly believed that marriage was godly. Bishop Valentine lived under the reign of Emperor Claudius, who declared that married men did not make good soldiers, and therefore forbade weddings for young people. Bishop Valentine bravely betrayed Emperor Claudius by performing forbidden marriage ceremonies for young people in love. Sadly, Bishop Valentine was jailed for his rebellious actions and beheaded, though during his imprisonment, he fell in love with his jailer's daughter. Apparently, shortly before his execution, Bishop Valentine passed a note to his beloved, saying "from your Valentine", and the rest, with a little help from the Middle English writer, Geoffrey Chaucer, is history.
This story gave rise to the giving of Valentine cards on Valentine's Day. Since the red heart is a symbol of romantic love, it is often featured on Valentine's Day cards. Cards seem to be the thing for school children to send. Especially anonymously sent cards addressed to those who were secretly admired, which always create a lot of excitement for those receiving plenty and heartbreak and disappointment for those receiving none. Cards are the first tradition of Valentine's Day. But for adults in lasting relationships, perhaps a mere card sender would be branded a cheapskate.
Other traditional gifts for Valentine's Day are considered to be red roses, chocolates and jewellery. Red roses are beautiful, but sadly, do not last for long, unless they are the plastic variety, which are not recommended as a quality gift and symbol of true love for Valentine's Day from someone who does not want to be thought of as cheap. Whilst chocolates are delicious, like roses, they also do not last. Moreover, chocolates may not be the best thing to give a figure-conscious woman who would like something nice to remind her of her suitor.
The diamond industry introduced the idea of buying diamonds for Valentine's Day gifts around the 1980s. Diamonds, as they say, are forever, but they are also an extremely pricey gift. A colored gem can offer a more interesting and pocket-friendly alternative. A variety of colored gems are available in red; the traditional color that is associated with love and desire.

When imagining red gems, the ruby immediately springs to mind. These beautiful gemstones are available in colors ranging from pinkish-red to violet-red. Rubies score 9 on the Mohs scale of hardness, which makes them second only to diamond, and they are associated with devotion, integrity, courage and happiness. Perhaps this is why rubies are considered to be the wedding anniversary gemstone and are given for the 40th wedding anniversary. In addition to being beautiful in their own right, some believe that rubies possess the ability to help backache and toenail problems, which is always a bonus.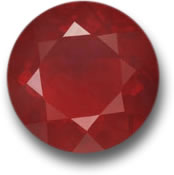 A less well known, but just as interesting gem that is available in red is the fire opal, which is said to be able to solve depression and help its owner to find true love. If this is true, then it would make an ideal Valentine's Day gemstone. Furthermore, it is said to stimulate the sexual organs and promote sexual healing (cue Marvin Gaye song). This is because the fire opal is associated with the Svadhisthana, or second primary chakra.
Another red gem that is said to promote healthy sexuality is the rhodolite garnet. This red gemstone has a higher refractive index than sapphire and ruby, which gives it amazing brilliance. Rhodolite garnet ranges in color from vivid pink to violet red, and is available in large, but affordable gemstones.
Carved Coral Flower
Alternative gift ideas for Valentine's Day are heart-shaped gems in a choice of colors or fancy carved gems in the shapes of flowers. These are everlasting flowers that are suitable for making attractive stud earrings, pendants or brooches.
Gems are lasting gifts that do not contribute to deforestation like mass-produced cards, nor do they damage a diet or melt, as chocolates will.
Furthermore, gems do not wilt or fade as do freshly cut flowers. Therefore, a gemstone could be the perfect symbol for true and everlasting love.
First Published: January-24-2014
Last Updated: August-30-2017
© 2005-2021 GemSelect.com all rights reserved.
Reproduction (text or graphics) without the express written consent of GemSelect.com (SETT Company Ltd.) is strictly prohibited.