Happy Valentine's Day from GemSelect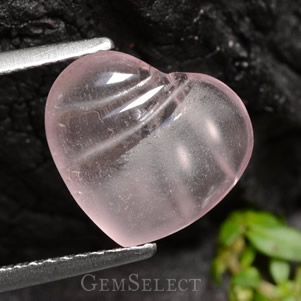 Heart-Shaped Morganite Gemstone
Valentine's Day is a festival that has spread throughout the world over the years. Commercialization has led to its popularity in the West and also the East. Let's see how it is celebrated by people all over the globe.
First of all, Valentine's Day is a day for love in most places. In some places friendship and other relationships are recognised on Valentine's Day in addition to people in love. For example, in Thailand, it is quite normal for same sex colleagues to give each other red roses and for students to give roses, chocolates, hearts and stickers to their teachers.
Let's not forget the main point of Valentine's Day, which is love. While women are traditionally only "allowed" to propose to men on February 29th of a leap year, in some countries, such as Japan, Valentine's Day is considered to be a time when women are the ones doing the romancing and giving. In Japan and South Korea, women give chocolates to men on Valentine's Day. Moreover, these men are not necessarily secretly admired by the gift givers. Men who receive a lot of chocolates are assured that they are popular with the ladies, but those who receive few chocolates must feel a little left out. Homemade chocolates are apparently reserved for men who are truly loved. Some Japanese women feel a little pressured to make sure all their male colleagues are not left out. However, their good deeds are reciprocated (hopefully) on March 14th, when it is "White Day" and time for the men to give gifts to the women.
Chocolate Opal Cabochon
South Korea takes this one step further with another important day. Those who are single have April 14th, which is known as "Black Day", to lament their loneliness and lack of gifts by wearing black and eating noodles in black bean paste, which are known as a comfort food. Don't worry too much about these singletons, these is always "Rose Day" in May, "Kiss Day" in June, "Wine Day" in October, and finally, "Hug Day" in December. South Korea must be a fun place to live.
Many men all around the world take advantage of the romance of Valentine's Day by proposing. Also, a great deal of couples set Valentine's Day as a wedding date. Indeed, there are mass wedding ceremonies performed in countries all around the world each Valentine's Day. On Valentine's Day 2014 a mass wedding celebration for couples of all genders and sexual orientations was held in Berkeley, California. In Bexar County Courthouse, San Antonio, hundreds of couples get married annually. Wedding ceremonies are offered there for free by Rev Joe Sullivan. Some couples plan to marry on what is thought to be the most romantic day of the year, while others think it would be an easy anniversary to remember. These mass weddings are not only popular in the USA, but also in Nicaragua, Taiwan, Korea and The Philippines, where over 2000 couples were wed in one ceremony on February 14th, 2012. Around the same number were wed in Gapyeong in South Korea in February 2014. Previously, in 1999, a record 21,000 couples were married in the Seoul Olympic Stadium.
If a mass wedding is not special enough for you, then you may be interested in a mountainside wedding. These are performed in Prachinburi Province of Thailand by adventurous couples who enjoy dangling by ropes while saying their vows on Valentine's Day. From mountain high to ocean depths, another form of adventurous wedding is an underwater one. If you prefer something closer to home, you may be interested in an Indonesian wedding. Members of the Tridong Community in Northern Borneo are confined to their house for three days and nights after being married. This doesn't seem so bad, however, they are not permitted to empty their bowels or urinate during this whole time, and are closely watched by their families who give them small amounts of food and drink. This ritual is thought to ensure good luck. In nearby Thailand on 12-14th February 2013, a couple set the world record for the longest kiss, which lasted a mind-boggling 58.35 hours. No wonder they looked a little kissed off in a photo of the event. Perhaps they took some tips from The Democratic Republic of Congo, where the bride and groom are not allowed to smile during the wedding ceremony, because marriage is a serious business.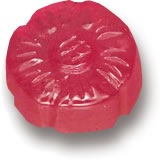 Carved Ruby Flower Gem
For those who plan to give roses on Valentine's Day, please take note that the flower colors have special meanings. Red is symbolic of love and romance, yellow means friendship and good wishes. White roses suggest purity and true love, but also sympathy. Orange conveys desire and keenness, purple stands for royalty and love at first sight. Lastly, pink shows admiration, love and care.
We do not know whether these Valentine's Day flower color meanings apply to gemstones. Gems have symbolic meanings of their own. For example, apatite is thought to be a stone of communication and tourmaline is said to promote understanding. Diopside is said to encourage feelings of love and commitment. Emerald is thought to promote balance and patience. Lapis lazuli is believed to bring about harmony in relationships. Opal is associated with love and passion. Peridot is thought to be good for relationships. Rose quartz is said to help relationships to be harmonious and gentle. Sapphire has long been linked to peace and happiness. The top gem for love is thought to be ruby, since it is said to open the heart and be a symbol of friendship and love.
Whether you are celebrating love, friendship or enjoying single life, and wherever you are in the world, we hope that you enjoy Valentine's Day, White Day or Black Day.