Types of Settings for Gemstones - Gem Settings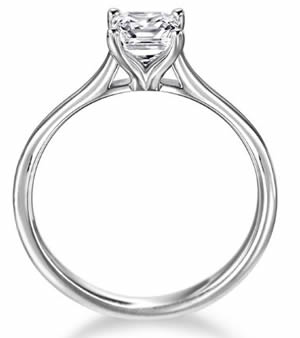 Classic 4-Prong Setting
The most popular and inexpensive type of setting for many jewelry applications is the prong or claw setting. Prongs are usually made from a precious metal, such as gold, silver, platinum or palladium. Part of each prong is carved out or notched to provide a seat for the stone. The prongs are then pressed or hammered into place to secure the stone. Four-prong settings show off more of the stone, but six prongs are more secure. Prong tips can be rounded, oval, flat or v-shaped. The traditional prong setting displays a single stone or solitaire raised from the band. Because this style emphasizes the gemstone, it's a popular choice for engagement rings.
However, prongs that touch the stone often trap dirt which may be difficult to remove. Prong tips can also catch on hair or clothing or wear down over time, particularly when made of gold. The biggest disadvantage is the possibility of losing a stone if a prong breaks off. Prong settings should be checked frequently, and cleaned and tightened when necessary.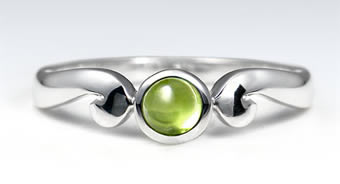 Bezel Setting
Bezel settings are one of the oldest types of setting. The bezel consists of a metal rim or collar that completely surrounds the sides of a stone. Since the rim extends above the band, it adds height and dimension to the jewelry. Solid bezels offer a more traditional look, whereas half bezels are split into 2 sections and give a more modern appearance. Bezel settings are more secure than prongs, so they are a good choice for active people. On the downside, they're more expensive to create because they must fit the shape and size of a stone perfectly. They also require more metal and hide more of the gemstone.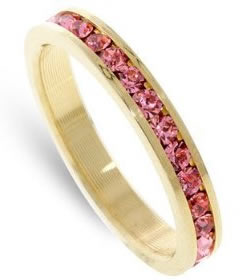 Classic Channel Gemstone Setting
Channel settings are one of the most elegant settings and they're best suited for stones with straight sides. In a channel setting, a continuous row of stones is placed into a metal channel, with no metal separating the individual stones. Channel-set stones are often used as side stones. A continuous row of gems placed in a channel setting is called an anniversary or eternity ring. Gems in a channel setting are well protected since they have no exposed edges, but the ring may be very difficult to resize later.
In a so-called invisible setting, gems are placed so that there is no metal visible between the stones, giving the appearance of a continuous, uninterrupted surface. A channel setting is in fact a type of invisible setting, but one where the gems sit as a row in a channel. Many other styles of invisible settings are possible. For example, in a pavé setting, small stones are set in rows as closely as possible with no metal between them, so that the piece literally looks paved with stones. This setting is most commonly seen with diamonds, but may be used with any stone.