GemSelect: September 2013 Newsletter - An Introduction to Astrological Gemstones
"For all its complexity, however, astrology remains fundamentally simple.
It offers a time-honored system of symbols that sum up key aspects of human life
while providing profound insights and practical guidance."
Author - Anne M. Nordhaus-Bike
It is believed that all things in the universe are connected in one way or another and the connection between the stars and gemstones is certainly no exception. One common belief of almost every civilization, culture and religion, is that there is a connection between astrology and the gemstones of the earth. Astrology itself is not a science, nor is it a religion, rather, astrology was created as a method for telling time. It tells us when a time has passed and when one is coming, essentially acting as the calendar of the universe. Though it was originally a method for telling time, astrology slowly evolved into a system of beliefs. Unfortunately, throughout hundreds of years, the original connections, concepts and beliefs of astrology and gemstones were either lost in translation or replaced by modern beliefs. Gemstones known to be associated with astrology are referred to as 'astrological gemstones' or 'astral gems'.
Surprisingly, many people are unaware that 'astral gemstones' and 'traditional birthstones' are the same. Did you know that the original concept of astral gemstones was based only on the time of the year, and not the time of one's birth? The idea was to wear a different type of stone depending on the current astrological phase or 'sign'. Rather than wearing only your own birthstone year round, you were supposed to rotate the use of twelve different gemstones throughout the year. Nowadays, most people wear only their own astral stone, but many people do still rotate twelve different stones as was originally intended. Later, the concept of astrological gems was modernized by an organization known as the 'Jewelers of America'. They created the definitive modern birthstone list we know today. The main difference between astral gemstones and traditional birthstones is the calendar that they use. Modern birthstones utilize the Gregorian calendar, and astral gemstones use the zodiacal calendar. This means that everyone has an 'official birthstone' and an 'official astrological stone'. Astrological gemstones are thought to have more of a therapeutic benefit than modern birthstones.
"There are worlds in an opal."
Author - Terri Guillemets.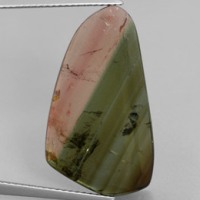 October's Official Birthstone. The official Birthstone for October is opal. There are a number of different opal varieties that can be worn, including black opal, chocolate opal, boulder opal, fire opal, opal doublet, moss opal, and white, yellow and pink opal.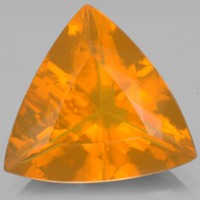 October's Alternative Birthstone: Tourmaline is an alternative official birthstone for October, and like opal, there are many different varieties of tourmaline available, including bi-color tourmaline, watermelon tourmaline, cat's eye tourmaline and chrome tourmaline.
Although opal and tourmaline are the official birthstones for October, you can also choose to wear your astral gemstone, which varies depending on the exact date you were born. Astral gemstones have a much longer history than modern birthstones. In fact, astral gems can be traced back hundreds of years to ancient Babylonian and Greek civilizations. The modern birthstone list was only defined in 1912.

The Stone of Libra: Those born between September 24th and October 23rd can wear the stone of Libra. The stone of Libra is chrysolite. Chrysolite is not specific to a single gemstone, instead, it is used to refer to any yellow-gold to greenish-yellow gemstone. Today, the name is used primarily to refer only to chrysoberyl or peridot (also known as olivine). Chrysolite is believed to be able to transform negativity into positivity. One of the greatest abilities of chrysolite is that it can strengthen and increase one's self-confidence. Physically, chrysolite is believed to heal illnesses related to the chest and liver, most likely due to its significant role as one of the 12 legendary stones of Aaron's Breastplate.

The Stone of Scorpio: Those born between October 24th and November 22nd can wear the stone of Scorpio. The stone of Scorpio is beryl, but since beryl is actually a group of minerals, it is important to specify that golden beryl is the primary stone of Scorpio. Golden beryl is sometimes referred to as heliodor, a name derived from the Greek words meaning, 'gift of the sun'. By true definition, heliodor and golden beryl are actually not the same stone. Heliodor is technically considered to be lighter in color, but since there is no clearly defined level of color, the two names are often used interchangeably. Today, the term 'heliodor' is typically used only by gem and mineral collectors. 'Golden beryl' simply has more of an appealing name, which most people seem to favor. Golden beryl is believed to harness the warmth and energy of the sun. In ancient times, golden beryl was used to honor Persephone, the daughter of Zeus and the Greek goddess of the underworld. Golden beryl is believed to protect its wearer from psychological manipulation, evil spirits, ghosts and dark forces. Physically, it is believed to heal the liver, spleen and pancreas, and it can also strengthen the immune system.
For those interested in their true astrological gemstone, the following table details astral gemstones (based on birth date range). It will also indicate your zodiac sign and modern birthstone (based on month of birth):
| | | | | |
| --- | --- | --- | --- | --- |
| Month | Date Range | Zodiac Sign | Astrological Gemstone | Modern Birthstone |
| January | December 22 - January 20 | Capricorn | Ruby | Garnet |
| February | January 21 - February 19 | Aquarius | Garnet | Amethyst |
| March | February 20 - March 20 | Pisces | Amethyst | Aquamarine |
| April | March 21 - April 20 | Aries | Bloodstone | Diamond |
| May | April 21 - May 20 | Taurus | Sapphire | Emerald |
| June | May 21 - June 21 | Gemini | Agate | Pearl |
| July | June 22 - July 22 | Cancer | Emerald | Ruby |
| August | July 23 - August 23 | Leo | Onyx | Peridot |
| September | August 24 - September 23 | Virgo | Carnelian | Sapphire |
| October | September 24 - October 23 | Libra | Chrysolite | Opal |
| November | October 24 - November 22 | Scorpio | Golden Beryl | Topaz |
| December | November 23 - December 21 | Sagittarius | Citrine | Turquoise |
This month we're very pleased to present some of our latest October gemstones!!
1: Tashmarine Diopside
Tashmarine diopside is an extremely rare, brilliant yellow-green variety of diopside recently discovered in Tajikistan, Uzbekistan and areas of Western China. Tashmarine diopside is a 'non-chromium' diopside, which results in lighter and brighter colors than the usual deep chrome green of chrome diopside. Tashmarine diopside is so rare, we were only able to acquire one gemstone. If it's still available by the time you read this, we still highly recommend having a look at the gem's details. This gemstone is absolutely exquisite and beautifully cut with a unique concave faceting style. It has excellent color, clarity and is completely natural and untreated, this specimen is Mother Nature at her finest!

2: Amethyst Cabochons
Some types of gems are very popular and readily available, even in local retail jeweler stores. But for some reason, others are just impossible to find in certain shapes or cuts - and amethyst cabochons are one of these. Amethyst is one of the most popular gemstones available today, but because they occur with such excellent clarity, color and transparency, they are most often faceted to maximize their desirable traits. So, for those who love cabochons, finding them can be extremely difficult. Well, this month, we were lucky enough to find some wonderful amethyst cabochons in calibrated sizes! Usually, lower grade material is reserved for cabochons, but for these stones, only the best material was used. With excellent clarity and deep and intense color, these are absolutely one-of-a-kind stones, just waiting to be set into your jewelry!

3: Moldavite
Moldavite is an extremely rare bottle-green to brown-green collector's stone. It belongs to the tektite mineral group and garnered its attention owing to its unusual origins. Moldavite was thought to have been formed through condensed rock vapors after meteorite impacts. Moldavite is often marketed as "the gemstone from the stars", or "the only known extraterrestrial gemstone on Earth", but this is most likely not true. Although moldavite's formation may have been triggered by the impact of meteorites, the actual origin of tektite materials is very much terrestrial. Moldavite is exceptionally rare and we were lucky enough to acquire only a handful of beautiful stones. For the serious gem collector, this gem should most certainly be on your 'must have' list.

4: Dumortiertite Quartz
Dumortiertite quartz is a specific and unusual variety of quartz that is intergrown with dumortiertite mineral. As quartz crystal forms with inclusions of dumortierite, the impurities act as a coloring agent and are responsible for its extremely attractive deep blue color. The color is absolutely unique in the world of quartz. With dumortierite quartz, you get the wonderful blue that can rival lapis lazuli, sodalite and azurite, and you get the superior hardness and durability of quartz, making it perfectly suitable and ideal for any type of jewelry. The availability of especially large stones is also an excellent quality, especially when designing men's jewelry, or bold fashion jewelry designs. Our recent additions of dumortierite quartz gemstones are completely natural, untreated and absolutely stunning!

5: Aventurine Quartz
Another wonderful variety of quartz is the wonderfully green aventurine. Most aventurine occurs in a dark-green color, but some rare materials yield an almost 'jade-like' green, such as the gemstone pictured on the right. Aventurine quartz is especially popular for use in cabochon jewelry and possesses the same reliable hardness and durability of other quartz gems. An interesting quality that makes aventurine stand out from other quartz gemstones is the presence of 'aventurescence', an iridescent effect that causes a glittery appearance. Aventurescent sheen can be weak or intense depending on the density of muscovite mica inclusions, or sometimes hematite or goethite inclusions. Aventurine is a natural and untreated gemstone and should not be mistaken for 'goldstone', an Italian glass often used to imitate aventurine quartz.

6: Other Notable New Gemstone Arrivals for October

In addition to the wonderful gemstones above, we also added some other notable new gemstones this month, including onyx, azurite, druzy azurite, rainbow pyrite druzy, gold-sheen obsidian, variscite, Larimar, drilled coral beads, fossil coral, drilled turquoise beads, labradorite and rare hemimorphite!

Be sure to check out our daily new arrivals as often as possible, otherwise you'll miss out on the best deals and largest selection!
| | | |
| --- | --- | --- |
| Event Name | Location | Date(s) |
| Jewelers Int'l Showcase (JIS) | Held at Miami Beach in Miami, Florida - USA | October 3 - October 6 |
| Intergem Trade Fair | Held at the John F. Kennedy Str. 9 in Idar-Oberstein, Germany | October 3 - October 6 |
| Shanghai Int'l Mineral & Fossil Show | Held at Shanghai Pudong Exhibition Center, in Shanghai, China | October 18 - October 21 |
| Munich Mineral Show and Fair | Held at Messe München Fairgrounds in Munich, Germany | October 25 - October 27 |
| JA Special Delivery NY Show | Held at The Javits Center in New York, NY - USA | October 27 - October 293 |
Every month we answer questions of general interest from our customers. Please feel free to send your questions or suggestions to our support team at help@gemselect.com!
| | |
| --- | --- |
| Q: | I'm looking for carbuncle gemstones. What are they and do you have any available? Can you tell me where to find them? |
| A: | Carbuncle is one of the many types of 'friendship gems' believed to strengthen the bonds between family and friends. Traditionally, the term 'carbuncle' was used to refer only to red garnet cabochons, but nowadays, it can be used to refer to any red cabochon, including carnelian, one of the most popular types of carbuncle gem today. |
| Q: | What's the difference between a gemstone and rock? |
| A: | The main difference between a gemstone and rock depends on the method of classification - perception or science. In most cases, it is a matter of perception as to whether a rock can be defined as gemstone (aesthetic beauty, perceived value, etc). However, according to geology, some gemstones are technically rocks, but not all. In order for a gemstone to be classified as a true rock, it must be composed of two or more minerals. Examples of rocks are maw-sit-sit and lapis lazuli. |
To ensure you can receive our emails, please be sure to add help@gemselect.com to your list of safe contacts, or you add us into your email address book! Please feel free to contact us with any questions, comments and queries! We respond to each and every email we receive.

Happy gem hunting,
Your friends at GemSelect