GemSelect Newsletter: Fabulous Gemstone Flaws and Inclusions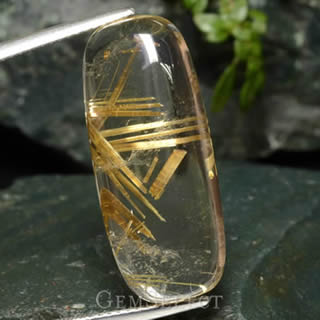 Rutilated Quartz
What Are Inclusions?
Inclusions are material within gemstones. They can be interesting and give texture and color to a gemstone. For example rutile inclusions often appear like internal landscapes and can bring golden, green, black, or red colors to otherwise ordinary, white or colorless quartz. Tourmaline often forms with inclusions that can give gems dreamy qualities and interesting textures. Dendrite inclusions are highly sought after when they form unique patterns within chalcedony. These include gems like dendritic agate and moss opal.
Dendritic Agate
Examples of other gemstones that often contain highly-prized inclusions include turquoise (black matrix inclusions which resemble spider webs), lapis lazuli (golden flecks of pyrite are treasured) and bloodstone (blood-like inclusions of iron oxide).
Inclusions that are aligned in certain ways also bring about wonderful optical phenomena, such as star asterism and cat's eye chatoyancy. The cat's eye effect is caused by perfectly aligned parallel inclusions that reflect the light, much like that of light shining on a reel of silk fibers.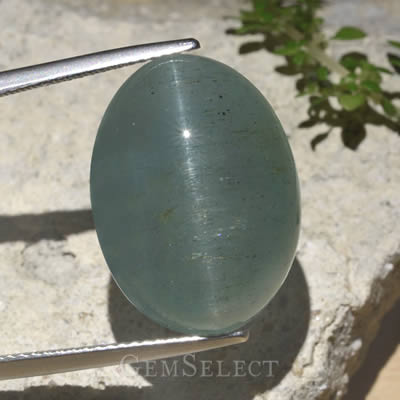 Cat's Eye Aquamarine Inclusions
While most faceted stones are preferred exceptionally clean with excellent clarity and transparency, some gems actually gain value due to inclusions. For example, star sapphires have intersecting rutile inclusions which result in focused light being reflected in the form of a 6-rayed stars. There are only a handful of gemstone types that are known to form with such amazing 'flaws'; some other examples include rare star garnet, star diopside, and star sunstone.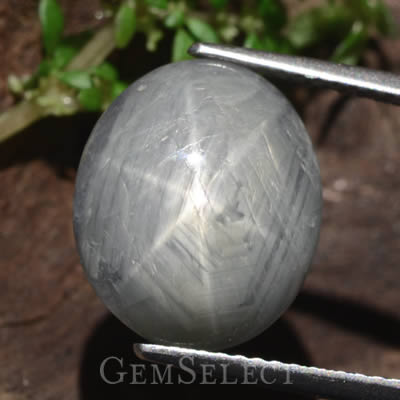 Silvery Gray Star Sapphire
Not only can sunstone exhibit an amazing asterism effect, it also displays an attractive and stunning spangled effect that is a result of small inclusions of copper, hematite, pyrite, or sometimes goethite. As the light hits the sunstone, the beautiful shimmering inclusions are illuminated. It also inclusions within moonstone that cause the prized adularescent effect that appears as an undulating internal light.
Star Sunstone with Spangled Inclusions
Rutile is the cause of asterism in star sapphires, but in addition, some of the world's finest blue sapphires exhibit small needle-like rutile inclusions that are prized for their silky, velvety texture. The presence of rutile in sapphire can be an indicator in detecting whether or not a specific specimen is an unheated sapphire. In addition, it can also be used to help determine the origin of materials. For example, when sapphire is heated, rutile inclusions are melted away, so the presence of these fabulous flaws is a very good thing since it means it's likely untreated.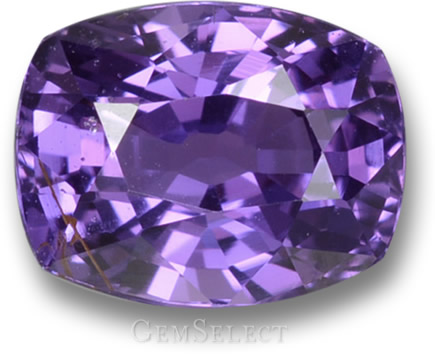 Unheated Purple Sapphire with Inclusions
Kashmir sapphire with fine rutile inclusions demand some of the highest prices because the silky inclusions enhance its velvety texture and color, as well as help indicate its origin. Highly-prized Russian demantoid garnet is famed for its inclusions which resemble that of a horsetail. These special 'included' garnets demand much higher prices than demantoid garnet with excellent color and clarity from other origins.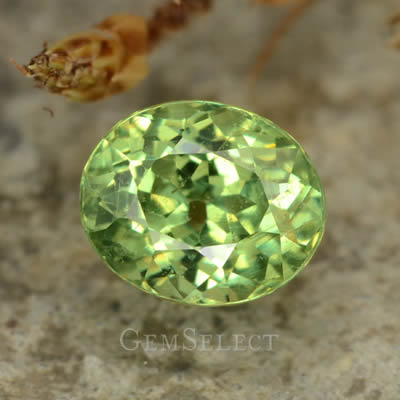 Demantoid Garnet with Inclusions
Some unusual inclusions that are very highly valued are those found in amber, an organic gemstone that is made up of fossilized pine tree resin. The sticky resin has been known to trap plant matter, insects and even mammals as it cools and then hardens before fossilization. Amber gemstones containing preserved ants, spiders, mosquitoes and even lizards have been found. Such rare amber stones are treasured by both gemstone collectors and fossil fans. Recently, a 100 million year-old spider-like creature with a long tail was found preserved in a piece of amber from Myanmar. The creature had never been seen before.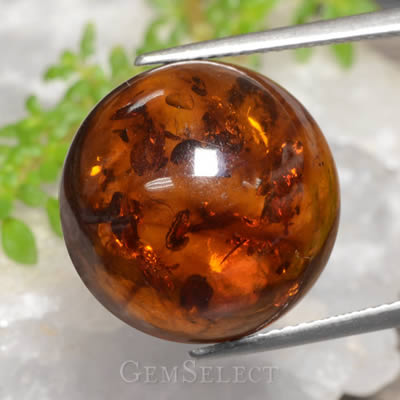 Amber Cabochon with Inclusions
Flawless is not favored. In fact, many synthetic stones are "too perfect" which reveals their fake nature. Inclusions can be an indicator of authenticity and origin rather than simply disregarded as "imperfections", so let's not insist on flawless colored gemstones, but instead, let's celebrate the rich tapestry of inclusions that make each and every gemstone unique!.
Over the last decade, tourmaline tornadoed its way through the gem and jewelry industry, earning a spot as one of the most highly sought-after gemstones in the world. It's one of the few types of colored stones that's almost always available in retail jewelry stores, other than sapphire, ruby, and emerald of course. Of all the tourmaline colors, it is sizzling pink tourmaline that has really seen a huge surge in demand. Prices for fine pink tourmaline are almost doubling each and every year!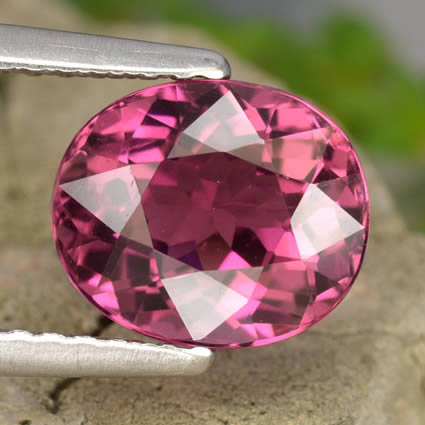 Sizzling Hot Pink Tourmaline
Apart from its superior hardness (8.5 on the Mohs scale), Chrysoberyl is remarkably brilliant owed to its high refractive index, which is greater than that of both Tsavorite and Mali garnet! It takes an excellent polish and exhibits a beautiful vitreous luster. Honestly, we don't know why chrysoberyl has never made it onto the list of top-selling gems because it's an exceptional stone that offers excellent value.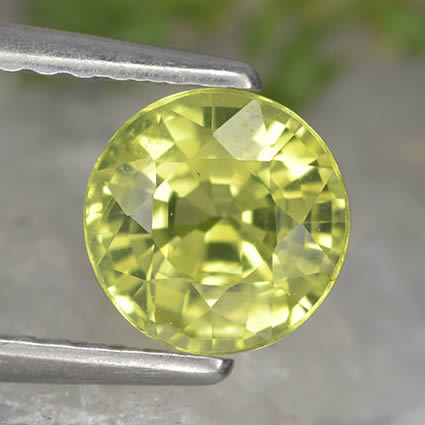 Brilliant, Vivid Chrysoberyl
When we mentioned chrysoberyl and its remarkable brilliance, we probably should have mentioned that blue zircon has an even higher refractive index. For those unfamiliar with technical terms, it basically means that it's remarkably sparkling, sometimes blinding! Similar to catching the glare from someone's timepiece or shiny gold jewelry, any jewelry featuring blue zircon will surely catch eyes with its amazing sparkles, flashes, and stunning color.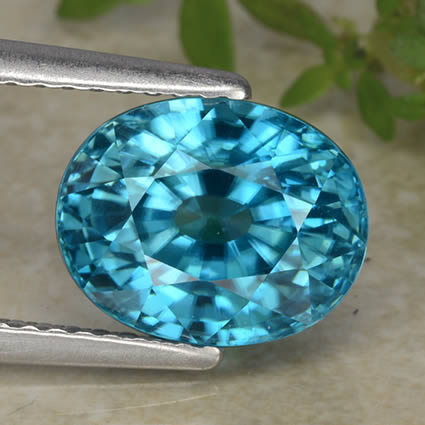 Bright, Brilliant Blue Zircon
Every month we answer questions of general interest from our customers. Please feel free to send your questions or suggestions to our support team at help@gemselect.com!
Question
I noticed you've added strawberry quartz to your stock. I'm curious what causes the color and what the unique inclusions are. Is it hematite?
Answer
Strawberry quartz, or 'red fire quartz', is a fascinating gem. The color and inclusions that make up strawberry quartz include various traces and forms of iron oxide, the same material responsible for the unique inclusions seen in bloodstone. The four chemically related but different forms of iron oxides found in quartz include hematite, lepidocrocite, goethite, and limonite.
Question
In case I have to return an item, could you please advise where it would be sent back to? I am based in the US and the shipping rates to Thailand from the US must be expensive.
Answer
Believe it or not, return shipping fees are very affordable as long as you choose the right carrier and the right service. In fact, postage fees for domestic shipping can often be higher than that of international mail to Thailand, which is where returns will need to be sent to. It simply depends on the method of shipping you choose. In the rare event that you need to return an order to us for a refund, we will provide you with the best and most affordable shipping recommendation. You can view examples of actual postage prices for returns that we've received in the past
by clicking here
. If you're wanting to return an item or order that's not worth the average costs as shown above, or have something much more substantial in value, simply let us know and we'll arrange a special solution for you. We're very flexible when it comes to returns.
We always welcome your questions, comments, and feedback! For those who are interested in attending some gem and jewelry events, please see the details below.
Event Name
Malaysia International Jewellery Fair 2018
Venue
Kuala Lumpur Convention Centre, Wilayah Persekutuan, Malaysia
Event Name
Atlanta Jewelry Show
Venue
Cobb Galleria Center, Atlanta, GA 30339, USA
Event Name
Mid-South Jewelry & Accessories Fair
Venue
The Landers Center, Southaven, MS 38671, USA
Dates
August 10 - 12, 2018
Event Name
Bead Fest Philadelphia
Venue
Greater Philadelphia Expo Center, PA 19456, USA
Dates
August 15 - 19, 2018
Event Name
International Watch & Jewelry Guild Show
Venue
TBD, Long Beach, CA, USA
Dates
August 20 - 21, 2018
Event Name
Japan Jewelry Fair 2018
Venue
Tokyo Big Sight Exhibition Center, Japan
Dates
August 28 - 30, 2018
Keep up with our new arrivals before they hit the newsletter by joining our thousands of fans and followers on our social networking pages. We love interacting with our customers - you can visit us on Tumblr, LinkedIn, Twitter, Facebook or Pinterest!
To ensure you can receive our emails, please be sure to add help@gemselect.com to your list of safe contacts or email address book! Please feel free to contact us with any questions, comments, or concerns! We respond to each and every email we receive.
Happy Gem Hunting!
Your friends at GemSelect
First Published: March-06-2018
Last Updated: August-02-2018
© 2005-2021 GemSelect.com all rights reserved.
Reproduction (text or graphics) without the express written consent of GemSelect.com (SETT Company Ltd.) is strictly prohibited.