GemSelect Newsletter - Stunning Spinel
Historical Pink and Red Spinel Gems
A Replica of the Hope Spinel
Spinel gems have been used for over a thousand years. One of the best-known historical spinel gems was acquired by the Prince of Wales in 1367. This red spinel was mistaken for a ruby and became known thereafter as "The Black Prince's Ruby". The reason why fine spinel gems have been believed to be rubies is due to their color and because they occur in places where rubies are found. In the past, fine red spinel gems were known as "Balas rubies", after an ancient name for Badakhshan in Northern Afghanistan which is a source for ruby and spinel.
Among the most famous spinel gems are the aforementioned Black Prince's Ruby, the Timur Ruby and the Hope Spinel. As far as spinel jewelry goes, an Imperial Mughal spinel necklace achieved over $5 million at Christie's Geneva in 2011. This historical necklace features eleven red spinel gems, three of which are engraved with the names of Emperor Jehangir and one that bears the names of three emperors. The Hope Spinel is a pinkish-red octagonal gemstone weighing 50 carats and mounted in a pendant surrounded by white diamonds. It belonged to Henry Philip Hope, who had an incredible collection of gems including the Hope Diamond. The Hope Spinel sold at Bonhams in 2015 for $1.47 million.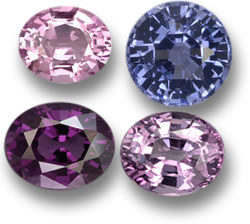 Some of the Colors of Spinel Gems
Spinel has many colors, from pale pink, yellow and lavender to blue, greenish-blue, purple, grayish and black. Some spinel colors, such as pale pink, blue and black are very affordable. The most valued spinel color is red. When it comes to warm tones, pink, yellow and orange are also options with spinel. Many of the most easily sourced spinel gems tend to have cool hues. These include violet-pink, violet, blue, grayish and black. Spinel gems are often set into white metal jewelry, which complements the cool colors well. Red, pink and black spinel is stunning when set into rose gold or yellow gold. Black spinel gems are beautiful and dramatic either by themselves or accented by any other color.
Unisex Black Spinel and Blue Topaz Pendant
Spinel is ideal for both ladies' and men's jewelry. For ladies, any color is appropriate for spinel jewelry. Pink, purple and blue spinel gems are popular for all ladies' jewelry. Large stones for cocktail rings are usually available in black, but may be difficult to find in other colors. Black spinel is a very versatile jewelry gemstone, which can be used for almost any design, from small accent stones to large statement stones. Its vitreous luster makes black spinel extremely alluring. For men, black spinel is ideal for cufflinks, rings, pendants and other items. Black spinel is often given a rose-cut, with a flat bottom, making it perfect for setting into cuff links or similar pieces of jewelry. Grayish-blue and grayish-violet spinel gems are also ideal for men's jewelry, since they are not too feminine or bright. Spinel is usually untreated and eye clean, which makes it an even more enticing option.
While spinel is not as hard as ruby or sapphire, it has sufficient hardness to be used in jewelry and its indistinct cleavage makes it durable enough for lasting designs that can be worn daily. Thus one of the benefits of spinel jewelry is that its beauty will last. Despite spinel being an attractive and typically affordable gemstone, it is not often seen in jewelry. Sadly, colored spinel gems in over 5 carats are quite rare, especially in vivid colors such as red and blue. Therefore, statement spinel jewelry can be made from black spinel gems or small closely-set colored spinel gems.
Pink and Purple Spinel
As demonstrated above, spinel is a stone that is not to be sniffed at. It is a versatile, durable and attractive jewelry gemstone that is believed to have a number of therapeutic properties which include the alleviation of stress and the promotion of love and compassion. Particularly, pink spinel is related to love and violet spinel is connected with spirituality. Spinel is thought to emit a calming energy, and encourage renewal and healing. It is also the zodiacal stone for those born under the sign of Gemini. Crown Jewel collections around the world including those of England, Russia and Iran contain superlative spinel gemstones. This is evidence enough of the beauty and value of spinel.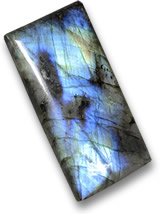 Rectangular Labradorite Cab
Labradorite is an intriguing and unique gemstone that shows a beautiful sheen of color when turned. This is known as labradorescence and gave rise to an Inuit legend that the Northern Lights shone onto the shores of Labrador and were held in these colored stones. The rarest and most prized labradorite gemstones show the whole spectrum of color, and these are known as "spectrolite". More often, labradorite gems show a blue or violet schiller, which is best brought out by being cut en cabochon. These are popularly worn as statement necklace pendants, earrings and cuff bracelets. Some believe that labradorite is a stone of insight, which facilitates truth, and encourages positivity and peace in its wearer. Labradorite was first found in Labrador, Canada, but is also sourced from Australia, Madagascar, Mexico, Norway, Russia and the USA.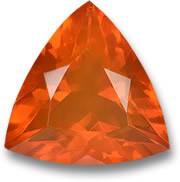 Fire Opal Trillion Facet
Fire opal is not like other opal gems in that it is prized for its body color rather than play of color. It is easy to see by looking at the gem on the right as to why this gem is called "fire" opal. The fiery colors of this vivid gem range from white and yellowish to bright orange and red. Fire opal gems make beautiful earrings and necklace pendants that brighten up any dull day or sizzle in the heat of a hot summer's day. Mexico is an important source for fire opal, as is Brazil. Fire opal gems are also found in the USA, Canada and Australia. Opal is the birthstone for people born in October. The metaphysical properties attributed to opal include the promotion of creativity, amplification of emotions and support in finding true love.
Get the Most Out of GemSelect - User Accounts
Back to Top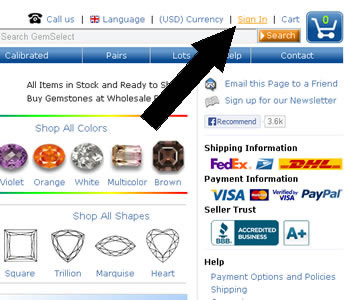 GemSelect Account Login
Our programmers are always working on improving the website to enhance the customer experience. We've recently been working on customer accounts. You may have noticed that our website has a "sign in" link on the top right-hand side near the cart. There is also an "accounts" link under the "help" menu. This leads to a secure sign-in page where you can create your very own GemSelect account by filling out the form and saving your details. Your very own GemSelect account allows you to find all of your customer history in one place. Your account will save all of your order history, with easy access to gem details and pictures to save you having to search your email history. You will be able to see shipping information and tracking details, so that you can keep tabs on your orders without having to contact us and wait for a response.
Auction prices for ruby gems have been steadily increasing and an exceptional Burmese ruby is set to achieve an incredible price at Christie's 250th anniversary on 20th April in New York. The outstanding 15.99-carat red gem known as the Jubilee Ruby is mounted in a platinum and gold ring by Verdura and surrounded by white diamonds. The Jubilee Ruby is believed to be an unheated ruby from Mogok; arguably the most important source for fine ruby. The pre-sale estimate of $12-$15 million may well be exceeded.
Time being precious took on a whole new meaning at Baselworld 2016, where some of the most extravagant watches were showcased. Beautiful bejeweled timepieces that wowed visitors to the annual show included the Princess Butterfly watch by Graff, featuring wings fashioned from blue sapphire, which open to reveal a mother-of-pearl dial. The most colorful contribution showing a spectrum of 581 sapphire baguettes set in rose gold was Chopard's Imperiale Joaillerie watch.
The latest statement sneakers adorned with white diamonds, blue sapphires and 18k gold have been valued at $4 million US. The stunning Li-Ning Dwyane Wade shoes, named "The Fire Monkey" in celebration of the Chinese New Year were produced by Bicion in collaboration with Dan Gamache. Anyone wealthy enough to wear these sneakers may be well-advised to keep the tag, which is made from gold, and practice their sprinting skills before daring to wear them on the street. Proceeds from the sale of the shoes will go to Soles4Soles; a not for profit organisation which distributes clothing and shoes to those in need.
Event Name
International Watch & Jewelry Guild Show
Venue
Westin Dallas Park Central, Dallas, TX, USA
Venue
Expo Guadalajara, Av Mariano Otero 1499, Guadalajara, Jalisco, Mexico
Event Name
MidEast Watch & Jewellery Show
Venue
Expo Centre Sharjah, Al Taawun Street, Sharjah, UAE
Event Name
Tokyo Fashion Jewellery Expo Spring
Venue
Tokyo International Exhibition Center (Tokyo Big Sight) 3-11-1 Ariake, Koto-ku, Tokyo, Japan
Event Name
Junwex Ekaterinburg
Location
Russian Federation
Venue
Ekaterinburg Expo, Kursovoy Per. 8, Blg 2, Ekaterinburg, Russian Federation
Event Name
Jewelers International Showcase
Venue
Miami Beach Convention Center, 1901 Convention Center Dr, Miami Beach, FL, USA
Event Name
VicenzaOro Dubai
Venue
Dubai World Trade Center, Sheikh Zayed Rd, Dubai, UAE
Dates
April 14 - 17, 2016
Event Name
China International Gold, Jewellery & Gem Fair
Venue
Shenzhen Convention & Exhibition Center (SZCEC), Fuhua 3rd Rd, Shenzhen, Guangdong, China
Dates
April 19 - 21, 2016
Event Name
New Orleans Spring Bead & Jewelry Show
Venue
Pontchartrain Center, 4545 Williams Blvd, Kenner, LA, USA
Dates
April 22 - 24, 2016
Venue
Sonoma County Fairgrounds, 1350 Bennett Valley Rd, Santa Rosa, CA, USA
Dates
April 29 - May 1, 2016
Every month we answer questions of general interest from our customers. Please feel free to send your questions or suggestions to our support team at help@gemselect.com!
Question
Why do some gemstones glow in UV light?
Answer
Some gems and minerals exhibit fluorescence, which means that they glow after being exposed to light of a shorter wavelength (typically ultra violet light). This is because UV light is absorbed by the gem and then the energy is emitted as visible light. A similar effect can be seen when teeth and white clothing appear to glow in a dark nightclub. Since UV light is not visible to the human eye, fluorescent materials appear to magically glow. Probably the most famous fluorescent gemstone is the Hope Diamond, which exhibits red fluorescence. Rubies are also known to exhibit red fluorescence, but the best-known fluorescent mineral is
fluorite
, after which the term "fluorescence" was coined.
Question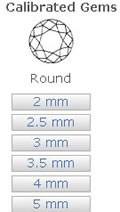 Calibrated Gem Chart
Hi, I am looking for small, round multicolored gems to make stackable rings, what is the best way to find such gems?
Answer
There are several gem types available as small rounds and your choice will depend on various factors, such as exact size and budget. The best way to find the gems you require is to shop by shape and size using our
calibrated size
chart (see image, right). Once you click on the millimeter size, all available options will be shown. On the top right-hand side, you will see all of the available gem types and colors in the chosen size. For example, in 2 mm sizes, there are multicolored diamond-cut sapphire and tsavorite garnet lots of 20 pieces and more. Alternatively, you can visit our fancy colored
melee gems
page to find gem lots in various sizes, shapes and colors. Depending on the exact sizes, amounts required and your budget, the right gems can be easily found. If you cannot find exactly what you are looking for, please feel free to ask us for help.
We always welcome your questions, comments and feedback! For those who are interested in attending some gem and jewelry events, please see the details below.
Keep up with our new arrivals before they hit the newsletter by joining our thousands of fans and followers on our social networking pages. We love interacting with our customers - you can visit us on Tumblr, LinkedIn, Twitter, Facebook or Pinterest!
To ensure you can receive our emails, please be sure to add help@gemselect.com to your list of safe contacts, or you add us into your email address book! Please feel free to contact us with any questions, comments and queries! We respond to each and every email we receive.
Happy Gem Hunting!
Your friends at GemSelect
First Published: March-30-2016
Last Updated: June-15-2017
© 2005-2021 GemSelect.com all rights reserved.
Reproduction (text or graphics) without the express written consent of GemSelect.com (SETT Company Ltd.) is strictly prohibited.