Frequently Asked Questions (FAQ) / Green Amethyst and Prasiolite
Does GemSelect Sell Green Amethyst?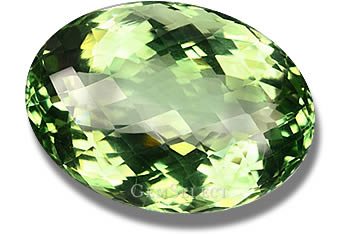 Amethyst is by definition violet to purple colored transparent quartz. So there is really no such thing as green amethyst. The gem sometimes sold as 'green amethyst' is a misnomer and what gemologists actually refer to as 'prasiolite'. Prasiolite is a very rare leek-green variety of transparent quartz, so most of the prasiolite available today is actually produced by heating and/or irradiation of amethyst quartz, typically to round 500 degrees centigrade. Unfortunately, the green color of treated prasiolite is known to fade when exposed to strong sunlight, so peridot would be a much better choice in this color range. You may also see green quartz in a vivid mint green or blue-green hue, but this is almost always synthetic material produced by the hydrothermal method.