Frequently Asked Questions (FAQ) / Gem smaller than expected
I recently purchased some gemstones and they were smaller than I expected. Can you help me?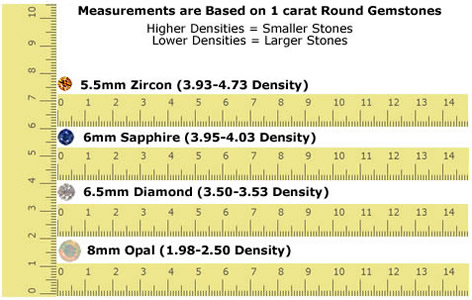 While we can't make your gems larger, we think we know what may have went wrong. It is a lesson that many have yet to learn - when it comes to buying gemstones, carat weight is often times not as important as size. Different gemstone materials have a different density (specific gravity), so some gems will appear larger than others of the same weight. For example, a 1 carat sapphire is smaller than a 1 carat diamond because sapphire is a denser material. We have a weight comparison chart that will allow you to compare the weight of different gemstones in calibrated sizes. We always give the exact dimensions of our gemstones in millimeters on our website, so don't forget to check the size of your gemstones, in addition to the carat weight.
STAY IN TOUCH
*You're signing up to receive GemSelect promotional email.
Privacy Notice © 2005-2023 GemSelect.com all rights reserved.
Reproduction (text or graphics) without the express written consent of GemSelect.com (SETT Company Ltd.) is strictly prohibited.
818
Popular Gemstones

All Gemstones (146)

Main Categories

| | |
| --- | --- |
| | Drilled Gems, Briolettes and Beads |
English speaking customer support only
Toll Free - USA & Canada only:
1-800-464-1640

International:
+66-39609697
Save Money
No shipping Fees for Additional Items!
$8.90 Worldwide Shipping
Size and Weight
Gems are always measured in Millimeter (mm)
Dimensions are given as;
length x width x depth,
except for round stones which are;
diameter x depth
Select gems by size, not by weight!
Gem varieties vary in density, so carat weight is not a good indication of size
Note: 1ct = 0.2g