Citrine for Sale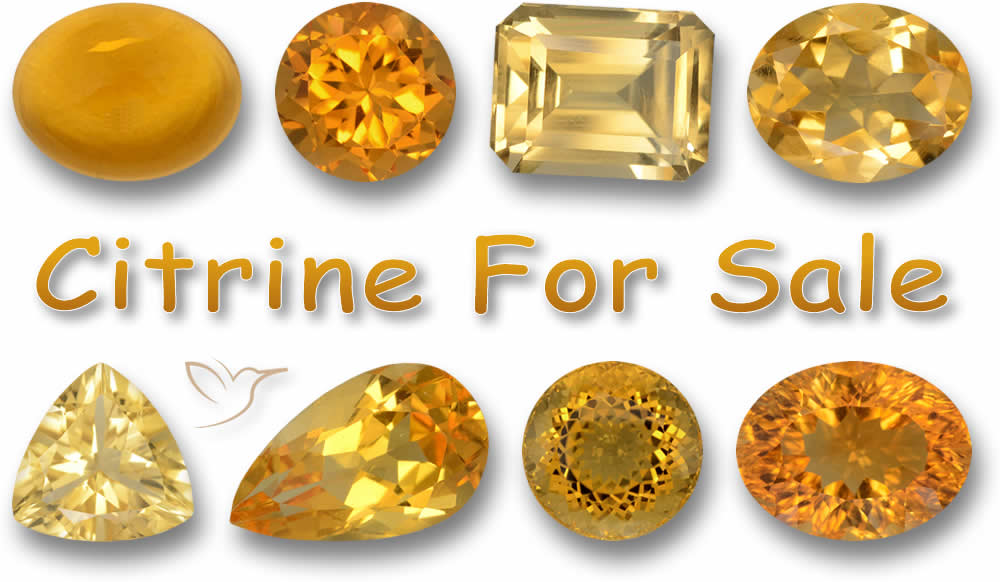 All our loose citrine gemstones are in stock ready to be shipped immediately. Each gemstone is individually photographed - we do not use stock photos, so what you see is what you get - guaranteed.
This gorgeous lemon yellow to burnt orange gemstone is one of the most popular gemstones available today. Citrine is a member of the durable quartz family and is the birthstone for November.
Shop Citrine in the following Categories
Shop Citrine by Shape


Citrine is a very versatile gemstone that can be found in nearly all the popular gemstone shapes making it perfect for all types of jewelry items.
Citrine is rated 7 on Mohs hardness scale so can be cut into all shapes without being easily chipped or scratched.
Shop Citrine by Color


Citrine range in color from light lemony yellows to quite earthy brownish orange colors. Popular shades include Golden Citrine, Orange Citrine and Yellow Citrine.
The most expensive color of citrine is the deep red-orange tones sometimes referred to as Madeira or Fire Citrine.
Shop Citrine by Pieces, Lots, Pairs...




Our citrine gemstones can be bought singly or in matching pairs and lots. All gemstones are hand selected by color, size and shape. Our unique filter system can find different sizes and shapes in the same color for jewelry sets.
Shop Citrine by Price Range
Despite its fantastic clarity and bright yellowy colors, Citrine is a very reasonably priced gemstone.
Shop Citrine by Size Range
Crystal clear Citrine can be found in a wide range of sizes including very large, eye-catching but affordable gemstones which make great pendants and cocktail party rings as well as matching lots in sizes suitable for side stones or pave stones.
The largest ever citrine weighs 2258 carats (451.6g) and comes from Brazil. It is on display at the Smithsonian Museum in Washington.
Shop Citrine Cabochons


Before the art of faceting gemstones was developed, nearly all gemstones were cabochons - a dome shaped rounded top with a flat bottom. Cabochons these days are usually opaque or translucent but we have many transparent citrine cabs. This cut can create an interesting classic look and really enhance the color.
Did you know?
Most citrine gemstones are discovered in Brazil and Central Africa.
Another name for this gemstone is the "Merchant Stone" because it is associated with wealth and prosperity.
Citrine is the most popular of all yellow gemstones.
First Published: September-29-2020
Last Updated: October-02-2020
© 2005-2021 GemSelect.com all rights reserved. Reproduction (text or graphics) without the express written consent of GemSelect.com (SETT Company Ltd.) is strictly prohibited.
Article Categories
Total Number of Articles: 1792