Shipley and the GIA
Robert. M Shipley Sr. was born in Wichita, Kansas, in 1887 and became a successful Wichita jeweler. His career may well have ended there, buying gems and selling jewelry to the local society figures.
However, one of his wealthy clients who had just visited some of the diamond cutting centers in Europe drew Shipley's attention to the fact that his knowledge of diamonds was incomplete. Shipley was unaware of many technical details of diamonds, which had inadvertently led him to sell some substandard stones.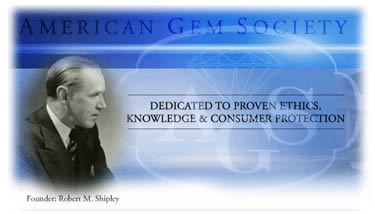 Shipley was thus inspired to travel to Great Britain in 1928 to study gemology with the world's leading experts. When he returned home as one of the first graduates of the Gemmological Association of Great Britain, Shipley took with him the great traditions of the European guilds and institutes.
Back in the United States, Shipley realized that America's jewelry industry needed to be governed by professional standards of training and practice as he had seen abroad. Thus, Shipley began teaching a night course in gemology at the University of Southern California. It was so popular that in 1931 he founded the Gemological Institute of America (GIA) in Los Angeles.
At the same time he published his book, Gemology, and within a year, some 250 jewelers had enrolled for his courses. Shipley and his team also traveled throughout the United States providing home-study courses, which were completed by correspondence, giving US retail jewelers the chance to acquire gemological knowledge as well as sound business practice.
A few years later in 1934, he also established the American Gem Society (AGS), an association dedicated to creating and policing high standards of ethics and professionalism in the American jewelry industry, open only to graduates of the GIA with sound business reputations. Its aim was to create consumer confidence in the industry, which until then had enjoyed a less than spotless reputation.

One of the main aims of Shipley's early courses was to teach his students to identify diamonds of poor quality and cut. These were among the concepts that were later used by the GIA to develop its patented International Diamond Grading System.
Shipley went on to write Famous Diamonds of the World and edited the Dictionary of Gems & Gemology and the Jeweler's Pocket Reference Book. He remained actively involved in the GIA and AGS until his retirement. His contribution to gemology is remembered annually when the Robert M. Shipley award is given to an AGS member in recognition of outstanding service to the society, significant contribution to gemology and for exemplifying the organization's high ideals.