Dumortierite Quartz Gemstones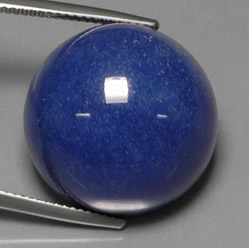 Dumortierite Quartz Cabochon
We're often asked the question, "Is there such a thing as natural blue quartz?" We have to answer that much of what is sold in the market as blue quartz is artificially colored synthetic quartz created by the hydrothermal method.
However, there is natural blue quartz. Indeed there are several different kinds of blue quartz. For example, there is a rare type of blue chalcedony (microcrystalline quartz). Most chalcedony is lavender, but there is material from several locations - particularly from Namibia and the Western USA (Nevada, California and Oregon) - that is distinctly blue in color.
There is also natural blue quartz that is colored by microscopic inclusions of other minerals, such as fibrous crocidolite or dumortierite. Some of this is nearly as rich a blue as sodalite or lapis lazuli. However, all natural blue quartz is translucent or opaque, so highly transparent blue quartz is very likely synthetic.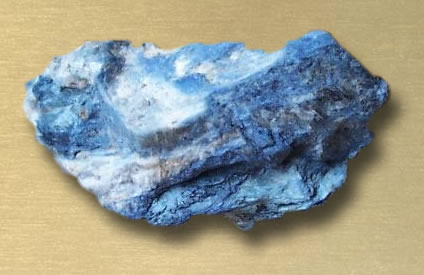 Dumortierite Rough from Madagascar
Quartz that is colored blue by dumortierite inclusions can be very attractive. Dumortierite is aluminum borosilicate, with a hardness of 7 to 8.5 on the Mohs scale. The crystals are at the higher end of the hardness range, while the aggregates have the same hardness as quartz (7 on the Mohs scale). Dumortierite was first described in 1881, upon the discovery of an occurrence in the Rhône-Alps of France and named in honor of the French paleontologist, Eugene Dumortier (1803-1873).
Dumortierite deposits are found in Madagascar, Mozambique, Namibia, Sri Lanka, India, France, Italy, Poland and Norway. Dumortierite quartz is sometimes sold under marketing names such as, "blue moon quartz" or "blue denim stone".
Dumortierite also has some industrial uses. It is used to make high quality ceramics and porcelain, since it turns a remarkably pure white color when fired.