GemSelect Newsletter - November 2018
New Feature - Fully Customizable Gemstone Lots
Back to Top
Below is a quick tutorial video on our new Customizable Gemstone Lots feature.
GemSelect is excited to unveil our brand new feature that gives you the ability to customize your own wholesale lots 'By Piece.' The best part is our newest feature comes at no additional cost and is open to everyone!
To access this new feature click the banner located on the web page that says 'Create Your Gemstone Lots.' The banner will take you to a page where you'll see all the products that are available for purchase in our Buy by Piece category. The drop-down menus under each gem type will allow you to select the precise amount of gems you desire.
Now you can choose from our top-quality, meticulously-selected gemstone lots and purchase the exact number of stones you need for your designs, replacements, or collections. Basically, with GemSelect's new option you can buy Gemstones at 'wholesale-lot prices' without buying the entire lot.
Our first 'BBP' Lots are selling at very affordable prices to assist you in this holiday season. GemSelect hopes you will enjoy the freedom and savings of our new customized lots system.
New Arrival - Massive & Extremely Rare Grandidierite - 27.9 Carats
Back to Top
The mineral Grandidierite discovered in 1902, was found only in small quantities. More substantial deposits found about 100 years later prompted the entry of Grandidierite into the gem and jewelry market. Of the smaller Grandidierite discoveries made from 1902 to 2000 none were considered gem-quality material they are therefore undesirable. Thus, the gem quality material is rare that's why cabochon and faceted gems are so valuable.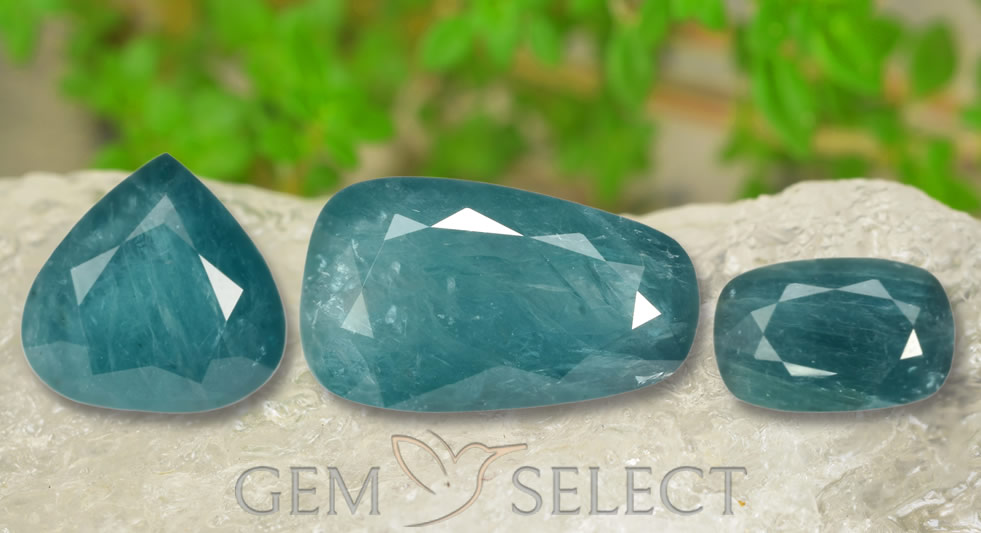 Rare Natural and Untreated Grandidierite from Madagascar, from GemSelect
In the year 2014, a sizable deposit of gem quality Grandidierite 'was discovered' in Madagascar which has resulted in the spectacular faceted stones shown above. The faceted Grandidierite stones we carry at GemSelect are arguably some of the largest samples ever seen. Due to their size, color, and expert preparation; these gems are incredibly rare which is why we chose to highlight them for November. The pieces we currently have in stock are approximately three times the weight of an average Grandidierite Cabochon.
Though this gem type is relatively new to the market, it holds some fantastic properties that we find fascinating. Grandidierite displays, what's known as, 'strong trichroic pleochroism' which means the gem can display three different colors depending on the angle at which one is viewing the stone. Grandidierite's color ranges from dark blue-green, colorless with a hint of light yellow, all the way to dark-green.
Because of the reasons mentioned above, faceted pieces of this Grandidierite are rare. Grandidierite's unique appearances are perfect for modern jewelry applications too. And even more unique is seeing a Grandidierite piece in a gemstone or jewelry collection.
At GemSelect we urge you to get the 'Grandidierite Gems' while they're hot because stones of this size, quality, and rarity may not be available again.
November Birthstones: 'Hot stones for this cool November.'
Back to Top
November born individuals have plenty of reason to celebrate during this time of year. For one, November marks the official start to the holiday season, and that means food, festivities, and gift giving. But more importantly, November marks a time where families come together and show their love for one another. November is such an extraordinary time of year that those born in November may be lucky enough to receive one of these beautiful Citrine or Topaz gems as a token of their loved one's appreciation!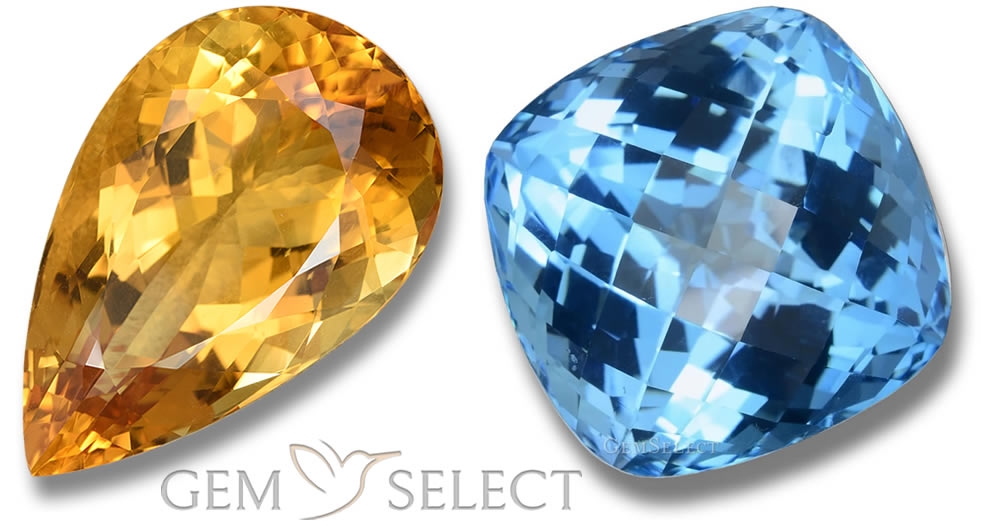 100% Natural 'Pear Shaped Faceted Citrine' and 'Cushion Cut Blue Topaz' from GemSelect
Topaz and Citrine, the official Birthstones of November, are incredibly affordable, exceptionally beautiful, and very durable making them the perfect gift for your loved ones this holiday season. With Citrine being one of the most affordable semi-precious gemstones available there is no reason 'your loved ones' shouldn't receive a gem they'll remember forever. If affordability is what you're searching for GemSelect has you covered with our enormous selection of meticulously selected Natural Citrine.
November's Primary Stone, Topaz is one of the most popular gemstones today, and it's quite clear why that is. This gemstone is stunning, durable, and affordable; it is also available in massive sizes perfect for pendants or rings and numerous cuts are possible in pairs for a spectacular pair of earrings. The variety of colors that are available in the gem type can compliment every skin type, and it is a gem that is sure to impress because of its stunning array of colors and brilliance. Look at some of the beautiful varieties that are available; the most popular Blue Topaz, the rarest Imperial Topaz and our massively large and affordable selection of Pink Mystic Topaz.
You may feel that these stones aren't enough and that you would prefer a more extensive selection of gem types. We have some excellent news for you; November born individuals have an entire list of additional gem types that correspond to their Zodiac Signs. If you would like to learn more about these gemstones, please check out our brand new November Birthstone and Zodiac Stone article.
At GemSelect we believe nothing shows your love and appreciation more than a meticulously crafted piece of jewelry that screams I'm flawless. So go ahead, browse our selections of Citrine and Topaz and prepare to be impressed by our extensive inventory which includes over 10,000 pieces of the two Gem Types. And feel free to explore our other products to find something that catches your eye. We're sure you'll find the perfect stone to craft the design of your dreams and make this holiday season one to remember.
Every month we answer questions of general interest from our customers. Please feel free to send your questions or suggestions to our support team at help@gemselect.com!
Question
I'm looking to replace a diamond that fell out of my ring. I cannot afford to buy a real diamond, but could you suggest another gemstone that looks similar?
Answer
For those who want the look, feel, and qualities of a diamond without the hefty price tag
White Zircon
is a great alternative. White zircon is a natural gemstone that is perfect as an alternative to the costly diamond. White Zircon found in places such as Cambodia, Sri Lanka, Brazil, Australia and East Africa rivals the Diamond with its brilliance.
Question
I have large green stone; can you help me identify what type of stone it is?
Answer
Identifying a gemstone based on a picture is unfortunately impossible. We recommend that you seek the expertise of a certified gemologist. They have the education and gemological equipment to identify color gemstones.
To ensure you can receive our emails, please be sure to add help@gemselect.com to your list of safe contacts, or add us into your email address book! Please feel free to contact us with any questions, comments, and queries! We respond to every email we receive.
Happy November,
Thank you for your interest in our newsletter. We wish you a fantastic holiday season from all of us here on the GemSelect team.
First Published: November-02-2018
Last Updated: November-20-2018
© 2005-2021 GemSelect.com all rights reserved.
Reproduction (text or graphics) without the express written consent of GemSelect.com (SETT Company Ltd.) is strictly prohibited.