GemSelect Newsletter - Gems for Joy
Everybody desires happiness and we often go to great lengths to attain and maintain this vital state of being. From time to time we receive inquiries about crystals or gemstones that can contribute to or bring about contentment, so we would like to respond by discussing gems for joy this month.
Gemstones have been used as amulets and talismans for thousands of years and each gem type has accumulated its own lore. While many are skeptical about such notions, others believe that gems and minerals emit healing energy. According to this belief system, depending on the gem type and color, the energy varies along with the assumed effect.
Red Carnelian Cabochon
The road to happiness may begin with overcoming obstacles, and one stone that has been attributed with this ability is chalcedony, which was set into seal rings for the ancient Romans and Greeks. The red-orange to brownish-red chalcedony known as carnelian was widely used. Carnelian was worn in rings by several important historical figures in the belief that it would bring good luck. The name, "carnelian" is thought to have come from the color of the cornel cherry, which explains why it is also sometimes called "cornelian".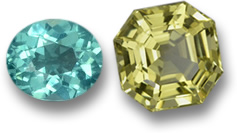 Blue & Yellow Apatite Gems
If you've lost your lust for life, then get a little apatite, which is thought to help its wearer overcome sadness, especially golden apatite. Apatite is a lesser-known gemstone that can be found in many different colors, including a Paraiba tourmaline-like blue-green, and occurs as both transparent gem material that is faceted and cat's eye apatite gemstones.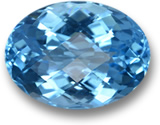 Blue Topaz Gemstone
If you're feeling a little blue, then try blue topaz, it is another balancing stone that is said to ease anguish. Also, soothing stones, blue spinel and amethyst are said to help relieve the mind. Other stones that are thought to relieve depression are emerald and peridot. Both of these gem types were used by the ancient Egyptians as talismans and the very first-known emerald mines, known as "Cleopatra's Mines" were in Egypt. The ancient Hindu texts, the Vedas, refer to the ability of emeralds to enhance well-being and bring luck.
If none of these are your cup of tea, or you find it hard to choose a certain gemstone color, then try rainbow pyrite, which is thought to be a stone of positivity. Indeed, this colorful iridescent gem is enough to brighten up anyone's mood, after all, who isn't delighted by a rainbow?
Not all stones for cheer are bright and colorful; black tourmaline (AKA schorl) is a dark stone that is thought to be a powerful protector from negativity, making it a popular healing gem. It also makes beautiful and durable jewelry for either men or women.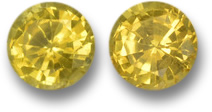 Yellow Sapphire Pair
When it comes to mood, sapphire seems to have it all. Those who wear sapphire are believed to benefit from mood elevation, less stress, wisdom and happiness. The most popular sapphire color is blue, but yellow sapphire holds an important place in Vedic astrology as one of the nine planetary gemstones. Yellow sapphire is associated with Jupiter and is believed to be a beneficial stone of fortune.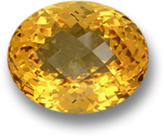 Citrine
For those who are looking for a more affordable alternative, yellow sapphire can be substituted for golden beryl or citrine, which is possibly the most widely recommended healing crystal for happiness. Citrine gets its name from the French word for lemon and is a sunny yellow colored quartz gemstone. It is not surprising that a stone the color of the sun's warming rays is associated with looking on the bright side and finding success. In fact, orange and golden colored gemstones in general are believed to help attract and maintain contentment.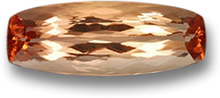 Imperial Topaz
One of the most valuable golden gemstones is imperial topaz; a rare yellow, pink-orange or reddish stone that has been described as the color of the setting sun and has long been associated with sun gods in ancient cultures. Imperial topaz is not nearly as abundant as white topaz, making it a much more sought-after gemstone with a price tag to match. The golden glow of imperial topaz would bring a smile to most.
Those who prefer multicolored cabochons may be interested to learn that jasper is said to absorb negativity, and bestow contentment and tranquility on those who choose to wear it. As a member of the quartz family, jasper is both affordable and widely available. The beauty of jasper is its almost infinite variety of patterns and colors. Finally, if you are aiming for total contentment, then settle for brilliant zircon, which is said to bring peace and beauty to those who wear it.
While gemstones may or may not intrinsically contain the essence of euphoria, they can certainly contribute to pleasure in several ways. Color therapy is just one way in which we can benefit from beautiful jewels; who would not be cheered by a sunny citrine, a ravishing rubellite or an elegant emerald? If this fails to lighten the spirit, we can try a little retail therapy! Just by looking at beauty, we can feel inspired, refreshed and rejoice in the wondrous natural colors of nature.
Octagonal Green Sapphire
Exciting new acquisitions for this month include a wide range of green sapphire stones from Madagascar, weighing from 0.5 carats all the way up to 5 carats. These green stones are available in almost every shape, including octagons, hearts, marquises and rounds. Furthermore, their colors offer a wide range, from bluish-green to yellowish-green colored gems in both intense and pastel shades. As well as their beautiful green hues, these new green sapphires are very clean and perfect for lasting gemstone jewelry designs.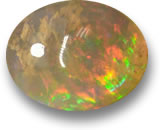 Multicolor Opal Cabochon
Those who love multicolored gemstones and stones with interesting optical phenomena may enjoy checking out our new opal gemstones. Our new cabochon-cut opals are quite large, measuring 18 mm and over, and show a great play of color. Their size and lack of hardness make these colorful opals best suited for necklace pendants or earrings, though if worn in protected bezel settings, they would also make beautiful rings. For more durable jewelry designs, there are some new boulder opal and opal doublet stones, which also show dramatic multicolors.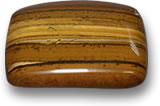 Banded Tiger's Eye Cab
Other recent acquisitions that are perfect for pendants are large, banded tiger's eye cabochons. Tiger's eye gemstones are typically golden brown with chatoyant bands that are shown off by cabochon cuts. Tiger's eye stones can also exhibit black or reddish-brown stripes like the gemstone on the left. Rustic-looking tiger's eye stones are durable and suitable for both men's and women's jewelry designs of any kind. Tiger's eye stones can be found in many places around the world and our new acquisitions were sourced from Thailand.
The 59.6-carat Pink Star Diamond is officially the most valuable jewel ever sold at auction, since it sold for $71.2 million USD at Sotheby's, Hong Kong, surpassing the previous record held by the Oppenheimer Blue. The incredible stone went to Hong Kong jeweler, Chow Tai Fook on 4th April, who renamed the Diamond, the CTF Pink Star, in honor of the late founder of Chow Tai Fook, Dr. Cheng Yu-Tung, and to commemorate the 88th anniversary of the brand.
The Stotesbury Emerald, a 34.4-carat, hexagonal Colombian emerald achieved $996,500 at Sotheby's New York on 25th April. The legendary emerald was named after one of its owners, Eva Stotesbury, wife of J.P. Morgan banker, Edward T. Stotesbury, and expert gemstone collector. Mrs Stotesbury wore the emerald as the centerpiece of a necklace by Cartier. After her death, Harry Winston acquired the emerald and mounted it in its contemporary ring setting.
The Mughal Spinel, a historically important, 55-carat pinkish-red spinel gemstone inscribed with the names of Emperors Jahangir, Prince Khurram and 'Alamgir' (Aurangzeb), sold for $350,866 at Sotheby's London on 26th April. The Spinel, which was acquired by a private buyer is pierced through the center and mounted on a gold chain with seed pearls. It once belonged to the great Mughal ruler who was responsible for building the Taj Mahal. For those interested in learning more about historical jewels of India, the Jewels of the Al Thani Collection are currently being exhibited in the Grand Palais, Paris until June 5, 2017. The Collection includes such treasures as the Agra Diamond, the Maharani of Patiala's Choker and a ring with Shah Jahan's spinel.
Every month we answer questions of general interest from our customers. Please feel free to send your questions or suggestions to our support team at help@gemselect.com!
Question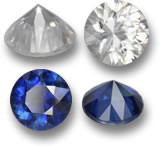 Diamond-Cut Zircon and Sapphire Gems
I'm looking for a really nice, sparkly gemstone, which cut or shape would you best recommend?
Answer
If you're after brilliance, then a transparent gemstone would be the best, and the more facets, the better, since the facets allow light to enter and exit the gemstone in all the right places. A diamond cut is generally the best option to bring out brilliance of a gem. It was designed to showcase the beauty of diamonds, hence the name. We have a page dedicated to
diamond-cut gems
where you can use the left-hand menu to explore gem types and colors, the check boxes to browse
faceted gems
, singles, matched pairs or lots, and the "shop by" filters to find gems by price, size, weight, origin and more. We hope you find the right stone for you!
Question
I am not from the US and would like to know if you have a currency conversion tool? It would be helpful to see how much I'm spending in my own currency.
Answer
Yes, we do have a tool for other languages and currencies at the top, right-hand side of the page. In order to change the currency, simply use the drop-down menu to the left of the cart icon to choose another currency. Following this, all prices will be shown in your chosen currency. When checking out, your payment will be automatically converted into US Dollars.
We always welcome your questions, comments and feedback! For those who are interested in attending some gem and jewelry events, please see the details below.
Event Name
International Fashion Jewelry & Accessory Show
Venue
Affinia Hotel, 551 5th Ave, New York, NY, USA
Dates
April 30 - May 3, 2017
Event Name
International Jewellery & Watch Show
Venue
Abu Dhabi National Exhibition Centre (ADNEC), Al Kheej Al Arabi St, Capital Centre, Abu Dhabi, UAE
Venue
Osceola Heritage Park, 1875 Silver Spur Ln, Kissimmee, FL, USA
Event Name
OroArezzo International Gold, Silver & Jewelry Trade Exhibition
Venue
Centro Affari e Convegni, Via Lazzaro Spallanzani, 23, 52100, Arezzo, AR, Italy
Event Name
Accessories The Show
Venue
Jacob K. Javits Convention Center, 655 W. 34th St., New York, NY, USA
Event Name
Jewelry Shanghai 2017
Venue
Shanghai World Expo Exhibition & Convention Center, 1099 Guozhan Rd, Pudong Xinqu, Shanghai, China
Event Name
Dallas Spring Bead & Jewelry Show
Venue
Grapevine Convention Center, 1209 S Main St, Grapevine, TX, USA
Event Name
International Jewellery Kobe
Venue
International Exhibition Hall, 6 Chome-11-1 Minatojima Nakamachi, Chuo Ward, Kobe, Hyogo Prefecture, Japan
Event Name
May International Jewelry & Watch Vietnam
Venue
Saigon Exhibition & Convention Center, 799 Nguyen Van Linh, Tan Phu, Quan 7, Ho Chi Minh City, Vietnam
Event Name
International Jewelry and Merchandise Show
Venue
New Orleans Morial Convention Center, 900 Convention Center Blvd, New Orleans, LA, USA
Keep up with our new arrivals before they hit the newsletter by joining our thousands of fans and followers on our social networking pages. We love interacting with our customers - you can visit us on Tumblr, LinkedIn, Twitter, Facebook or Pinterest!
To ensure you can receive our emails, please be sure to add help@gemselect.com to your list of safe contacts, or you add us into your email address book! Please feel free to contact us with any questions, comments and queries! We respond to each and every email we receive.
Happy Gem Hunting!
Your friends at GemSelect