Celebrating 50 Years of Tanzanite: GemSelect June Newsletter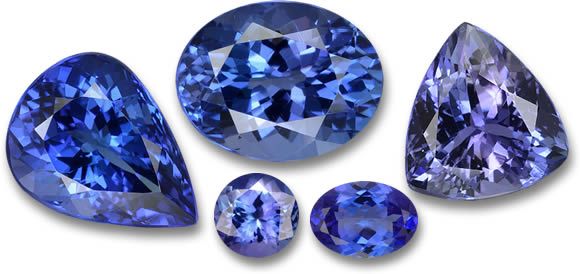 Fine Tanzanite Gemstones
Shop Tanzanite Gems
This is an exciting year for Tanzanite, as the tantalizing gem is celebrating its 50-year anniversary. Said to be a thousand times rarer than diamond, it's hard to believe that this remarkable gemstone was unbeknownst to the world just a generation ago.
Tanzanite is particularly special in the world of gems, not only because its unique violet-blue color can be found in no other gem, but also because it's found in only one place on earth. To this day, Tanzanite is mined exclusively from the same small area from which it was originally discovered; in the foothills of Mt. Kilimanjaro in northern Tanzania.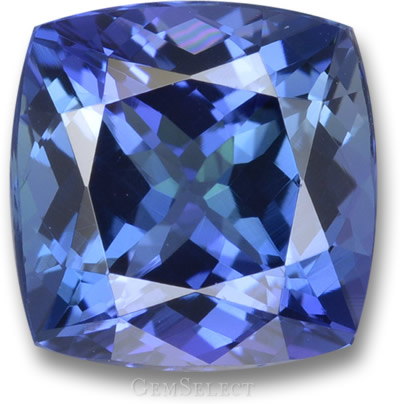 Tanzanite: December's Birthstone
Shop December Birthstones
Although blue zoisite was first discovered in 1967, it wasn't until the following year when Tiffany & Co. finally introduced the marvelous gem to the public. Since then, Tanzanite quickly became one of their most important and memorable legacies. In 2002, tanzanite was even added to the list of December birthstones, becoming the newest official member of the modern birthstone chart.
Interestingly enough, had there not been a bushfire at the right time and at the right place, the true-blue gemstone might never have made it to the market. After some ordinary rocks were involuntarily exposed to the heat of a wildfire, stones which were previously brown had transformed into bright, vivid blue gems. Although how Tanzanite was discovered is fairly consistent in every storyline, the name of its discoverer couldn't be more the opposite.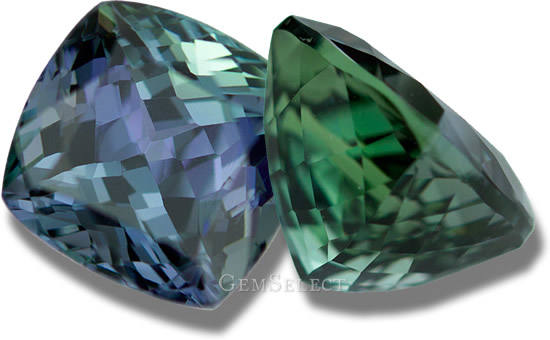 Multicolor Pleochroic Tanzanite
Shop Multicolor Gemstones
Some say it was Manuel de Souza, while others claim it was Ali Juuyawatu, a local Masai tribesman. Another story says it was Ndugu Ngoma, local gypsum miner and Masai warrior. It's hard to know who the credit really belongs to, and who was simply wanting to have their name etched into history books.
Whoever discovered tanzanite had initially hoped it was blue sapphire, and more than likely, they were greatly disappointed after it was revealed that it wasn't corundum at all. The material was then thought to be olivine, but this also proved to be incorrect. Afterward, the stones were simply assumed to be nothing but dumortierite.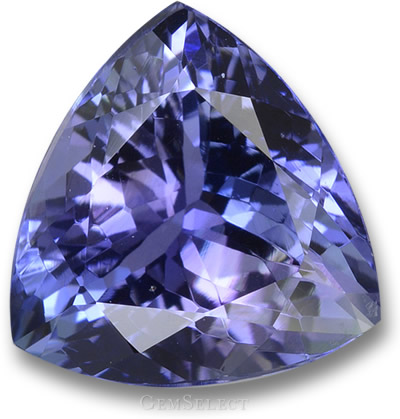 Trillion-Shaped Tanzanite
Shop Trillion-Shaped Gems
However, John Saul, a Nairobi-based geologist, didn't agree with this theory. He asked his father, Hyman Saul of New York's Saks Fifth Avenue, to send samples of the material to GIA for analysis. It was there that gemologists were finally able to properly identify the material; a blue gemstone variety of zoisite, something which they had never before seen the likes of.
The great-grandson of then Tiffany's president and chairman, Henry Platt, didn't think the gemological name of 'blue zoisite' had the right ring to it, so he renamed it 'tanzanite' after its place of discovery. When Tiffany & Co. introduced it to the public, they touted tanzanite as "the most important gemstone discovery in 2000 years". Looking back a half-decade later, it's fair to say they weren't wrong.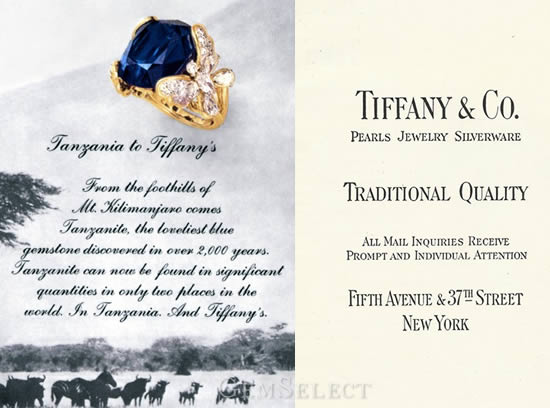 Tiffany's Tanzania and Tanzanite Ad
Shop Gems from Africa
Even by today's standards, Tiffany's original marketing campaign was absolutely brilliant. They featured wild African zebras pictured alongside elegant tanzanite rings. Their advertisement incorporated the perfect verbiage, including the iconic line, 'Tanzanite can now be found in significant quantities in only two places in the world. In Tanzania. And Tiffany's."
Over the last 50 years, the marvelous blue gem has become one of today's most popular colored stones. Tanzanite has deservedly earned its place in the hearts, as well as its way onto the fingers and around the necks of people all around the world. It was initially estimated that tanzanite could be depleted in as little as 15 years, but at the time, the active mining area was only 5 square miles.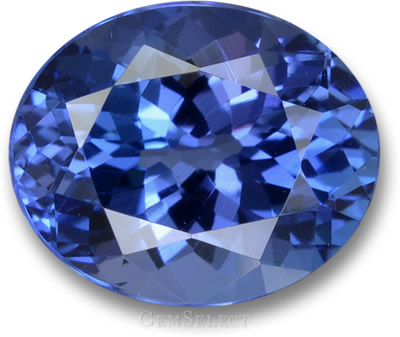 Vivid Blue Tanzanite
Shop Blue Gemstones
Even though the mining area has now nearly doubled in size, it really doesn't matter since there's still an inevitable ending within sight. The most recent studies indicate there could be another 30 years of mining before tanzanite is fully depleted. Sadly, those from our generation and time will most likely be the only ones that will have the opportunity to acquire a 'new' tanzanite. In addition, buyers today are still able to choose their preferred color, shapes, and sizes.
Its limited supply combined with soaring demands has caused nothing but increasingly higher and higher prices, year after year. Although surprisingly, current prices for tanzanite are still relatively affordable to be had. This means if you've ever wanted to own a tanzanite, there's no better time to buy than now. For tanzanite, as they say, 'here today, gone tomorrow'.
Featured Gems of the Month
Morganite is another gemstone that was introduced to the world by Tiffany. Named after J.P. Morgan, morganite is the pink to peachy variety of beryl. Like aquamarine, morganite has a delicate color and excellent clarity. Larger stones often have deeper color, but they are very rare to come by. In fact, it's often hard to find morganite larger than even 1 to 2 carats. Anything more than 3 to 5 carats has become a real rarity.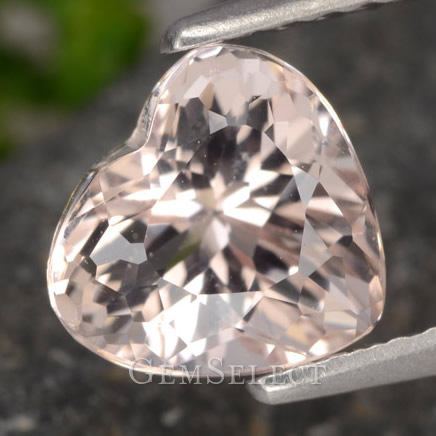 Pink Morganite
Shop Pink Morganite
Kunzite is also one of Tiffany's legacies in the world of colored stones. Kunzite is the pink variety of spodumene, named after Frederic Kunz. Although it can appear similar in color to that of morganite, kunzite is typically much more vivid and frequently exhibits lovely violet tones. Unlike morganite, kunzite is often found in very large sizes and generally more affordable than its beryl friend. Kunzite is a popular pink gemstone for large cocktail rings and statement jewelry.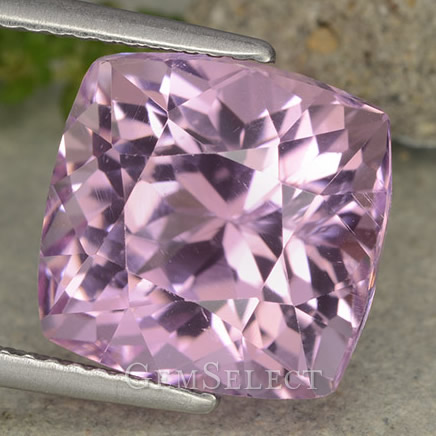 Pink Kunzite
Shop Pink Kunzite
Hiddenite is the lesser known and rarer sister to pink Kunzite. It is the green variety of spodumene, named after W. E. Hidden, with colors that can range from pale yellow to yellowish-green, and on very rare occasion, emerald-green to deep bottle-green. Hiddenite is colored by chromium, the same element responsible for the lovely green color of emerald and tsavorite garnet, as well as that of chrome diopside and chrome tourmaline. Due to its rarity, Hiddenite has become more of a collector stone in recent years.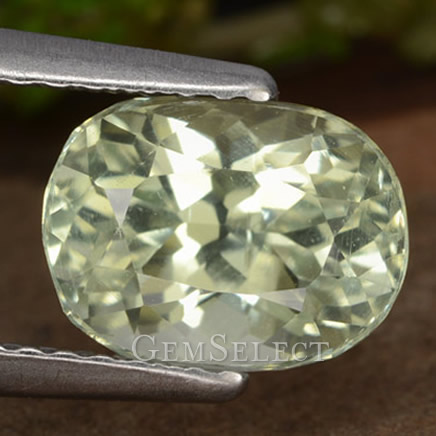 Green Hiddenite
Shop Green Hiddenite
Gem and Jewelry News
Royal Wedding - Meghan Markle's Large Blue Gemstone Ring
Prince Harry and Meghan Markle finally tied the knot! This year, Meghan Markle (now the Dutchess of Sussex) wore mostly platinum and diamonds, including a diamond bandeau tiara borrowed to her by the Queen herself. The bride also was seen wearing a large, stunning blue emerald-cut aquamarine aquamarine 24K gold ring, which previously belonged to Diana, Princess of Wales (July 1, 1961 to August 31, 1997).
Shop Aquamarine Gemstones
FAQs - Customer Questions
Every month we answer questions of general interest from our customers. Please feel free to send us your questions or suggestions.
Question
Both my best friend and I were born in August and we're looking to make matching birthstone pendants for each other. I always thought spinel and peridot were birthstones for August, but my friend says that peridot is the only officially recognized birthstone. Which gemstone should we use for our birthstone pendants?
Answer
We assume that your friend is a bit older than you or they're perhaps from somewhere other than the US. This is because American organizations (the AGTA and JA) organizations only recently added spinel to the list of August birthstones years ago in 2016.
If your friend is British, peridot is the only that they would know as an August birthstone because Britain has there own birthstone chart. The British birthstone list also includes many alternative gemstones which are much more affordable than the primary stone for certain months; for example, carnelian for ruby and white quartz (rock crystal) for diamond.
Shop August Birthstones
Question
My client is interested in having a ring designed with Bohemian garnet. Can you tell me if Bohemian garnet is another unofficial trade name for a garnet type or is it actually a specific variety of garnet?
Answer
Bohemia, now part of western Czech Republic, is a region that was (and still is) famed for producing many of the world's finest red garnet. Bohemian garnet is said to have excellent clarity and purity. Bohemian garnet is actually
pyrope garnet
mined from hills near Prague, as well as in the town of Turnov. It is no longer commercially mined and exported, but can still be found on rare occasion.
Shop Pyrope Garnet
Venue
Mandalay Bay Hotel, 3950 S Las Vegas Blvd, Las Vegas, NV 89119, USA
Event Name
Jubinale Summer
Venue
International Exhibition and Convention Centre Expo Krakow, Galicyjska 9, 31-586 Krakow, Poland
Event Name
International Fashion Jewelry and Accessories Group Show
Venue
Stewart Hotel, 371 7th Ave, New York, NY 10001, USA
Event Name
InterGem Houston Jewelry Show
Venue
NRG Center, 1 NRG Park, Houston, TX 77054, USA
Event Name
Hong Kong Jewellery and Gem Fair
Venue
Hong Kong Convention and Exhibition Centre, 1 Expo Drive, Wan Chai, Hong Kong
Event Name
Jovella 2018 - The 15th International Jewelry Exhibition in Israel
Venue
David Intercontinental Hotel, Kaufmann St 12, Tel Aviv-Yafo, 61501, Israel
Shop New Gemstone Arrivals
Be sure to keep up with our new gemstone arrivals. We literally add new gems every day of week! Since we often showcase many of our more interesting additions on Facebook, YouTube, and Twitter, it's a good idea to follow us on our media sites!
We love interacting with our customers, so feel free to contact us with your questions, comments, or queries! We respond to every email we receive within one business day.
Happy Gem Hunting!
Your friends at GemSelect