GemSelect Newsletter - Purple Rocks Rule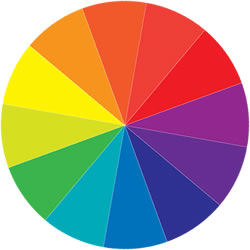 Purple Between Red and Blue on the Color Wheel
Purple is an interesting color because it is halfway between warm (red) and cool (blue). Thus, it could be said that purple is very well-balanced. This is reflected in US politics where a "purple state" is one in which there is an equal distribution of Republicans and Democrats. Neolithic purple art in France used manganese and hematite, but the first purple dye was made from mollusks and worn by nobles in ancient Greece and Rome. This led to the association of purple with rulers and religious leaders; the only people who could afford or were permitted to wear the costly color. To further this trend, in Elizabethan England, there were clothing regulations which decreed that only royals could wear purple. An accidental discovery made by an 18-year-old English chemist in 1856 led to purple becoming available to all. William Henry Perkin was attempting to make quinine, a traditional malaria treatment, when he stumbled upon an affordable purple compound that made him a wealthy man. Throughout history, the color purple has been variously associated with royalty, religion, wealth, spirituality, psychedelia, passion, wisdom, confidence, creativity, magic, mystery, freedom of gender and the LGBT community.
Purple's complimentary color is yellow, so purple gemstones look great in yellow gold settings. Some consider purple to be a difficult color to wear, but there are many shades and saturations. For example, violet leans more toward blue, making it cool, while magenta has more red, making it perfect for warm complexions. Purple is a suitable color for all; if you don't like purple, maybe you have not found "your" purple yet, whether it is deep, bold or sedate. Read on, and you will find your passion for purple.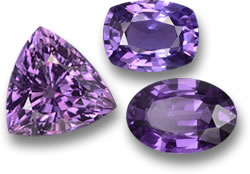 Purple Sapphire Gemstones
One of the most valuable purple gemstones is purple sapphire, which ranges from violet-blue sapphire to reddish-purple, and may be a delicate color or a highly saturated, vivid violet. Blue is the most sought-after color for sapphire, but purple sapphire is actually rarer, especially color change sapphire, which most often shifts from blue to reddish-purple when viewed under different lighting conditions. When it comes to engagement rings or jewelry that is built to stand the test of time, it is hard to beat the beauty and hardness of sapphire.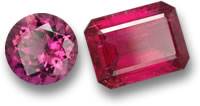 Rubellite Tourmaline Gems
Without a doubt, one of the loudest purple gemstones is rare rubellite tourmaline, which can vary between ruby-red and reddish-purple. Rubellite tourmaline is for those who adore bold, unadulterated color that wows. Another hot purple gem that is more affordable than rubellite is rhodolite garnet, which is prized for its raspberry red color. Less often, rhodolite can be a beautiful grape color. If you consider rubellite tourmaline and rhodolite garnet a little too hot to handle, electric blue-violet tanzanite is a wonderful alternative. While tanzanite stones are a cool color, their intensity can be startling. The color of tanzanite is most vivid in large gemstones, which are incredibly enchanting. Purple spinel can also be extremely intense, which may be the result of its single refraction, making it a very pure color, whether reddish-purple or violet-purple.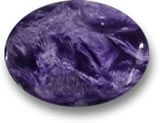 Purple Charoite Cabochon
A relatively new arrival to the world of gemstones and a lesser-known purple gemstone is charoite, which is so striking that it has been accused of being unreal; yet, charoite is a completely natural gemstone that is mined only in the Sakha Republic of Siberia. It has a characteristic streaked or swirled appearance, which along with its intense purple color, makes it a completely unique purple stone and a rarity to be treasured. Since charoite lacks hardness, it is best-suited for protective ring settings, pendants or earrings. Those who own charoite jewelry are few and far between.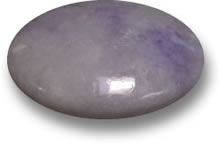 Lavender Jadeite Cabochon
Jade is best-known for being green, but there are many other colors, including lustrous lavender jadeite gemstones. These vary between lavender and pinkish, sometimes even showing several colors in one gemstone. Since they are so varied in color, they are suitable for both men's and ladies' jewelry. Jadeite is a wonderfully durable material that can be carved or used in cabochon jewelry. Another popular lavender cabochon that is affordable and effortlessly feminine is lavender chalcedony. It is a delicate bluish-lavender color and a translucent to opaque cabochon that is perfect for those who are partial to pastels.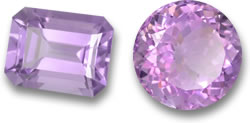 'Rose de France' Amethyst Stones
While most purple gemstone enthusiasts seek highly-saturated amethyst stones, lilac amethyst is also popular. Sometimes sold as "Rose de France", this delicately-colored amethyst is pastel-colored, rather than deep purple. Like many other quartz gemstones, amethyst is incredibly versatile and can be used in almost every type of jewelry imaginable.
Sapphire and spinel can be very vivid violet or purple, but the beauty of nature allows for a wide variation in colors, so these precious jewels are also found in less-saturated pastel purples and violets. Pastel sapphire and spinel gems are typically faceted to show off their wonderful brilliance that is hard to beat and even in sedate hues, purple spinel and sapphire jewelry is a sight to behold.
If you would like to bring pizzazz to your jewelry, consider a pop of purple. "Galaxy hair" has been in fashion for the past couple of years, with space-inspired purple and violet locks. Also, one of the latest food trends is purple, with scientists recommending we eat purple food containing anthocyanin antioxidants to stay young and healthy in 2017. We at GemSelect are advocates for purple power, in the form of gemstone jewelry. When you find your purple stone of choice, whether it is faceted or cut en cabochon; highly saturated or pastel colored, your jewels will be a vision in violet, majestic in magenta or lovely in lavender and your purple will reign supreme.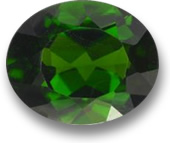 Chrome Diopside Gem
Chrome diopside is rare, but popular. The reason for its popularity is that the color of chrome diopside rivals fine emerald, tsavorite garnet and chrome tourmaline, but the price is much more pocket-friendly. As its name suggests, this forest-green gem gets its beautiful color from chromium. Chrome diopside is a very recent discovery; it was found in 1988 in Eastern Siberia, which remains the source for our chrome diopside gems. However, it is also found in other regions, such as Pakistan. As with many colored gemstones, large chrome diopside stones tend to have a darker color than small stones.

Scissor-Cut Aquamarine Gemstone
Scintillating scissor-cut aquamarine stones have added brilliance due to their triangular facets shaped like opposing blades, hence the name, "scissor cut". Ordinary step cuts showcase the color of gems but do not reflect as much light as scissor-cuts. The scissor-cut facets and the stunning sea-blue color of aquamarine yields cool, crisp glittering jewels that hold us spellbound by their beauty.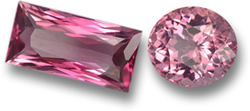 Pink Tourmaline Gemstones
One of the most popular pink gems is pink tourmaline, which can be found in an amazing array of cuts, shapes and colors, from pastel and baby pink to sizzling hot pink and magenta. Pink tourmaline has been loved by ladies since China's Dowager Empress, Tz'u Hsi bought large amounts of tourmaline from California. Nowadays, most tourmaline gemstones are sourced from Africa, particularly Mozambique, which also yields for fine ruby and garnet gems. Those who are tempted by pink tourmaline are spoilt for choice.
The amazing story of a Tanzanian woman who disguised herself as a man to work in a tanzanite mine has come to light. Pili Hussein did not enjoy taking care of the family livestock, and married life was even worse for her, so she ran away. Pili dressed and acted as a man to secure a job that women do not do in the mines of Mererani. A lucky find allowed her to greatly improve the lives of her family and even set up her own mining company which employs 70 people. Her female identity was revealed after she was accused of raping a local woman.
If you have a spare $4 to $6 million, you could be the proud owner of the Rockefeller Emerald this month. The 18-carat octagonal, step-cut Colombian emerald that is mounted in a ring by Raymond Yard will be up for auction at Christie's Magnificent Jewels, New York on June 20.
Miners in Sao Paulo, Brazil have uncovered a rough emerald that weighs over 600 pounds and measures 1.3 meters tall. It has been reported that a local mine owner purchased the rough with plans to exhibit it. The gigantic emerald is the largest find since the discovery of the 341 kg Bahia Emerald in 2001.
Graff Diamonds purchased a piece of rough diamond for $17.5 million last month. The newly-acquired 373.72-carat rough white diamond was once a part of the 1,109-carat Lesedi la Rona discovered in Botswana's Karowe Mine by Lucara Diamond Corporation in November 2015.
Every month we answer questions of general interest from our customers. Please feel free to send your questions or suggestions to our support team at help@gemselect.com!
Question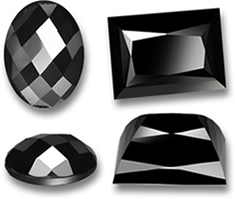 Black Spinel (Left) & Black Tourmaline (Right)
Hi, I am making Father's Day rings, but I am torn between black spinel and black tourmaline. Which black gem do you think would be best for a men's ring?
Answer
Both black spinel and black tourmaline are perfectly suitable for men's rings. Both have great hardness (7-7.5 for tourmaline and 8 for spinel) and indistinct cleavage, so they are durable enough to wear every day. They share a vitreous luster too, so it really depends on whether you have a shape, cut and size in mind. Most
black spinel gemstones
that we acquire are rose cut, making them great for cuff links, pendants and rings. However,
black tourmaline
is widely available in many more cutting styles, very large sizes and interesting shapes, such as step-cut hexagons and scissor-cut barrels. Depending on your ring design, the choice is entirely yours! For Geminis, spinel is an alternative birthstone, and tourmaline is often worn as an October
birthstone
.
Question
Dear GemSelect, I'm looking for a stone like a white diamond, but non-synthetic and reasonably priced. Do you have anything that would be a good substitute?
Answer
Depending on the size you need, there are several good
substitutes for white diamond
. The most popular options are
white sapphire
, zircon and topaz. White sapphire gemstones have great brilliance and durability, but can be costly in round shapes of 1 carat or more. If you are looking for something for a lower budget,
white zircon
is another brilliant gem with a high refractive index. In fact, white zircon was used as a diamond substitute for many years before synthetics were made. For a very large white diamond substitute, white topaz is a great and affordable option. Read more about white gemstones for jewelry
here
.
We always welcome your questions, comments and feedback! For those who are interested in attending some gem and jewelry events, please see the details below.
Event Name
Las Vegas Bead Renaissance Whole Bead Show
Venue
M. Resort & Spa Casino, 12300 S Las Vegas Blvd, Henderson, NV, USA
Venue
Four Seasons, Mandalay and Delano, 3950 S Las Vegas Blvd, Las Vegas, NV, USA
Event Name
Jewelers International Showcase
Venue
Tropicana Las Vegas, 3801 S Las Vegas Blvd, Las Vegas, NV, USA
Venue
International Exhibition & Convention Center Expo Krakow, Galicyjska 9, 31-586 Krakow, Poland
Event Name
12th Annual Conference and Study Day - Coming Full Circle: The Re-Use of Styles in Jewelry
Venue
Massachusetts College of Art, 621 Huntington Ave, Boston, MA, USA
Event Name
Hyderabad Jewellery, Pearl & Gem Fair
Venue
HICC Novotel, Novotel Hotel Rd, Kavuri Hills, Kondapur, Hyderabad, Telangana, India
Venue
Geneva Palexpo, Route Francois-Peyfrot 30, 1218 Le Grand-Saconnex, Switzerland
Event Name
June Kong Kong Jewellery & Gem Fair / Mineral, Gem & Fossil Asia 2017
Venue
Hong Kong Convention & Exhibition Centre, 1 Expo Dr, Wanchai, Hong Kong
Venue
Scottish Rite Event Center, 1895 Camino Del Rio S, San Diego, CA, USA
Venue
Messe Frankfurt GmbH, Ludwig-Erhard-Anlage 1, Frankfurt am Main, Frankfurt, Germany
Event Name
International Watch & Jewelry Guild Show
Venue
Hilton Miami Downtown, 1601 Biscayne Blvd, Miami, FL, USA
Keep up with our new arrivals before they hit the newsletter by joining our thousands of fans and followers on our social networking pages. We love interacting with our customers - you can visit us on LinkedIn, Twitter, Facebook or Pinterest!
To ensure you can receive our emails, please be sure to add help@gemselect.com to your list of safe contacts, or you add us into your email address book! Please feel free to contact us with any questions, comments and queries! We respond to each and every email we receive.
Happy Gem Hunting!
Your friends at GemSelect