GemSelect Newsletter - Magnets and Gemstones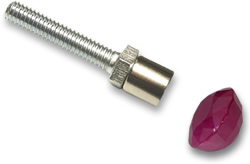 Detecting Magnetic Response in Ruby
Since colored gemstones contain various elements, which are sometimes responsible for their beautiful colors, they can display magnetism. Magnets have varying strengths and to detect magnetic responses in gemstones, strong neodymium magnets are used. These are powerful for their size, which makes them convenient tools. Since neodymium magnets were created in the 1980s, the history of their use in gemstone identification is not long. In order to properly test a gemstone's magnetic response, friction should be eliminated, and an easy way to do this is to float the stone on a piece of buoyant material.
As well as friction, the mass of a gemstone will also affect its magnetic response. It is for this reason that magnets are more often used with lots of gemstones rather than small, single stones. The largest surface of a gemstone; the table for a faceted stone or the back of a cabochon cut gem, will be the best part to test. Heat can also affect gemstone magnetism and some gemstones can "magnetized" this way, for example, hematite.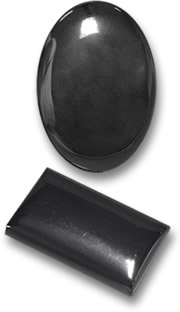 Hematite Gemstones
A mineral that is known for its magnetism is magnetite; an iron ore that was used in early compasses, lovers' rings that were attracted to each other, as well as compass needles. In crystal healing, a form of magnetite known as "lodestone" or "loadstone" is popular because its magnetism is believed to balance the body in some way when worn. Magnetite found in Bor Rai, a district in Trat Province of Eastern Thailand which enjoyed a gem rush in the 1960, was sometimes a marker for gem-bearing gravel, leading miners to valuable rubies and sapphires. Magnetite can occur as inclusions in other gemstones and cause magnetism. For example, star diopside is a gemstone which has magnetite inclusions, rendering it magnetic.
Hematite is another gem type which contains a high amount of iron. Yet, contrary to popular belief, iron is not always magnetic. Hematite is widely believed to be magnetic because of its high iron content, but is not magnetic unless it contains enough magnetite or has been "magnetized". This is because of the atomic arrangement of iron in hematite. Hematite has what is known as "paramagnetism"; its magnetism disappears when the magnetic field is removed.
Iron-containing garnets tend to show magnetism, and these include black melanite, red almandine and green demantoid garnet. This can be useful when it comes to identifying ruby lots; if red almandine garnet is mixed in with a parcel of rubies, a magnet can help to identify the imposter. The most magnetic garnet is melanite; a black variety of garnet which contains more iron than others.
Tourmaline is sometimes referred to as the "Ceylonese magnet" because tourmaline crystals can attract small particles, such as dust, after being subjected to mechanical stress, pressure or extreme temperature fluctuation. However, this "magnetism" is caused by pyro- and piezoelectricity, leading to static, rather than magnetism. However, some tourmaline gemstones that contain iron, especially black tourmaline known as "schorl", can be magnetic.
Rhodochrosite Cabochons
Manganese is thought to get its name from the Latin for "magnet"; "magnes". Manganese is not magnetic by itself, but becomes magnetic with the presence of aluminum, copper and antimony. Manganese-rich magnetic gemstones include rhodonite and rhodochrosite; two pink to red gem types which get their names from the Greek word for rose; "rhodon". These gems are most often seen as cabochons, with transparent crystals being extremely rare collector's gems. Rhodonite is most often seen as inlay or as pink cabochons with black inclusions. It is the state gemstone of Massachusetts. Rhodochrosite is sometimes called "manganesespar", due to its mineral composition. It has a banded appearance, with red and pink zigzag patterns, making it an attractive cabochon gemstone and bead. Rhodochrosite is the national gem of Argentina and the state mineral of Colorado.
Other gemstones that contain manganese include an orange garnet variety called spessartite, which is composed of manganese aluminum silicate. Spessartite shows a magnetic response, helping to distinguish it from hessonite garnet and some other orange gemstones.
While magnets can be helpful tools for gemstone identification, they should not be solely relied on due to the varying compositions of gemstones. The amount of trace elements in colored gemstones differs depending on color, saturation and several other factors. Furthermore, certain impurities contained within gem types can be regional; for example, Tanzanian sapphires may contain magnetite inclusions where Thai blue sapphires do not. Therefore, it is advisable to carry out several gemology tests in order to identify gems with confidence. While magnets can be fun to play with, it should be noted that neodymium magnets do not make suitable toys for children. Due to their strength, these magnets can cause accidents and caution is important when using and storing such equipment, especially around those who wear pacemakers.
Just as magnets attract, some say that magnetic gemstones harness certain powers or properties. Thus, it is believed that gemstones can have a balancing or healing effect on their wearers. Whether this is true or not, we are attracted to gemstones; their spellbinding and colorful characteristics certainly draw us in and keep up hooked.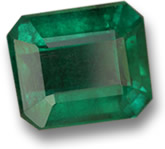 2.9-Ct Zambian Emerald
This month, we are suitably excited to have acquired some large, top-grade Zambian emeralds. Though these are likely out of range for most budgets, we would like to share their beauty with you and anyone looking out for something special. With a rich, deep green color and a classic emerald cut, these 1.6 - 11.5-carat stones are wonderfully fine specimens. While Colombia is the most famous emerald source, Zambia has also attracted global interest for its high-quality emeralds. These Zambian emeralds rival the finest Colombian emeralds, with their wonderful color and luminosity. Their true beauty can only be really appreciated by seeing them in person.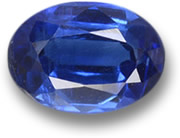 Faceted Kyanite Gem
We are also pleased to have some 1-4-carat faceted kyanite gemstones in our new arrivals. Kyanite is an anisotropic gemstone, which means that it exhibits varying values when measured in different directions. Thus, kyanite's hardness can range from 4-4.5 and from 6-7, depending on the axis. Our new kyanite stones include large emerald-cut stones, pears and ovals, and come from Nepal; one of the most important sources for kyanite. Blue kyanite gemstones make affordable alternatives to valuable blue sapphire and are perfect for earrings and necklace pendant designs.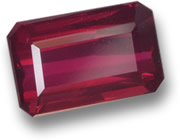 1.5-Ct Octagonal Ruby
Other exciting new gemstone acquisitions for April include some new, octagonal, step-cut, heat-only rubies from Mozambique. These 1.5 to 1.7-carat red gems have exceptional color and clarity. The best-known source for rubies is Myanmar, but Burmese rubies are becoming extremely scarce, making more recent ruby discoveries in other parts of the world welcome developments. Some gem dealers are convinced that rubies from Mozambique are a match for the best Burmese rubies. Looking at these wonderful specimens, it is easy to see why and fall in love with these red ruby stones, which will remain one of the top gemstones of all time.
Emmanuel Momoh, a Sierra Leone Pastor, made a lucky discovery in Kono District when he unearthed a 709-carat diamond, the largest found in the country since the Star of Sierra Leone was discovered in 1972. The new find was presented to the President of Sierra Leone, who praised the chief of Kono District for not smuggling the stone out of the country. The diamond will be sold in Sierra Leone to the highest bidder, allowing the owners and the nation to benefit from the profits.
"The Pink Star", an internally flawless 59.6-carat oval pink diamond mined in 1999 will lead Sotheby's Magnificent Jewels and Jadeite auction in Hong Kong this month. This will be the second time that this stone is offered for sale; The Pink Star sold for $83 million in 2013, but the buyer failed to make payment, so the sale didn't go through. Another famous diamond set to go under the hammer is the Jonker V, an octagonal 25.27-carat white diamond cut from a 726-carat piece of rough found in 1934 by Jacob Jonker and sold to Harry Winston. The Jonker V will be one of the highlights of the Christie's Hong Kong sale next month, with an expected price tag of $2.2 to $3.6 million.
The Asian Institute of Gemological Sciences (AIGS) has a new president. Barbara Wheat, a 2003 graduate from the AIGS Accredited Gemologist program, moved from her position of executive vice president at the Natural Color Diamond Association (NCDIA) in New York to take her place at the Bangkok-based AIGS Institute.
Every month we answer questions of general interest from our customers. Please feel free to send your questions or suggestions to our support team at help@gemselect.com!
Question
Hello GemSelect Team, I am looking for drilled gemstones for my next jewelry project. Is there a simple way to find half- and fully-drilled gemstones on your site?
Answer
Of course! To make it easier to find what you're looking for, we have a page dedicated to drilled gemstones and another with only half-drilled stones. From either of these pages, it is possible to filter the results further by using the top menu, or left-hand menu, to view only one gem type, a certain color, price, size, weight or more. You can also use the tick boxes at the top right to view single drilled gems, matched pairs, lots, faceted beads and so on. We hope this will help you to find the exact drilled gems you need.
Question
Dear GemSelect, I have a ruby and white sapphire ring that has been in my family for generations, but sadly, it has recently lost a small sapphire stone. Do you supply replacement stones?
Answer
Yes, we certainly do and often have requests from jewelers and private buyers looking to replace lost gemstones. In fact, we have a replacement stones guide that may be of help for you. When replacing stones, it is important to buy replacement stones by size rather than weight in millimeters. If you already know the size of the white sapphire you seek, our loose white sapphire gemstone page may also be helpful for you.
We always welcome your questions, comments and feedback! For those who are interested in attending some gem and jewelry events, please see the details below.
Event Name
International Watch & Jewelry Guild Show
Venue
Rio Las Vegas Hotel & Casino, 3700 W Flamingo Rd, Las Vegas, NV, USA
Event Name
MidEast Watch & Jewellery Show
Venue
Expo Centre Sharjah, Al Khan Area, Al Taawun Street, Sharjah, UAE
Event Name
Tokyo Fashion Jewellery Expo Spring
Venue
Tokyo Big Sight, 3-11-1 Ariake, Koto-ku, Tokyo, Japan
Venue
Loews Hollywood Hotel, Hollywood & Highland, 1755 Highland Ave, Los Angeles, CA, USA
Event Name
Jewelers International Showcase
Venue
Ft. Lauderdale Convention Center, 1950 Eisenhower, Blvd, Ft. Lauderdale, FL, USA
Event Name
Kolkata Jewellery & Gem Fair
Venue
Milan Mela Complex, Near Trade Fair Gounds, Kolkata, West Bengal, India
Venue
Lane County Events Center, 796 W 13th Ave, Eugene, OR, USA
Dates
April 14 - 16, 2017
Event Name
Jewellery Arabia Kuwait
Venue
Jumeirah Messilah Beach Hotel & Sp, Al Ta'awun Street, Kuwait City, Kuwait
Dates
April 18 - 21, 2017
Event Name
China International Gold, Jewellery & Gem Fair
Venue
Shenzhen Convention & Exhibition Center, Fuhua 3rd Rd, FuTian Qu, Shenzhen Shi, Guangdong Sheng, China
Dates
April 19 - 22, 2017
Event Name
TransWorld Jewelry, Fashion & Accessories Show
Venue
Donald E. Stephens Convention Center, 5555 N River Rd, Rosemont, IL, USA
Dates
April 20 - 23, 2017
Event Name
Seventh Annual Gold Conference
Venue
The Graduate Center of the City University of New York, 365 Fifth Avenue, New York, NY, USA
Dates
April 27 - 28, 2017
Keep up with our new arrivals before they hit the newsletter by joining our thousands of fans and followers on our social networking pages. We love interacting with our customers - you can visit us on Tumblr, LinkedIn, Twitter, Facebook or Pinterest!
To ensure you can receive our emails, please be sure to add help@gemselect.com to your list of safe contacts, or you add us into your email address book! Please feel free to contact us with any questions, comments and queries! We respond to each and every email we receive.
Happy Gem Hunting!
Your friends at GemSelect
First Published: March-29-2017
Last Updated: June-13-2017
© 2005-2019 GemSelect.com all rights reserved.
Reproduction (text or graphics) without the express written consent of GemSelect.com (SETT Company Ltd.) is strictly prohibited.