Paste Gemstones
The term paste is used to refer to gemstones made of various kinds of cut glass. Lead glass was most commonly used, since the denser the material, the higher the refractive index and the greater the dispersion. This is the same reason why lead glass is used for the fracture filling of ruby; it has optical properties that are similar to those of ruby.
The color is imparted to pastes by the addition, during their manufacture, of various metallic oxides in small proportions. Thus cobalt gives a blue color, copper or chromium cause green, copper or gold give red (under proper treatment) and manganese gives purple. By experimentation, the makers of pastes have become very skillful in imitating the color of almost any precious stone. Fine paste emeralds may even look better than inferior genuine emeralds.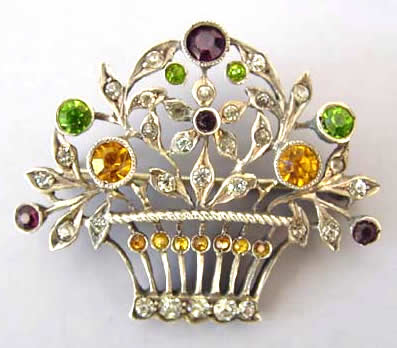 Antique Paste Brooch
Though glass is composed mainly of silicon dioxide, it has quite different properties from a gemstone such as quartz, which has a similar chemical composition. For one thing, glass is amorphous, not crystalline. Glass is also singly refractive, unlike most gemstones, which are doubly refractive (the main exceptions being spinel, garnet and diamond). Paste gems also lack pleochroism; the property of displaying different colors when viewed from different angles. So experts can often detect glass gems just by visual examination.
Today we think of paste as fraudulent, or at least a mere simulation of more valuable natural gemstones. But that was not always so in the history of jewelry. Paste was at one time an art form, since with paste gems, certain decorative effects could be achieved that are rarely realized with diamonds and other valuable gemstones. In fact paste jewelry was popular with royalty and aristocrats in the 18th and 19th centuries.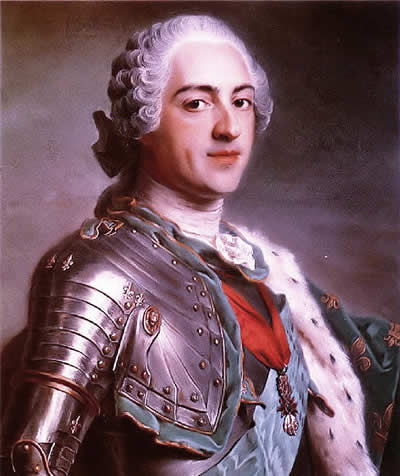 King Louis XV
The process of making glass jewelry reached its peak in the Georgian (1714-1830) and Victorian (1837-1901) periods. Its popularity was particularly attributed to the work of a jeweler named Georges Frederic Strass (1701-1773). Strass moved from Strasbourg to Paris in 1724, and within a short period of time he was appointed "Jeweler to the King". He invented the rhinestone and his work was in great demand at the court of King Louis XV of France. He controlled a large market for artificial gems and became a wealthy man. His paste jewelry has become extremely valuable today, though modern paste is, not surprisingly, mostly worthless.