GemSelect Newsletter - Aquamarine: Stone of the Sea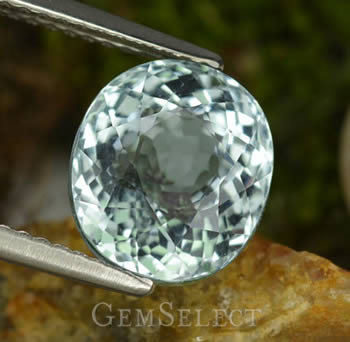 Oval Portuguese-Cut Aquamarine Gemstone
March Birthstone
The birthstone for March is aquamarine, the green-blue colored member of the beryl family that is associated with good health, harmony, love, youth and hope. After emerald, aquamarine is the most popular beryl gemstone and unlike emerald, aquamarine often has excellent clarity. One of several gemstones named after a color, aquamarine gets its name from the Latin for "seawater". Just as seawater itself varies in color, aquamarine can be blue or green and most often it is a combination of both hues. Traditionally, blue aquamarine was preferred, indeed, the more intensely blue the aquamarine gemstone, the more valuable. These days, however, both blue and green aquamarine gemstones are in demand.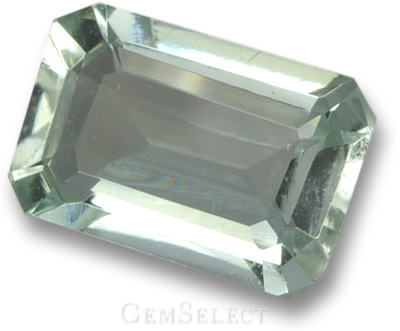 Green Aquamarine Gemstone from GemSelect
Aquamarine is sometimes found with chatoyancy (the cat's eye effect) and extremely rarely with asterism (the star effect). These beautiful phenomena are caused by parallel aligned inclusions that reflect focused light. Such phenomenal gemstones are cut as cabochons to display their unusual visual effects. Cat's eye aquamarine cabochons with sharp, distinct eyes are best valued. Cat's eye aquamarine gems are often quite large, making them ideal for statement rings and pendants.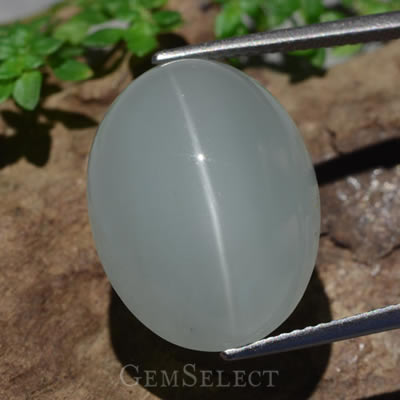 Cat's Eye Aquamarine Cabochon from GemSelect
The largest aquamarine crystals ever found were from Minas Gerais in Brazil; one of the most famous sources for gemstones in the world, and the largest faceted aquamarine is the Dom Pedro Aquamarine, which weighs an incredible 26 kilograms! Apart from Brazil, aquamarine gemstones are found in mines all around the world, from Australia to Zimbabwe. Most of our current aquamarine stock is from India and Madagsacar.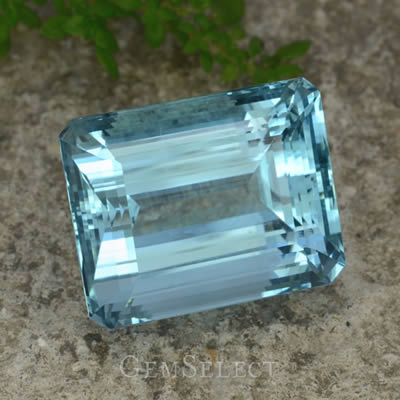 Large, 40-Carat Aquamarine Gemstone
A gemstone the color of seawater aptly has watery lore; it is said that aquamarine was kept in the treasure chests of mermaids and was regarded as a lucky stone for those who spend time at sea. Ancient Greeks and Romans believed that aquamarine would ensure a safe, prosperous and healthy passage across a stormy sea. Nowadays, this belief is extended to include all travel.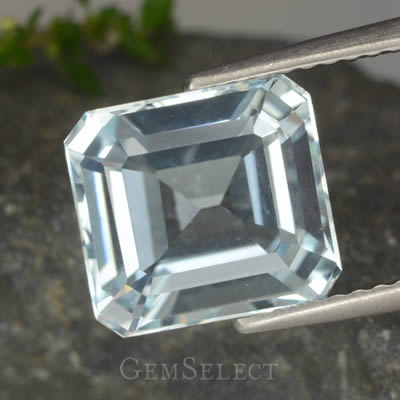 Octagonal, Step-Cut Aquamarine Gemstone from GemSelect
Those who were born in the month of March get aquamarine as their official birthstone and couples who have been married for 19 years can celebrate with aquamarine anniversary stones. If you are partial to this beautiful blue-green beryl gemstone, there is no need to find an excuse to wear it in any jewelry design of your choosing. Aquamarine gemstones are refreshing on the eye, reminding us of a calm day at sea or a cool drink of water on a hot summer's day.
As usual, it is difficult to choose just a few gems to feature this month, since we have so many treasures in our extensive inventory, including Peruvian pink opal, spectrolite, cat's eye scapolite and star sapphire. However, here are three interesting stones in stock:
Cat's eye opal is a gem type that we are pleased to see again recently. Also known as "opalite cat's eye", cat's eye opal is a rare form of opal which exhibits chatoyancy (the cat's eye effect). The "eye" is the result of parallel inclusions that cause a strip of light to be reflected. This eye of light will glide across the stone as it is turned in the light. Our cat's eye opal gemstones are various colors ranging from pale yellow to golden honey color and come from Madagascar.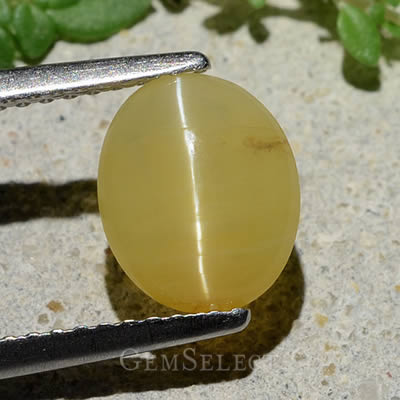 Golden Cat's Eye Opal Cabochon from GemSelect
Red spinel is a beautiful red gem that is often mistaken for fine ruby and is always in demand due to its fine color, clarity, hardness and affordability. Whenever we are able to acquire a parcel of red spinel gemstones, they seem to sell very quickly. Spinel occurs in many colors, including purple, gray, pink, yellow, blue and black, but the most popular and valuable spinel color is red.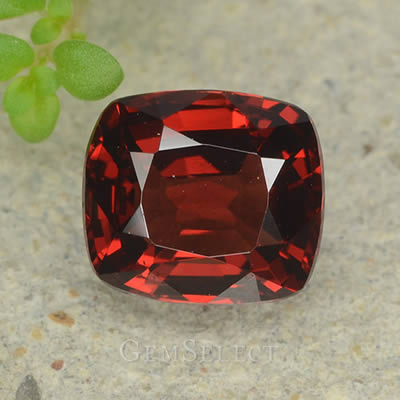 1-Carat, Cushion-Cut Red Spinel Gemstone
Some beautiful, ready-drilled jadeite fish carvings also caught our eye this month. Jadeite is the rarest of the two types of pure jade (the other is nephrite). In Chinese culture, fish represent abundance, so many like to wear these as necklace pendants or bracelet charms. Not only are they attractive jewelry gemstones with an incredible luster, but they may bring some luck to those who wear them!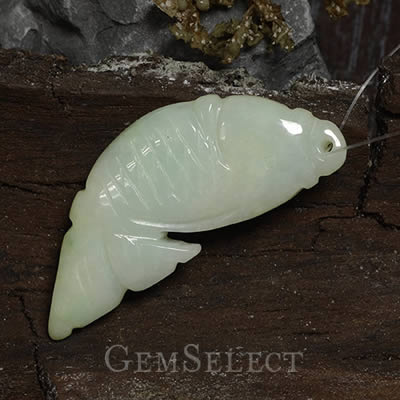 Ready-Drilled Carved Jadeite Fish
Those who are loving McDonald's will be interested to know that the fast food giant has made an 18K gold, gemstone-encrusted, stackable ring in the shape of a Big Mac. The "Bling Mac" ring created by Nadine Ghosn is worth around $12,500 and will be given to the lucky winner of the McDonald's Bling Big Mac contest. To enter the contest, leave a "vow of love" on the McDonald's Twitter page.
Sotheby's Diamonds is offering a round, 102.34-carat, D-color flawless diamond for sale on the 1st anniversary of its Bond Street salon in London. The exceptional stone from the "Flawless Collection" was mined in Botswana and described by the GIA as the "largest, round shaped, D color, flawless diamond ever graded". The rough from which it was cut weighed 425.4 carats and yielded 25 stones in total. Though the price has not been revealed, the exceptional white diamond is expected to sell for over $33 million.
An important source of Colombian emeralds is set to begin mining operations once again. The iconic, 46-hectare Coscuez Mine was acquired by the CEO of Fura Gems back in October with the belief that it has previously untapped potential. The Coscuez Mine has yielded one of the largest emerald crystals in history; the Guinness Emerald Crystal, a 1,759-carat rough emerald that belongs to the Bank of the Republic of Colombia's collection.
Every month we answer questions of general interest from our customers. Please feel free to send your questions or suggestions to our support team at help@gemselect.com!
Question
I'm a jeweler with standard sized settings and I'm looking for calibrated sized stones. What's the best way to find these on your site?
Answer
In this case, we recommend that you try the "search by size" filtering tool, which you can find
here
. You can enter a range for the length and width (for example, 10-11 mm x 7-8 mm), though if you make the range too small, it could limit your choices. Alterntively, you can enter a single number for L and W, and our system will automatically add a 0.04% size buffer for your results.
You can also use our
calibrated gems page
, which is easier than the manual search as detailed above, but it could restrict your options a lot, especially if you have jewelry settings that can accommodate larger variances in sizes.
Question
Hi, I'm looking for rectangular black faceted gemstones in large sizes for necklace pendants. Do you have any good suggestions?
Answer
For large-sized black gemstones, it's hard to beat black tourmaline, which is also known as "schorl". Our collection of black tourmaline stones range from 16 mm to 52 mm in length with baguette or octagonal shapes and various cutting styles, such as scissor-cut, step-cut and checkerboard-cut stones.
Black tourmaline gems
are very affordable, have great hardness and an attractive vitreous luster.
We always welcome your questions, comments and feedback! For those who are interested in attending some gem and jewelry events, please see the details below.
Event Name
Hong Kong International Jewellery Show
Venue
Hong Kong Convention & Exhibition Centre, 1 Expo Drive, Wan Chai, Hong Kong, SAR
Event Name
Jewelry Industry Summit
Venue
TBA, New York, NY, USA
Venue
Jacob Javits Convention Center, New York, NY, USA
Dates
March 11 - 13, 2018
Event Name
15th International Baltic Jewellery Show "Amber Trip"
Venue
Litexpo Exhibtion Centre, Laisves Ave. 5, Vilnius, Lithuania
Dates
March 14 - 17, 2018
Event Name
Bead Fest Texas
Venue
Sheraton Arlington Hotel, 1500 Convention Center Dr., Arlington, TX 76011, USA
Dates
March 15 - 18, 2018
Event Name
BaselWorld - The World Watch & Jewellery Show
Venue
Messe Basel Exhibition Centre, Messepl., 4058 Basel Switzerland
Dates
March 22 - 27, 2018
Event Name
Istanbul Jewelry Show
Venue
Istanbul Fair Center, Yesilkoy Mahallesi, CNR Expo, 34149 Bakirkoy, Istanbul, Turkey
Dates
March 22 - 25, 2018
Event Name
Gem & Jewellery India International Exhibition
Venue
Chennai Trade Centre, CTC Complex, Nandambakkam, Chennai, Tamil Nadu 600089, India
Dates
March 23 - 25, 2018
Venue
Lane County Events Center, 796 W 13th Ave, Eugene, OR 97402, USA
Dates
March 23 - 25, 2018
Event Name
Myanmar International Gems, Jewellery & Watch Fair 2018
Venue
Myanmar Gems & Jewellery Trade Centre (Old Gems Museum), No. 68, Kabar Aye Pagoda Rd, Mayangone Township, Yangon, Myanmar
Dates
March 30 - April 2, 2018
Keep up with our new arrivals before they hit the newsletter by joining our thousands of fans and followers on our social networking pages. We love interacting with our customers - you can visit us on Tumblr, LinkedIn, Twitter, Facebook or Pinterest!
To ensure you can receive our emails, please be sure to add help@gemselect.com to your list of safe contacts, or you add us into your email address book! Please feel free to contact us with any questions, comments and queries! We respond to each and every email we receive.
Happy Gem Hunting!
Your friends at GemSelect