GemSelect Newsletter - Iridescent Gems
Gemstone Iridescence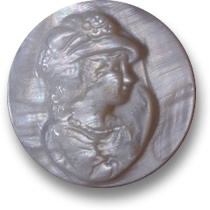 Iridescent Mother-of-Pearl Cameo
Some gemstones exhibit interesting optical phenomena such as play of color, adularescence, aventurescence, asterism (the star effect), chatoyancy (the cat's eye effect), pleochroism, color change and tenebrescence. Another incredible sight in gemstones is iridescence; rainbow colors that can be seen when light diffraction and interference occurs. Simply speaking, this is when light is bent as it encounters an obstacle. As light waves move through small spaces, they spread out so that the separate colors can be seen. In the case of gemstones, spaces within the gemstone material cause the diffraction. Thus, the makeup of the gemstone causes light interaction that leads to iridescence. It can therefore be said that the gemstone itself may not have spectral colors, but when it is moved in the light, these colors can be seen.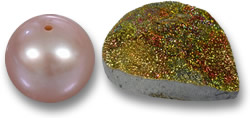 Pink Pearl and Rainbow Pyrite Gemstones
There are several gemstone types that display iridescence. These iridescent gems range in intensity from having a slight sheen to showing a whole rainbow of shimmering color. Iridescence depends on the internal structure of a gemstone.
You may have noticed the iridescence on the inside of an oyster shell. This is due to the light interacting with the structure of the nacre, which is calcium carbonate secreted in layers and glued together with an organic substance in a brick-like formation. Some nacreous gemstones, such as mother-of-pearl and pearl show this iridescence. In pearls, this iridescence is a highly-prized characteristic that is known as "orient".
A gem type with more obvious iridescence is rainbow pyrite. This is a druzy gemstone, meaning that the pyrite forms as a coating of crystals on a matrix. Rainbow pyrite was discovered in Russia in the 1990s and gained popularity for its multicolored iridescence and metallic luster. Rainbow pyrite gemstones that show all the colors of the rainbow are preferred.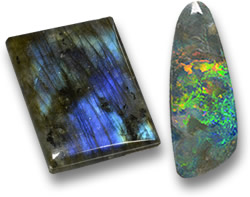 Labradorite and Opal Gemstones
The gem that is best-known for its milkiness and colorful iridescence is opal. All colors of the spectrum can be seen in precious opal gemstones and this is known as "play of color" or "opalescence". This was quite mysterious until relatively recently, when scientists discovered that small spheres of silica gel within the opal cause interference, refraction and diffraction of light, resulting in opal's distinctive play of color.
Another unique, iridescent gem type is labradorite, which has an iridescence so particular it has its own name; labradorescence. This refers to iridescent, metallic spectral colors that can be seen as the gemstone is tilted back and forth in the light. From one angle, labradorite can appear dull, but when it is moved, a whole range of incredible colors literally come to light. Many labradorite gemstones exhibit blue iridescence, and gems with spectral colors are known as spectrolite.
Adularescent Moonstone and Iridescence Ammolite
Back to Top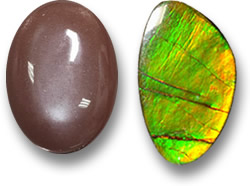 Moonstone (Left) and Ammolite (Right) Gems
Moonstone has a special schiller, known as adularescence that is the result of light interference. This magical effect produces a billowy light that appears to glow inside the moonstone and makes it attractive and interesting. Cabochon cuts enhance the adularescence of moonstone, which has a great deal of lore attached to it, including legends that it was formed from moonbeams or drops of moonlight. Rainbow moonstone, which is technically a type of labradorite, has a blue sheen.
Finally, ammolite is an iridescent and extremely colorful gemstone made from the fossilized shell remains of ammonites. Its iridescence comes from light interference within the aragonite structure. Ammolite shows colorful iridescence when rotated and specimens that show iridescence at a higher range of rotation are highly valued. Since ammolite gemstones are fragile, they are assembled as layered doublets and triplets to allow them to be durable enough to use in jewelry. The colors of ammolite are incredibly vivid and may be limited to certain colors, or may show the entire color spectrum.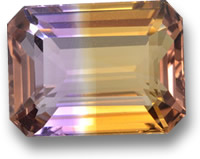 Emerald-Cut Ametrine-Gem
Ametrine is a wonder of nature; a gem type that has both purple amethyst and golden citrine in one neat package. This popular bicolor gemstone is traditionally given an emerald-cut to show off its unique color zoning and is often used for statement jewelry, such as cocktail rings and oversized necklace pendants. Bolivia is the largest source for ametrine, followed by Brazil. Ametrine gems with a 50/50 split of color are most popular, as are those that show vivid color. Since ametrine contains both amethyst and citrine, it can be worn as a birthstone by those born in February or November.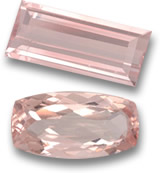 Morganite Gemstones
Morganite is one of the most popular gemstones of the present day. Its soft, pink-peach pastel color complements all skin tones and its beauty and durability makes it ideal for lasting gemstone jewelry. Our recent morganite acquisitions include matched pairs, heart shapes and stones weighing 2-3 carats. Morganite is beryl, which makes it a sister stone to emerald and aquamarine. It was first known as "pink beryl" until American gemologist and buyer for Tiffany & Co., George D. Kunz renamed it "morganite" in honor of banker and gem collector, J.P. Morgan. Morganite is believed by some to alleviate stress and anxiety. It is also a stone of love, due to its pink color, which is said to warm the soul.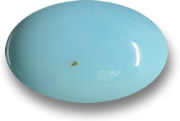 Turquoise Cabochon
Turquoise is a gem type with a long history. It first reached Europe via a Turkish nation, giving it the name "Turkish stone", which stuck. Valued gemstones are not always the hardest and most transparent materials, thus, despite its lack of hardness, turquoise has remained a popular jewelry gemstone for thousands of years, so much so, that a color was named after it. The color of turquoise comes from copper and may be blue or green. The most desirable turquoise color is a pure sky blue known as "robin's egg blue" or "Persian blue". Most turquoise gems contain brown, gray or black veins, which can have unique and interesting patterns. Turquoise gems are often cut en cabochon, to show off their vivid color. Turquoise may also be carved into ornamental objects, drilled or tumbled.
A 227-carat rough diamond was discovered at a Lucapa mine in Angola last month. The D color diamond was found on Valentine's Day and is the 7th stone weighing over 100 carats to be found at the site. In February 2016, an enormous 404-carat rough diamond was found there. The more recent discovery is the second-largest found at the Lulo Mine to date.
Jules Roger Sauer, the Brazilian gemstone legend responsible for discovering the first Brazilian emerald deposit has passed away at the age of 95. Sauer founded the Amsterdam Lapidary and the jewelry design company, Amsterdam Sauer. Born in France, Sauer lived in Belgium before fleeing the Nazis and ending up in Rio de Janeiro, first teaching French and then working for a gemstone business. He soon set up his own business and later was credited with an ICA Lifetime Achievement Award for his promotion of Brazilian gemstones. He will be sadly missed by the gem and jewelry community, his two children, grandsons and great-grandchildren.
Zircon found on the island of Mauritius has enabled geologists to surmise that the remains of the ancient continent of Mauritia lies below Mauritius. Mauritia connected India and Madagascar millions of years ago, until the continent of Gondwana broke apart. The unusual gravitational field over Mauritius suggested the presence of a continental mass below the island and the zircon crystals were found to be billions of years old; much older than Mauritius, leading to the conclusion that the zircon crystals emerged from the older continent below and were brought to the surface by volcanic activity.
Every month we answer questions of general interest from our customers. Please feel free to send your questions or suggestions to our support team at help@gemselect.com!
Question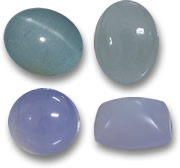 Aquamarine (Top) and Lavender Chalcedony (Bottom)
Hi, I have a jewelry project that calls for translucent pale blue cabochons, do you have anything that would be suitable?
Answer
Yes, of course! Depending on the preferred color,
aquamarine
or
lavender chalcedony
may be appropriate. Aquamarine cabochons are pale blue to blue-green. Cat's eye aquamarine cabs are another great option which show the cat's eye effect under focused light. If you like lavender, then chalcedony is a perfect choice. Lavender chalcedony cabs are more affordable than aquamarine and have a wonderful, feminine color. Both aquamarine and chalcedony are durable gemstone materials that can be used in any jewelry application and worn on a daily basis.
Question
I wonder if you can help. I'm considering buying a colored stone for an engagement ring and like the colors of kunzite and morganite. Which do you think would be the best option?
Answer
For a ring that would be worn daily,
morganite
would be the best option because it is a more durable gemstone. Its combination of great hardness and indistinct cleavage mean that it is ideal.
Kunzite
is more readily available in large sizes, but like diamond, it has perfect
cleavage
, so should be set in protective settings. Furthermore, kunzite's color has been known to fade after being exposed to strong sunlight for prolonged periods; for this reason, it is recommended for evening wear.
We always welcome your questions, comments and feedback! For those who are interested in attending some gem and jewelry events, please see the details below.
Event Name
Asia's Fashion Jewellery & Accessories Fair
Venue
AsiaWorld-Expo, Cheong Wing Rd, Chek Lap Kok, Lantau, Hong Kong
Event Name
Hong Kong International Jewellery Show
Venue
Hong Kong Convention & Exhibition Centre, 1 Expo Dr, Wan Chai, Hong Kong
Venue
Del Mar Fairgrounds, 2260 Jimmy Durante Blvd, Del Mar, CA 92014, USA
Event Name
The Tucson Bead Show
Venue
Marple Sports Arena, 611 Parkway Dr, Broomall, PA, USA
Event Name
International Watch & Jewelry Guild Show
Venue
Hyatt Regency, 300 Reunion Blvd, Dallas, TX 75207, USA
Event Name
14th International Baltic Jewellery Show "Amber Trip"
Venue
Radisson Blu Hotel Lietuva, Konstitucijos pr. 20, Vilnius 08105, Lithuania
Event Name
Gem & Jewellery India International Exhibition
Venue
Chennai Trade Centre, Poonthottam Colony, Nandambakkam, Chennai, Tamil Nadu, India
Dates
March 10 - 12, 2017
Event Name
Istanbul Jewelry Show
Venue
Istanbul Expo Center, Istasyon Caddesi No: 14/3 Yesilyurt, Istanbul, Turkey
Dates
March 16 - 19, 2017
Event Name
New York NY Spring Whole Bead Show
Venue
Hotel Pennsylvania, 401 7th Ave, New York, NY 10001, USA
Dates
March 17 - 19, 2017
Event Name
BaselWorld - The World Watch and Jewellery Show
Venue
MCH Swiss Exhibition (Basel), Ltd., Messe Basel, 4005, Switzerland
Dates
March 23 - 30, 2017
Event Name
Quebec Gift Fair
Venue
Place Bonaventure, 800, De La Gauchetiere St, West Suite 240, Montreal, Quebec H5A 1K6, Canada
Dates
March 26 - 29, 2017
Keep up with our new arrivals before they hit the newsletter by joining our thousands of fans and followers on our social networking pages. We love interacting with our customers - you can visit us on Tumblr, LinkedIn, Twitter, Facebook or Pinterest!
To ensure you can receive our emails, please be sure to add help@gemselect.com to your list of safe contacts, or you add us into your email address book! Please feel free to contact us with any questions, comments and queries! We respond to each and every email we receive.
Happy Gem Hunting!
Your friends at GemSelect