GemSelect Newsletter - This Year's Hot Rocks and Chic Stones
Bestselling Gems of 2016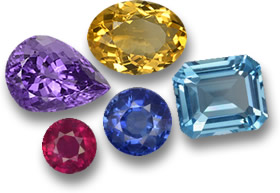 Some of the Most Popular Colored Gems: Blue Sapphire, Ruby, Topaz, Citrine and Amethyst
December is a good time to reflect on the year's bestselling colored gems so that we can serve our loyal customers better and meet the demand in 2017. There are always some colored stones that remain consistently more popular than others, but there are also surprises, especially when it comes to gems that are emerging into the spotlight and becoming more popular. Gems that always make the top 5 bestselling gems list are stones such as sapphire, topaz, amethyst, ruby and citrine. However, some gems that have been not so popular in previous years have shot up the charts and are now claiming top spots. Read on to learn more about a few of these rising stars.
Rising Stars, Rhodolite Garnet and Tanzanite
Back to Top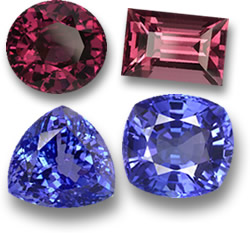 Rhodolite Garnet and Tanzanite Gemstones
Almandine and pyrope are usually the most popular garnets, and a lot of our customers have been choosing rhodolite this year, which is actually composed of both pyrope and almandine. Rhodolite garnet has the advantage of being lighter and appearing like ruby, due to its reddish-purple tones, where the other red garnets can be a little darker and have brownish tones. We are always pleased to see people choosing garnet, since it is one of the unsung heroes of the gemstone world, with its wonderful variety, durability and natural, untreated beauty.
Tanzanite is another gem that is rising in popularity. This is no surprise, since it is only mined from the hills of Northern Tanzania, so with rising prices and decreasing availability, it is definitely an investment stone. We keep falling in love with the stunning blue and violet of tanzanite and could gaze in wonder at its ethereal allure for hours. Whenever our tanzanite stones come back from the lab, we can't help but drink in their color for a while, before sending them off to our customers. One of the official birthstones for December, tanzanite can be used in rings that are worn on a daily basis, such as engagement rings, or other popular jewelry designs.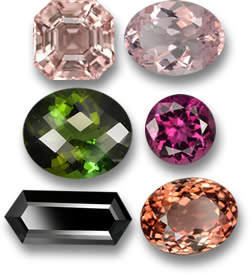 Morganite (Top) and Tourmaline Gemstones
Morganite is another gem that has been extremely sought after over the past year and we have been doing our best to meet high demand for this stunning peach-pink beryl stone. There is nothing quite like the delicate and feminine pale pink and peach colors of morganite. These pastel hues, which look wonderful against any skin tone and the great hardness of morganite make it one of the most popular current choices for engagement rings. Furthermore, morganite is stunning whether it is set into matching rose gold or white precious metals.
The gemstone of many colors, tourmaline is also being seen more in popular jewelry and has thus risen up our list of bestsellers. The diverse range of tourmaline colors and shapes make it a favorite of jewelers. Particularly, rubellite tourmaline is a hot choice, and anyone who sees it in person will understand why; rubellite tourmaline has a wonderful ruby-like reddish-purple color that would brighten up any jewelry piece. Other pale to deep pink and peach tourmaline gems are also enjoying their moment in the spotlight, along with green and golden-colored tourmaline. Tourmaline gems are often cleaner than their similar colored counterparts, making them worthy of a little extra love and attention.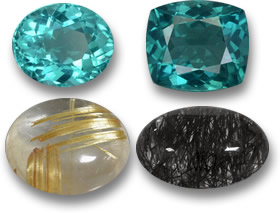 Teal Colored Apatite Gems, and Golden and Black Rutile Quartz Cabochons
Other surprises in increased gem sales this year have been apatite; a gem that is known for appearing like many other gem types due to its many colors, including teal-colored stones, which are hard to find in other gem types. A rise in interest in rutile quartz gems shows that some of the more unique looks appeal to our customers. These transparent quartz cabochons with golden, black, green and red rutile inclusions have been used in jewelry designs all over the world.
We hope that the above will provide food for thought and stimulate some stunning jewelry designs for 2017. As a final note, if you are looking for festive gifts, there is still plenty of time to receive your order by standard or express shipping if you order today. Express shipping takes just 3-4 days for deliveries to most parts of the world. We strive to make your shopping experience stress-free, convenient and risk-free, with several payment options and a 30 day inspection period. This month, PayPal is offering return shipping refunds, so returns have never been easier. If you're not sure which colored stones to select for gifts, try browsing our popular gemstone pages or our ready-made jewelry for inspiration.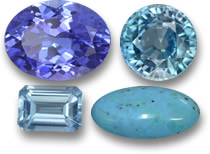 December Birthstones: Tanzanite, Blue Zircon, Blue Topaz & Turquoise
December birthstones are a range of blues, from turquoise and pale sky blue topaz to deep blue violet tanzanite and London blue topaz. In the mid-range are bright Swiss blue topaz and blue zircon gemstones. Thus, December birthstones appropriate for any jewelry wearer can be found, whether you prefer cabochons or faceted stones, and whether the design is intended for a man or a woman. For cocktail rings or large pendants, turquoise and topaz are ideal, and for smaller designs with incredible color, it is worth investing in beautiful blue to violet tanzanite or brilliant blue zircon stones, which will really pop with color and sparkle.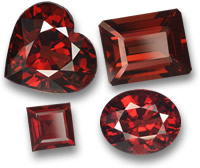 Pyrope Garnet Gems
It is the season to be jolly and nothing brightens up the winter blues quite like fiery red pyrope garnet, a garnet variety that has a fabulous, rich red color. A high refractive index gives pyrope garnet brilliance that lights up any piece of jewelry. We have acquired some stunning pyrope garnet gemstones just in time for the festive season, including 3-5 carat stones in various shapes. A famous historical mining location for pyrope garnet was Bohemia (a kingdom of Central Europe) in the 16th century, which made Bohemian garnet jewelry popular. These days pyrope garnets are mined from other countries too, such as China, Madagascar, Tanzania and Mozambique.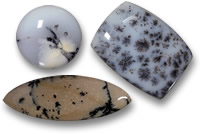 Dendritic Chalcedony and Dendritic Agate Cabochon Gemstones
Some of our new dendritic chalcedony and dendritic agate gemstones can resemble a winter wonderland of ferns against a snowy background or a warmer, neutral-colored mossy scene. These dendritic quartz gemstones are chalcedony and agate that have inclusions known as dendrites. The dendrites look like tiny ferns or moss, but are actually made up of minerals; iron or manganese. Some dendrites appear like moss and others look more like branches. Depending on the gemstone, there may be just one or two dendrites or the cabochon may be covered in these unique inclusions.
The Gemological Institute of America (GIA) has acquired 63 mineral specimens from the Joel and Barbara Hauser Mineral Collection, which are now displayed in its museum in Carlsbad, California. The new exhibits include a petrified pine cone and rhodochrosite from Argentina, turquoise and malachite from Arizona, and variscite from Utah.
The 187.7-carat "Foxfire" diamond, the largest diamond ever mined in North America, is now on display alongside the Hope Diamond at the Smithsonian's National Museum of Natural History in Washington D.C. The large diamond was mined by Rio Tinto at the Diavik Diamond Mine in Northwest Canada and gets its unusual name from an aboriginal description of the Northern Lights.
A 9.14-carat, fancy vivid pink diamond achieved $18.2 million at Christie's Geneva last month. The pink diamond was acquired by an Asian buyer who has renamed it "The Light of Memory". The same auction saw two other notable pink diamonds snapped up by Graff Diamonds; one 17.07-carat pink diamond ring for $20.8 million and a pear-shaped, 13.20-carat intense pink diamond for $16.2 million.
Esteemed British jewelry designer, Stephen Webster is set to host the Jewelers of America GEM Awards that will take place in New York on January 13th, 2017. The annual industry event will be the 15th and those who cannot make it in person can view parts of the gala on Facebook Live.
Every month we answer questions of general interest from our customers. Please feel free to send your questions or suggestions to our support team at help@gemselect.com!
Question

Fossil Coral Cabochon
Hello, I was wondering if you could tell me, what's the difference between fossilized and petrified?
Answer
Something that is fossilized shows preserved evidence of life. Therefore, fossilized gemstones contain the remains of organisms, their marks or their footprints. Examples of gemstone fossils are insects preserved in amber or fossil shells, such as iridescent
ammolite
. When a fossil has been replaced by minerals, such as quartz, it is said to be "petrified". Petrified fossils include petrified wood and fossil coral, which is coral that has been replaced by agate (
agatized fossil coral
). Petrified fossils are usually made up of hard materials, making them more durable than non-petrified fossils.
Question
Hi, I'm looking for a meaningful gemstone gift for my wife, but I'm not sure where to start, do you have any suggestions?
Answer
Many people like to gift birthstones to their loved ones, which are gemstones assigned to each month. If you are not sure what your wife's birthstone is, please click on this link to our
birthstone information
to find out. Another suggestion is to buy a gemstone in her favorite color or to buy a gemstone that represents a special
meaning
. For example, sapphire is often given for loyalty and sincerity, and garnet represents passionate devotion.
We always welcome your questions, comments and feedback! For those who are interested in attending some gem and jewelry events, please see the details below.
Event Name
Best Adornments of Russia
Location
Russian Federation
Venue
All-Russia Exhibition Center (VDNKh), pr-t. Mira, 119, Moscow, Russia
Dates
November 30 - December 4, 2016
Event Name
Holiday Jewelry, Fashion, & Accessories Show
Venue
Renaissance Schaumburg Hotel & Convention Center, 1551 Thoreau Dr N, Schaumburg, IL, USA
Dates
December 1 - 4, 2016
Event Name
International Minerals & Fossils Show
Venue
Sunshine City Convention Centre, 3-1 Higashi-Ikebukuro, Toshima-ku, Tokyo, Japan
Dates
December 1 - 5, 2016
Event Name
30th GeMin Expo
Venue
Royal Olympic, Athanasiou Diakou 28, Athens, Greece
Dates
December 2 - 4, 2016
Event Name
Greensboro Gift & Jewelry Show
Venue
Greensboro Coliseum Complex, 1921 W gate City Blvd, Greensboro, NC, USA
Dates
December 3 - 5, 2016
Event Name
Dallas Christmas Bead & Jewelry Show
Venue
Grapevine Convention Center, 1209 S Main St, Grapevine, TX, USA
Dates
December 4 - 6, 2016
Event Name
Dubai International Jewellery Week
Venue
Dubai World Trade Centre, Sheikh Zayed Rd, Dubai, UAE
Dates
December 7 - 10, 2016
Event Name
Mineralien Hamburg
Venue
Hamburg Messe und Congress, Messeplatz 1, Hamburg, Germany
Dates
December 9 - 11, 2016
Event Name
Florida Jewelry & Apparel Expo
Venue
Osceola Heritage Park, 1875 Silver Spur Lane, Kissimmee, FL, USA
Dates
December 10 - 12, 2016
Event Name
Kolkata Jewellery & Gem Fair
Venue
Eco Park, Newtown, Biswa Bangla Sarani, AA II, Rajarhat, Kolkata, India
Dates
December 17 - 19, 2016
Event Name
Wien Mineralien & Schmucktage
Venue
Haus der Begegnung, Angerer Str. 14, 1210 Wien, Austria
Dates
December 17 - 18, 2016
Keep up with our new arrivals before they hit the newsletter by joining our thousands of fans and followers on our social networking pages. We love interacting with our customers - you can visit us on Tumblr, LinkedIn, Twitter, Facebook or Pinterest!
To ensure you can receive our emails, please be sure to add help@gemselect.com to your list of safe contacts, or you add us into your email address book! Please feel free to contact us with any questions, comments and queries! We respond to each and every email we receive.
Happy Gem Hunting!
Your friends at GemSelect