Cheap Gemstones - or should we say 'affordable'?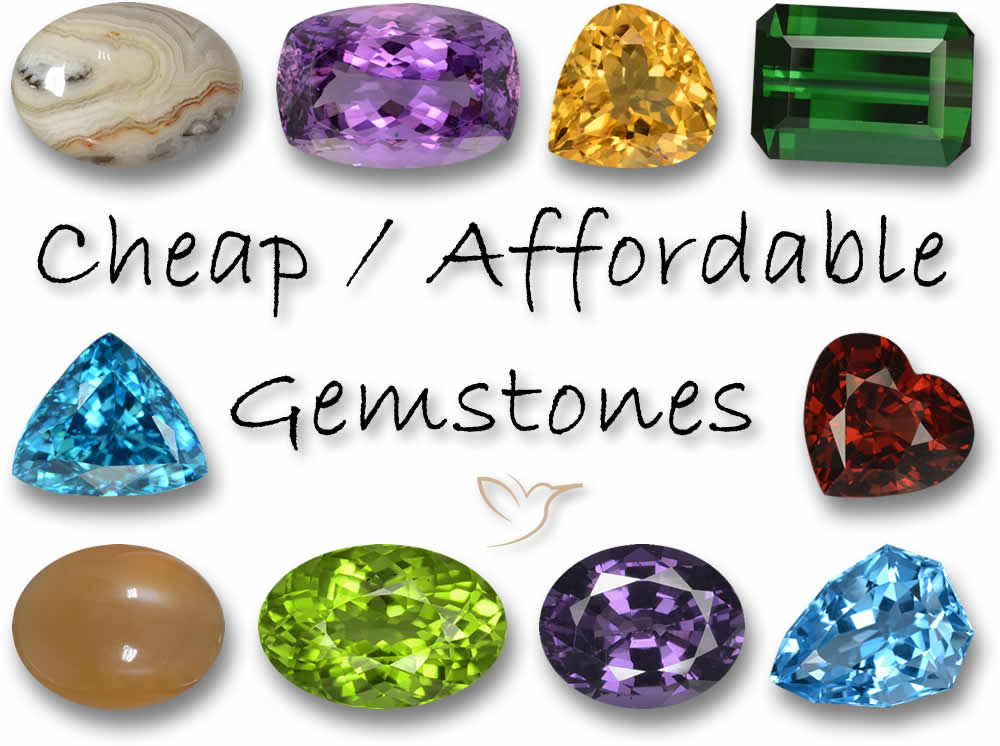 Using the term cheap is not usually recommended when discussing quality gemstones on a web page - there are many alternative words thrown about instead such as inexpensive, low-cost, affordable, low-priced.
Let's define the word cheap:
'having a low price compared to the real value, worth more than its cost'.
When it is put like that, cheap doesn't sound so bad, does it?
At GemSelect we are able to offer a huge range of in stock gemstones at cheap or affordable prices but how is this possible?
There are a number of reasons.
First of all, we only operate an online gemstone business, we do have a physical retail outlet or chain of stores. This keeps costs down and means we are not running conflicting services.
We are based in Chanthaburi, Thailand, once a mining centre for precious gemstones and now the major world-wide hub for grading, cutting, polishing and trading all types of stones. It is estimated that 80% of all rubies and sapphires pass through Chanthaburi before reaching the jewelry stores of the world.
Thirdly, we are able to buy gemstones in bulk or wholesale lots, thousands at a time, of all varieties in all manner of sizes, shapes and cuts at much better prices than most dealers can get. We then pass these savings onto our customers in the form of low-cost prices.
Our pricing schedule is based on the price we pay for the gemstones not the highest price-per-carat that can be fetched in global trading centers.
Creating a list of cheap or affordable gemstones is a bit tricky because we buy new gemstones everyday, with dealers and traders arriving all the time with stock from Africa, Sri Lanka, Myanmar, Brazil and so on.
The market can be very unpredictable and what may be very reasonably priced one day could be expensive the next. Our volume purchasing means we can be fairly consistent with our bargain prices but the types of gemstones can vary.
We have put together a short list of our regular value-for-money gemstones:
Agate
Agates come in all sorts of colors with a wide variety of patterns and decorations. Even though this gemstone is spiritually powerful with exotic and unusual looks it is available at very reasonable prices - even the largest sizes will not break the bank.


Amethyst
A lovely deep purple gemstone that was once as valuable as rubies and sapphires which can be used in all types of jewelry. Available is all sizes, cuts and shapes at very reasonable prices.


Citrine
This gemstone comes in various shades of yellow from lemon to honey. It is a November birthstone and its stunning appearance in all types of shapes and sizes challenges its low cost.


Garnet
Garnets are one of the most versatile and colorful gemstones to be found anywhere and while some can reach very high prices, the exquisite Spessartine, Pyrope and Hessonite are amongst the best valued stones around.


Moonstone
Ancient Romans thought moonstones originated in the rays of light from the moon and when you see the shimmering surface of this gemstone you will believe it, too. Available in subtle colors with an almost liquid appearance including some star and cat's eye gems all at great prices.


Peridot
Clear faceted green gemstones usually fetch enormous prices - think of emeralds and tsavorites - but lovely golden green peridots can be found at very fair rates.


Quartzes
Strawberry, Smoky, Rose and Rutile are just some of the wide range of quartz gemstones to be had at very realistic prices - easy to obtain in every style and size you can imagine.


Spinel
Spinel comes in almost every color conceivable and is possibly the most under-appreciated gemstone out there. These high quality stones have graced the crown jewels of Europe and Asia for centuries.


Topaz
This historic gemstone can reach prices that rival the finest sapphires and diamonds but the pink and blue version of Topaz can be bought in outrageous sizes for a lot less than you might think.


Tourmaline
Certain members of the colorful tourmaline family are valued more highly than diamonds but for a much-coveted gemstone with excellent fire and brilliance suitable for superior jewelry there are some bargains to be had.


Zircon
With a dazzle and luster that can outshine diamonds you would think that zircons would be a very expensive gemstone but take a look at the wide range of colors, shapes and sizes and see how much value for money you will get from this top quality gem.


Cheap is a relative term, just about any genuine gemstone can be considered cheap or good value depending on the price you pay - a stunning 5 carat blue sapphire with no inclusions would be cheap at $5000 while a gorgeous 10 carat amethyst could be thought expensive at $100.
I hope our brief guide to affordable gemstones is useful and remember we have over 100,000 gemstones in stock in well over 100 different varieties so please take a look for yourself - I know you will find a bargain or two.
Quick Guide to Affordable Gemstones

| Gemstone | Average Price |
| --- | --- |
| Agate | $1 |
| Fire Agate | $15 |
| Amethyst | $5 |
| Citrine | $5 |
| Red Garnet | $7 |
| Hessonite Garnet | $30 |
| Spessartite Garnet | $40 |
| Mali Garnet | $60 |
| Moonstone | $3 |
| Peridot | $10 |
| Rose Quartz | $5 |
| Smoky Quartz | $1.5 |
| Rutile Quartz | $1.5 |
| Strawberry Quartz | $6 |
| Lemon Quartz | $2 |
| Red Spinel | $100 |
| Fancy Spinel | $60 |
| Black Spinel | $5 |
| Blue Topaz | $5 |
| Mystic Topaz | $6 |
| Pink Tourmaline | $60 |
| Green Tourmaline | $20 |
| Black Tourmaline | $5 |
| Blue Zircon | $80 |
| White Zircon | $25 |
| Fancy Zircon | $40 |