Cheap Gemstones - Affordable Gemstones
Some good quality gemstones are inexpensive, such as quartz, topaz and garnet. However, some inexpensive gemstones can be of poor quality, and these are best avoided. So it's worth knowing how to recognize them.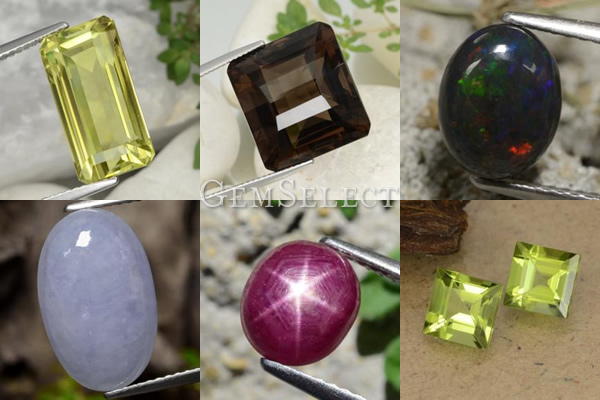 Affordable Gemstones
The best way to buy gemstones, like buying most products, is to search out value. Value means the best quality for the price you pay. There are of course different quality ranges in gemstones. Some dealers sell at the top end of the quality range, with prices to match. Many high end dealers provide good value for those who can afford very rare specimens. But other companies - we won't mention any names - sell for profit alone. Low price doesn't always mean good value. Some low-priced gems are simply inferior.
There are a number of ways in which cheap gemstones can be poor value. Some unscrupulous dealers who sell by price per carat will substitute a high value product for a lower value one. When you see large pieces of amethyst or citrine offered at exceptional prices, it is almost always the case that synthetic quartz is being sold as natural. Selling cheap freshwater pearls as the much more expensive saltwater variety is another notorious example. The product may look appealing - freshwater pearls can be attractive in their own way - but they are always inexpensive. They only look like a bargain when they are sold as something they are not.

Good Quality Gemstones at Affordable Prices
Some cheap gemstones are natural stones with a less desirable color. Overly pale amethyst or tanzanite, brownish peridot or tsavorite garnet, and blackish sapphire or garnet (except for those that are supposed to be black) are simply poor specimens and generally poor value at almost any price. Similarly, heavily included faceted gems are usually not worth buying, even at low prices, unless they are gemstones with valuable inclusions such as demantoid garnet, or have exceptionally good color.
Gemstones that are poorly cut or polished are not good value. Though cutting can vary significantly as the gem cutter tries to achieve the best result from the rough material, gems that are cut too shallow, too deep, or lack symmetry will lack brilliance.
Good quality specimens of every natural gemstone variety can be good value if they can be bought at a good price and some gemstone varieties represent especially good value. Click the link to see our recommendations on how to find the best value natural gemstones.
First Published: October-07-2008
Last Updated: January-22-2019
© 2005-2020 GemSelect.com all rights reserved.
Reproduction (text or graphics) without the express written consent of GemSelect.com (SETT Company Ltd.) is strictly prohibited.