产品详细信息
1 件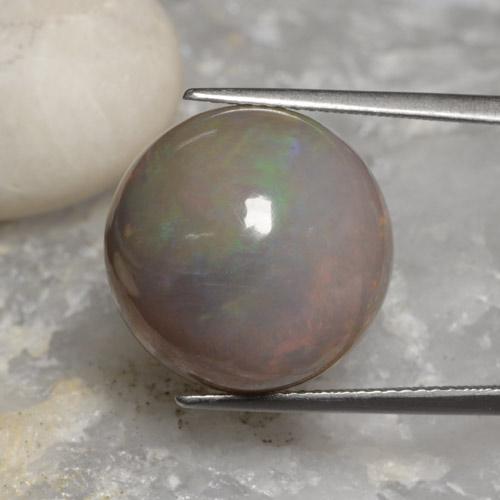 圆形 彩色 巧克力蛋白石
11.3ct
16.2 mm
现在有货
产品详细信息
4 件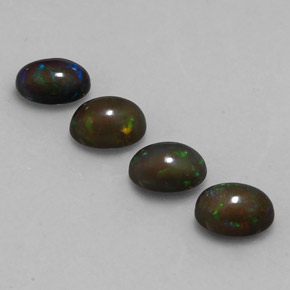 椭圆形 彩色 巧克力蛋白石
0.60 ct (总计 2.39ctw)
7.1 x 5.1 mm
现在有货
产品详细信息
4 件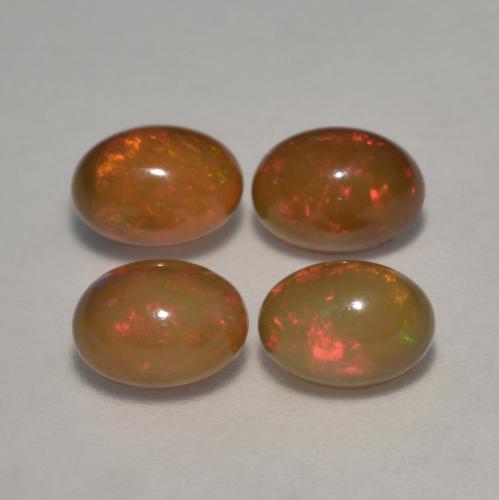 椭圆形 彩色 巧克力蛋白石
0.71 ct (总计 2.83ctw)
7 x 5.1 mm
现在有货
巧克力蛋白石
About Chocolate Opal
Chocolate Opal is a lovely stone found in Ethiopia. It is sold like most Opal as a Cabochon cut Gemstone. It displays various base colors that can range from dark to light mimicking the shades of Chocolate hence the name Chocolate Opal. The darker base tones generally enhance the stones play-on-color but some lighter stone exhibit extraordinary effects too. Chocolate opal also is known as Ethiopian Opal has a Mohs Hardness of 5.5 – 6.5 and ranges from Opaque, Transparent, and Translucent.
How do I Buy Chocolate Opal from GemSelect?
The best way to purchase this stone is by its appearance and the stone size. Due to this and many Opal varieties rarity, it's available only in limited quantities. This particular Opal, however, is available in lots which are quite uncommon for the rarer types of Opal.
What are the advantages of buying GemSelect's Chocolate Opal?
There genuinely are numerous advantages to buying loose stones when compared to purchasing finished jewelry. One of the benefits is the ability to judge the actual quality of the gem. Another advantage is the vast selection of Gems you can choose from by purchasing online from GemSelect. Additionally, you will find that buying your Opal online from GemSelect will save you tons of money due to our affordable pricing.
What Types of Custom Designs are great for Chocolate Opal?
Chocolate Opal is perfect for Cabochon rings, and they happen to be the preferred stone for men. For men, this stone can be used in tie-tacks, cufflinks, and money clips too. Chocolate Opal is, however, a favorite stone for earrings, pendants, broaches, and pins which can be worn by ladies. Due to the full range of colors displayed by Chocolate Opal, it can be set in any precious metal as well.
Opal is, of course, the Birthstone of October and is an excellent piece of jewelry for anyone who's born in this month. In addition to birthstone jewelry, Opal is also traditionally given for the 14th year of marriage as an anniversary gift.
注册用户评论
综合评分 -> 9

GemSelect has a wide selection of gems with photos of the actual gem that you will be purchasing, not some stock photo. Once a purchase is made, you can print out a certificate of authenticity. You know you are getting the real thing. The pricing is competitive. Their website also has useful information about gems.The website is easy to use. I have made multiple purchases with GemSelect, and I will be back again!
发布者 GeneticBlend in November, 2019
综合评分 -> 10

The shipping was fast. The gems I ordered look great and the price was good.
发布者 Jayman in November, 2019
综合评分 -> 10

My experiences with Gemselect have always been quite satisfactory. The items are accurately photographed, a detailed description and provenance provided and the compare feature helps customers select the best gem for their needs. I have often recommended this source and will continue to do so.
发布者 GemGirl in November, 2019
综合评分 -> 10

I ordered several specific items from Gemselect. Items are always packaged very carefully to protect the content. Gemselect always encloses a card of authenticity which documents the entire stone, its size, clarity, etc. All of the items are as they were described. I would highly recommend them to anyone who's in the market for a gem.
发布者 Ron in November, 2019
综合评分 -> 9

I frequently check the GemSelect website for a variety of gems. I've been very satisfied with the selection and quality of the top rated gems. All of the purchases I've made have turned out beautiful pieces of jewelry.
发布者 Steve in November, 2019
综合评分 -> 10

Outstanding user interface. Clear images and videos. Easy filtering and searching of large inventory.
发布者 Dan in November, 2019
宝石信息