November Newsletter - Kunzite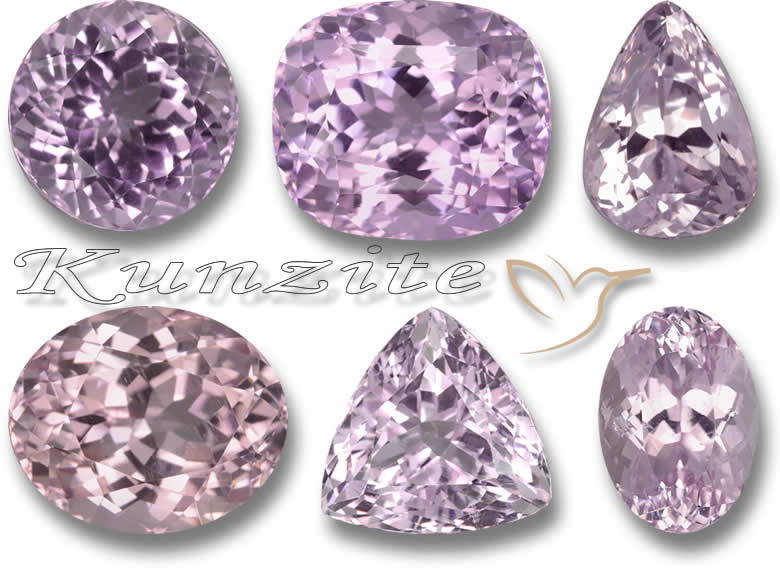 What could be more fun than a beautifully cut, sparkling, flashy, vivid pink gemstone? Not much and perhaps that is why the pale pink to intense pink to almost purple Kunzite crystals are so often seen being worn at parties around the world.
Kunzite jewelry has been spotted on red carpets, premieres, galas and award shows from London to New York and from LA to Shanghai. Film stars and royalty, fashion models and musical icons love to wear this joyful, flirty and lively gem.
Kunzite is known as the evening gem or nighttime gem as exposure to sunlight can cause its pinkness to fade perhaps reflecting the wearer, coming out as the sun sets, flitting from party to party, being seen at the trendiest night spots then spending the following morning sporting sunglasses and avoiding going outside!
Kunzite gemstones are perfect for cocktail rings, large, bold, fun statements that stand out from the crowd.
Despite having such a relatively short life span in the world of gemstones, Kunzite has packed a fair amount of interest into it. Firstly it is named after renowned gemologist George F Kunz (more about this fascinating character later) who was the first to identify this particular form of the mineral spodumene when specimens of a pink crystal were found in San Diego County, California, and sent to him in 1902.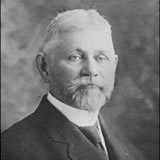 George F. Kunz worked for Tiffany and Co, the world's finest and most famous jewelers, for more than 50 years. When they celebrated 150 years in business they asked Paloma Picasso, daughter of the artist Pablo, to design a piece of jewelry to celebrate the occasion. She used a 396 carat kunzite gem from Afghanistan to adorn a stunning necklace. The cushion cut kunzite gemstone is set in a gold and diamond ribbon on a necklace of 30 South Sea pearls. Tiffany & Co. presented the necklace to the Smithsonian Institution, and it is on exhibit at the National Museum of Natural History.
American President, John F Kennedy ordered a ring featuring a 47 carat kunzite gem surrounded by diamonds as a Christmas present for his wife, Jackie. JFK wrote his beloved wife a note to go with the ring, but was shot just three weeks later. This was the last gift from JFK to Jackie, the ring, a final posthumous present from her beloved husband, came to hold special sentimental meaning for Jackie. It was auctioned for over $400,000 in the Sotheby's auction of Jackie's estate.
Kunzite gems come in a wide color range from pale pinks to lovely purples and are available in some large carat sizes at very affordable prices. These large sizes are especially recommended for Kunzite gemstones for a couple of reasons:
Firstly the crystal can change color when viewed at different angles, the larger sizes gives the cutter the opportunity to emphasize the change in color. This effect is known as pleochroism and kunzite is one of the most pleochroic gemstones found in nature.
Take a look at some of the GemSelect videos of Kunzite to see this phenomenon in action.
Secondly the availability at affordable prices of large clear crystals allows the cutter to really show off the depths of the pink and purple coloring. It is not unusual to find kunzite gemstones in sizes of 10, 20 or even more carats in eye-clean examples. Eye-clean means the naked eye cannot detect any blemishes within the stone.
When buying a kunzite gemstone it should be remembered that it is first the color and then the clarity which determines its value. The more vivid the color, the more valuable the kunzite. The question of whether the color should tend more or less strongly towards the pale pinks or towards the deep violets will depend on your personal preference.
Getting engaged? The fine, delicate pink examples can be a perfect gift stone for lovers.
Finding the right birthstone jewelry for you or a loved one starts with searching through loose gemstones, and this can be a challenge for the most seasoned pro, but at Gemselect we make it easy for you . Our website is very user-friendly and contains a wealth of gemstone information. Get started with our birthstone series and we'll be here when you make a choice or need any more help. Happy hunting!

This gemstone with its fine, delicate pink is not only an ideal precious stone for lovers; Kunzite's pink color is said to bond the energies of the heart and mind. For this reason, it is often referred to as a 'stone of balance'. It is believed that kunzite can help enhance communication between lovers and help broken marriages and broken hearts.
At GemSelect we have a wonderful array of Kunzite gemstone in stock, I am sure you would find one perfect for the love in your life. Any one of these gems could be turned into a beautiful piece of jewelry.
George F Kunz
The man for whom Kunzite is named, George F Kunz, was a fascinating man, born in New York City in 1856, he became fascinated with minerals and gemstones after seeing a display at P T Barnum's American Museum. He decided to build up his own collection and searched the states of New York and New Jersey for various mineral deposits. He would compile a collection, sell it for a profit then use the money to compile another collection. He sold collections to the University of Minnesota, Amherst College, Albany State Museum and many other institutions numbering more than 20,000 specimens, including meteorites!
He did not attend college but taught himself mineralogy from books and work in the field and his expertise and knowledge gained him a job with Tiffany and Co where he acquired gems for their jewelry collections. He became vice president by the time he was 23 and worked with the company until his death in 1932 some 53 years later.
He wrote well over 300 articles on a wide variety of topics within the world of minerals from the history of the pearl, to diamonds in meteorites, to the mystical properties of gemstones, about ivory and the elephant in works of art and the history of rings as well as gemstones in the works of Shakespeare and autobiographies detailing his travels as a gemologist around the world.
Although he did not graduate college himself he was given honorary degrees by Columbia University, the University of Marburg, the Cooper Union and Knox College of Illinois. He was awarded with the Legion of Honor of France, the Knight of the Order of St Olaf in Norway and was an Officer of the Rising Sun in Japan among many other awards.
He was the founder, president, vice-president, special agent, curator, or associate of too many venerable institutions to list but include the New York Academy of Sciences, the US Commission General and the Museum of Natural History. He still found time to be a member of several organizations including the Geological Society of America, the American Association for the Advancement of Science, New York Academy of Sciences, the New York Bird and Tree Club, the American Scenic and Historic Preservation Society, the American Chemical Society, the list goes on and on!
He travelled extensively throughout America and the world, visiting the leading sites of mineral deposits such as South Africa and South and Central America and the international centers for the gems trade in London and Paris.
In 1891 he was invited into the Winter Palace in St Petersburg and given unfettered access to the magnificent crown jewels of the Russian royal family. His description of the crowns, tiaras, scepters and other assorted items of jewelry illuminated by diamonds, pearls, topaz, spinels, sapphires and rubies as well as their history was published in an article in Art and Life Magazine. The depth of knowledge and his enthusiasm for his subject shows through in this excellent piece.
"The Winter Palace treasures, the Orlov diamond, the red diamond of the Emperor Paul, the great pearls and other magnificent jewels were shown to me by the courtesy of the Imperial Chamberlain, Prince Putjatzin . . . . scarcely two months later the Prince was bombed to death."
George F Kunz married twice, had one daughter and died aged 76 in 1932.
Customer Questions
Every month we answer questions of general interest from our customers. Please feel free to send your questions or suggestions to our support team at help@gemselect.com
Hi, I saw a black gem called nuummite at a local gem show, do you have these and could you give me some information?
Thank you for your question. Nuummite is a rare black gemstone with flecks that show an iridescent play of color ranging from yellow to golden, green to metallic blue, and reddish to violet. Nuumite is a fairly new gemstone as it was only discovered in the early 1980's. Its name means "from Nuuk", because it was found in the Nuuk region of Greenland. Although Nuummite was only recently discovered, it was formed more than three billion years ago, so it is also known as the oldest rock on earth! Nuummite is usually cut as cabochon cut to maximize the iridescent play of color and is often made into pendants. We have a nice selection of Nummite gems available in a range of shapes and sizes and you can view our gems here; Nummite gems
I am interested in sunstones but I have read that there are sunstone imitations. Are your sunstones real?
Yes, our sunstones, as all gems sold at Gemselect, are genuine, natural stones. There is indeed a sunstone imitation stone called goldstone. It is made of glass that contains very small copper crystals that gives the stone a glittering appearance. It can be mistaken for or misrepresented as a natural material.
Gemselect provides a complimentary Gemstone Brief Report card that verifies each gemstone. We also offer our customers the option of having a gemstone certified by an independent Gemological Laboratory. We currently offer brief identification reports from your choice of two well-respected independent gemological laboratories, The Asian Institute of Gemological Sciences (AIGS) and Burapha Gemological Laboratory (BGL Lab).
To ensure you can receive our emails, please be sure to add help@gemselect.com to your list of safe contacts, or add us into your email address book! Please feel free to contact us with any questions, comments, and queries! We respond to every email we receive.
Happy Gemstone Hunting!

Team GemSelect
First Published: October-30-2019
Last Updated: October-31-2019
© 2005-2021 GemSelect.com all rights reserved.
Reproduction (text or graphics) without the express written consent of GemSelect.com (SETT Company Ltd.) is strictly prohibited.
Article Categories
Total Number of Articles: 1788