GemSelect Newsletter - Rock Stock & Smoking Hot Jewels
Happy New Year!
First of all, we wish you all a very happy New Year! We hope to continue serving your gemstone needs throughout 2018 and beyond.
We are always adding new acquisitions to our stock of rocks and over the past few months we have increased our extensive inventory. We've added a few new and exciting gem types to our ever-expanding list and welcomed the return of some gem types that we haven't seen in a long time. Let's take a look at some of the new and exciting gem types first.
A delightful, iridescent gem type that we have recently added is spectrolite, a rare type of labradorite from Finland that can exhibit the whole spectrum of colors in its schiller, which is so special that it has its very own special word: "labradorescence". Spectrolite tends to be cut as cabochons, so that its iridescence can be best seen as the gem is tilted back and forth.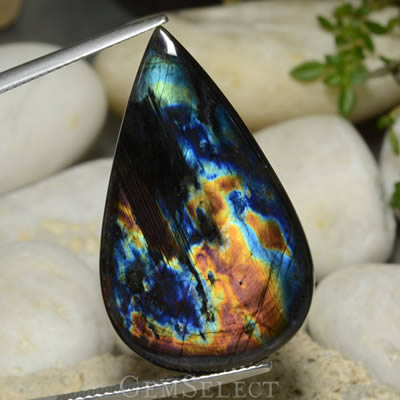 Pear-Shaped Spectrolite Cabochon
One of our most exciting new additions is the collector's "dream" gemstone, grandidierite. Known to be one of the rarest gem types, we had never seen it with our own eyes until a few months ago. Some of you may remember that we dedicated our November newsletter to presenting our new grandidierite stock.
A glossy black manganese oxide gem called psilomelane is another recent addition of ours. This is sometimes called "black hematite", which is inaccurate, since hematite is iron oxide. Psilomelane is also referred to as "Merlinite" because it is believed to carry magical properties. We like the satisfyingly smooth feel and glossy black color of psilomelane, which sometimes has interesting gray pyrolusite swirls.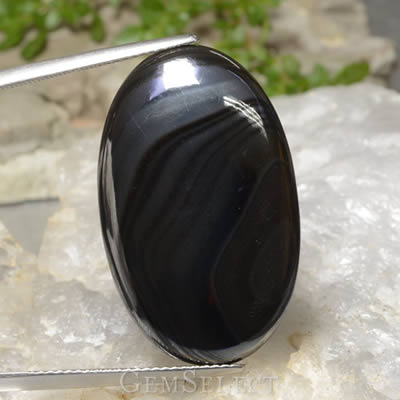 Oval Psilomelane Cabochon
Finally, an interesting gemstone that can be found in the form of enormous crystals is scolecite, which is both a collector's gem and a jewelry gemstone that is popular for crystal healing because it is thought to be very comforting and calming. Our new scolecite gems are not huge crystals, but are white to cream cabochon gems.
There are several gem types that we've stocked in the past and then not seen for a long time. We're always happy to welcome them back to our vault like old familiar friends. One of these is hiddenite. As with many gem types, its name comes from the discoverer, W.E. Hidden, who found hiddenite in North Carolina. Expecting to find emeralds, Mr. Hidden instead found this green-yellow, yellow-green to emerald-green type of spodumene; a cousin of kunzite. Although hiddenite was discovered in the USA, like kunzite, it is now commercially mined from Afghanistan.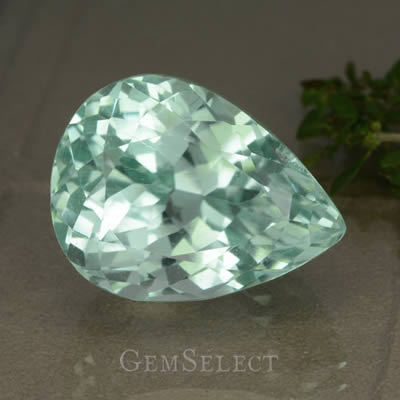 Pear-Shaped Hiddenite Gemstone
Some delicious sounding gems that have returned to us in recent months are strawberry quartz stones. These are transparent quartz with red iron oxide inclusions, which give it an interesting streaked or speckled appearance. We now have over two hundred strawberry quartz gems including matched pairs for earrings.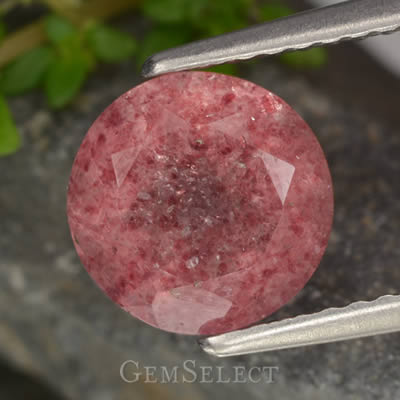 Round Strawberry Quartz Gemstone
Stones that can appear similar to strawberry quartz are sunstone because of the spangled inclusions, though sunstone is more golden than red. Rather than quartz, sunstone is a kind of feldspar; the same gemstone group as moonstone, labradorite, andesine, amazonite and orthoclase. As well as faceted sunstone, we have a collection of star sunstone gems, which show four-rayed stars in addition to the glittery effect.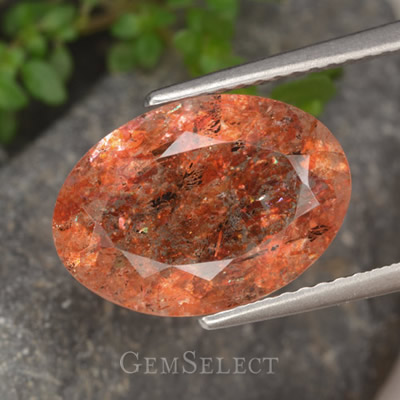 Red-Orange Faceted Sunstone Gem
Scapolite is one of the "lesser-known" gemstones. We usually have cat's eye scapolite, but we are only occasionally able to purchase faceted transparent scapolite stones. These can be various colors, with the most common being light yellow. Our faceted scapolite gems range from almost colorless to yellow.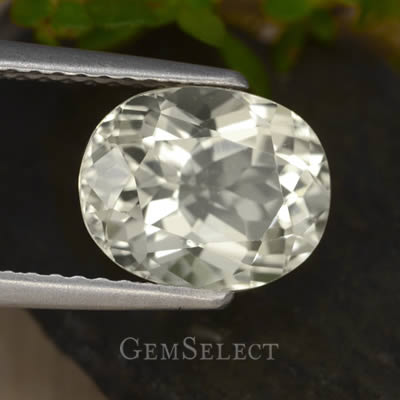 Almost Colorless Faceted Scapolite Gemstone
Finally, fire agate; a unique and rare variety of brown agate with beautiful iridescent colors made an appearance in recent months after a long absence from our vault. The spectral colors of fire agate are caused by light passing through layers of limonite/goethite oxide and silica.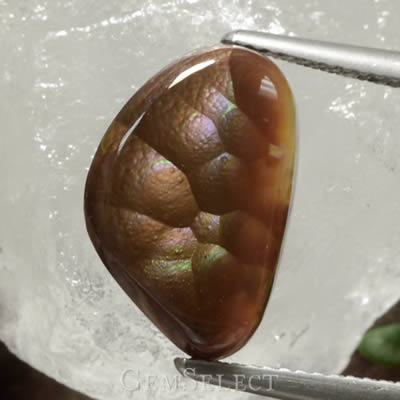 Iridescent Fire Agate Gemstone
In our quest to be the go-to online source for loose gemstones, we are always on the lookout for a new gem type to add to our long and varied list. Let's hope that 2018 will bring more "hidden gems" to us, as well as a good supply of the most popular jewelry stones that are hard to find at the present time, such as London blue topaz, watermelon/bicolor tourmaline, rubellite and deep-pink tourmaline, so that we can provide you with any stone that you dare to dream of.
We have recently acquired some new maw-sit-sit gems in classic oval and round shapes and also trillion, baguette and sugarloaf cabochons. Maw-sit-sit is an interesting and unusual gemstone that is only found in Northern Myanmar (Burma) and was named after the village where it was discovered. It is related to jade, since it contains jadeite among other materials, and is emerald-green to dark-green and usually has dark patches or veins. The colors and patterns of maw-sit-sit make it ideal for unisex jewelry.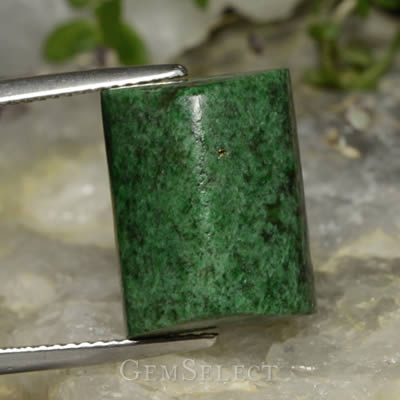 Maw-Sit-Sit Baguette Cabochon
Color change diaspore is a rare gem mined from Turkey that changes from green or greenish-yellow in daylight to pinkish-peach under incandescent light (light that has a heated filament or candlelight). The degree of color change varies from gem to gem and is more easily discernable in large-sized color-change diaspore stones.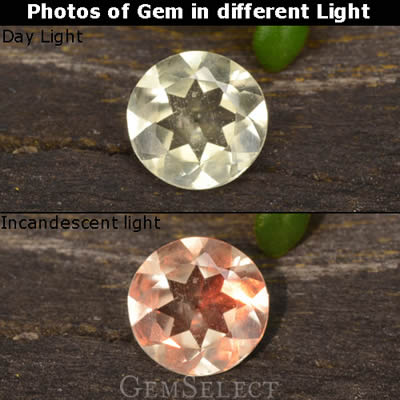 Round Color-Change Diaspore Gemstone
The popularity of bloodstone never wanes, so we have recently processed our own bloodstone rough in order to keep up with the demand for this distinctive stone. Bloodstone is one of the many varieties of chalcedony quartz that also goes by the names "heliotrope" and "blood jasper". The original birthstone for March before it was replaced by aquamarine, bloodstone gets its red, "blood-like" inclusions from iron oxide.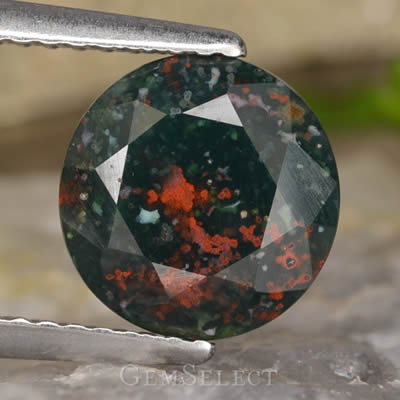 Round Faceted Bloodstone Gem
Jewelry sales have seen a 6% increase this holiday season, mainly thanks to last-minute purchases and an improved US economy, according to a MasterCard Spending Pulse survey, which also stated that new sales strategies helped to engage shoppers.
A gutsy grandma pushed a would-be jewelry thief out of a jewelry store in Houston, Texas in an act of heroism. Judy Memmel, a jewelry store employee, was helping colleagues to open up when an armed robber entered the shop. Memmel promptly pushed the thief out of the door and locked it behind him.
Princess Michael of Kent sparked controversy by wearing a dated "Blackamoor" colored gemstone brooch to the Queen's Christmas lunch in the presence of Prince Harry's new biracial fiancée, Meghan Markle. Princess Michael has since apologized for any offense caused by her faux pas.
Every month we answer questions of general interest from our customers. Please feel free to send your questions or suggestions to our support team at help@gemselect.com.
Question
Hi, I'm looking for a ruby replacement that is less costly, what can you recommend?
Answer
We love
red garnet stones
, which are great value, beautiful ruby-like
red gems
. Depending on the exact red you like, there are deep red pyrope and almandine garnet, which are a slightly brownish-red. If you prefer a purplish-red,
rhodolite garnet
would be the best choice. As for orange-red, spessartite and hessonite garnet are more costly, but are stunning cinnamon-like colors. Red garnets are not only affordable, but they are also durable and typically
untreated natural gemstones
.
Question
I saw that you started getting faceted labradorite. I want to know what does faceting do differently for the gem rather than just keeping it as a cabochon? This is in no way a complaint, as I love faceted gemstones, but I just was wondering.
Answer
Faceting usually requires better quality material than
cabochons
, and since cabochons only exhibit labradorescence, by faceting them, these gems can also gain a bit of sparkle and light reflection. Sparkle combined with
iridescence
just makes the stone that much extra special.
We always welcome your questions, comments and feedback. For those who are interested in attending gem and jewelry trade events, please see the details below.
Venue
Lakeland Center, 701 W Lime St, Lakeland, FL 33815, USA
Dates
January 5 - 7, 2018
Venue
Sonoma County Fairgrounds, 1350 Bennett Valley Rd, Santa Rosa, CA 95404, USA
Dates
January 5 - 7, 2018
Event Name
TrendSet Winter 2018
Venue
New Munich Trade Fair Centre, Messegelande, 81823 Munich, Germany
Dates
January 6 - 8, 2018
Event Name
Malaysia International Jewellery Fair
Venue
Kuala Lumpur Convention Centre, Stall 7, Jalan Pinang, Kuala Lumpur City Centre, 50088 Kuala Lumpur, Malaysia
Dates
January 12 - 15, 2018
Event Name
The Whole Bead Show
Venue
The Blaisdell Center, 777 Ward Ave, Honolulu, HI 96814, USA
Dates
January 12 - 14, 2018
Event Name
Bijorhca Paris
Venue
Paris Expo, 1 Place de la Porte de Versailles, 75015 Paris, France
Dates
January 19 - 22, 2018
Event Name
New Orleans Winter Bead and Jewelry Show
Venue
Pontchartrain Center, 4545 Williams Blvd, Kenner, LA, USA
Dates
January 19 - 21, 2018
Event Name
VicenzaOro Winter
Venue
Vicenza Fairgrounds (Fiera di Vicenza S.p.A.), Via dell'Oreficeria 16 - 36100 Vicenza, Italy
Dates
January 19 - 24, 2018
Event Name
Jewelers International Showcase
Venue
DoubleTree by Hilton Miami Airport & Convention Center, 711 NW 72nd Ave, Miami, FL, USA
Dates
January 20 - 22, 2018
Event Name
Showcase Ireland
Venue
RDS Ballsbridge, Merrion Rd, Ballsbridge, Dublin 4, Ireland
Dates
January 21 - 24, 2018
Venue
World Trade Center, Montecito 38, Napoles, 03810 Mexico City, CDMX, Mexico
Dates
January 23 - 25, 2018
Event Name
International Jewellery Tokyo 2018
Venue
Tokyo Big Sight Exhibition Center, East Halls 5 & 6, 3-11-1 Ariake, Koto-ku, Tokyo, Japan
Dates
January 24 - 27, 2018
Event Name
JOGS Tucson Gem & Jewelry Show
Venue
Tucson Expo Center, 3750 E Irvington Rd, Tucson, AZ 85714, USA
Dates
January 25 - February 5, 2018
Browse our new arrivals before they reach the newsletter by joining our fans and followers on our social media pages. We love interacting with our customers - you can visit us on Tumblr, LinkedIn, Twitter, Facebook or Pinterest!
To ensure you can receive our emails, please be sure to add help@gemselect.com to your list of safe contacts, or you add us into your email address book! Please feel free to contact us with any questions, comments and queries. We respond to each and every email we receive.
Happy Gem Hunting!
Your friends at GemSelect