GemSelect Newsletter - December 2018
Multicolored Sapphire Lots - Unlimited Uses and Shapes
Back to Top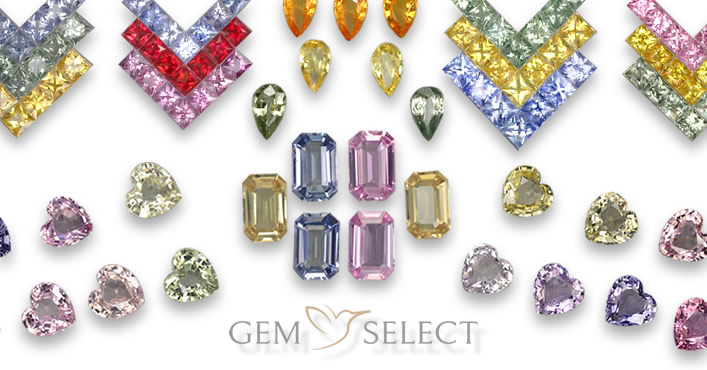 Multicolored Sapphire Lots in heart, pear, square, and octagon shapes.
Perfect for Your Last minute Christmas and Valentine's Day Needs!
At GemSelect we do our best so you can make your designs amazing! Our Multicolored Sapphire Lots are expertly color matched and come in calibrated sizes, so they are ideal for use in jewelry. We include many shapes, sizes, and cuts in our multicolored parcels as well so no matter what your design needs are you will find them here.
Our Multicolored Sapphire Lots are the perfect solution for Valentine's Day Jewelry these Hearts are the ideal calibrated sizes for pendants and rings and earrings. Our Octagon and Pear shape lots are perfect for earrings and are available in popular sizes such as
5 x 3 mm pear shapes and the famous octagon shapes in 6 x 4 mm and 5 x 3 mm. Our selection also includes numerous lots of accent stones starting at 2.1 mm ranging all the way up including a vast selection of the favorite 2.7 mm stones in round, square, octagon step cut, and more. These gems are perfect for accent stones and multi-stone earrings or pendants.
We believe variety is the spice of life and that having matched gemstone lots to work with will genuinely brighten your display. But that's not all we have. Browse our selection of Regular Sapphire Lots and Sapphire Pairs to create timeless pairs of Sapphire Earrings. We also have a fantastic Supply of Individual Sapphire including Cushion Cut Gems that are perfect for rings.
Color Change Gemstones - Exceptional Beauty and Limitless Possibilities
Back to Top
Color changing gems can be exceptionally gorgeous like the Color Change Diaspore displayed below. At GemSelect we provide a large selection of Color Change Gems that holds four individual gem types; Color Change Diaspore, Color Change Sapphire, Color Change Garnet, and Color Change Fluorite. The real characteristic all these stones will share is they change color under different light sources. Not to be confused with gems that change color based on the angle at which you view them.
Super Rare, 19.9-Carat, Untreated, Round-Shaped, Color-Change Diaspore
Naturally, occurring Diaspore is beautiful and rare, and it comes from only one place on earth, Turkey. This Gemstone is genuinely unique, and when cut correctly it possesses magnificent properties. Diaspore's beauty comes from its color changing ability, its saturation, and its sparkle. The colors this gem displays range and include a Champaign base that provides green flashes, salmon pinks, violet, vibrant yellows, pinks, and beautiful reds.
To see the vast range of colors one must observe Color Change Diaspore under morning light, daylight light, natural evening light, fluorescent lighting, incandescent lighting, and even candlelight will trigger subtle nuances in color display.
The stones ability to display so many hues is due to its color play under various light sources such as daylight, indoor lighting, and mood lighting. Due to its fantastic color bending abilities, this stone looks spectacular when mounted with numerous colored gemstones. Color Change Diaspore also compliments multiple skin tones due to the many hues it can display.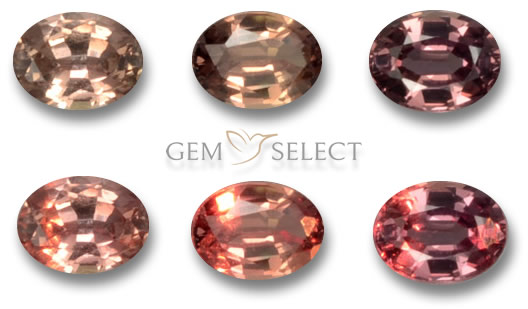 Buy Natural Untreated Color Change Sapphire from GemSelect
Our Natural Untreated Color Change Sapphire is incredibly rare. These Sapphires display different hues when placed under different lighting conditions. The colors can range from Champagne to Salmon colors or from Purple to Beautiful Reds. GemSelect's Untreated Color Changing Sapphire is remarkable and should not be passed up. Their beauty is not only of their luster, sparkle, and color display but of their rarity and lucky for you we have Untreated Color Change Sapphire available for purchase today!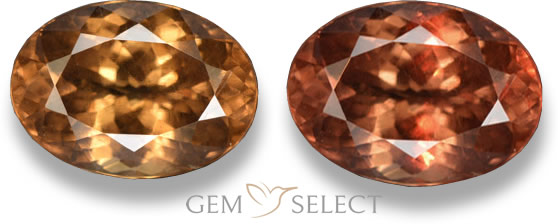 Buy Natural Color-Change Garnet from GemSelect
Color Change Garnet is exceptionally rare and as a result can be an excellent gemstone for collectors and investors. Most Color Change Garnet will exhibit color change attributes which will surpass even the most prized samples of color changing alexandrite. Most Color Change Garnet will display a brownish-green or bronze color when viewed under natural light, but when viewed under incandescent light it will appear rose to pink in color. A remarkable transition indeed but the magic doesn't stop there because Color Change Garnet will display many more color combinations under other conditions.
To truly appreciate the full range of Color Change Garnet, one should observe specimens under a variety of lighting conditions, including early morning daylight, late afternoon daylight, fluorescent light, and incandescent light or candlelight.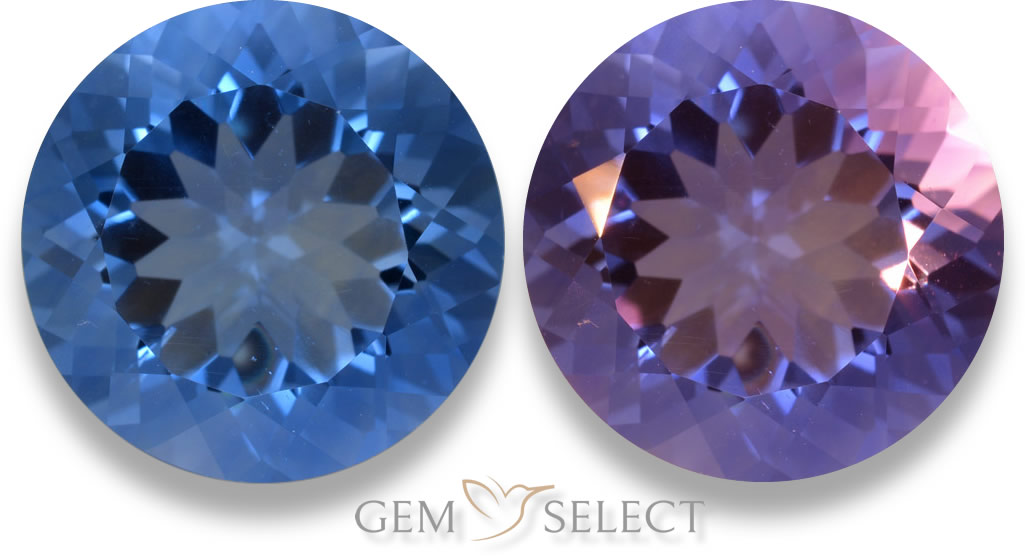 Buy Natural Color-Change Fluorite from GemSelect
Blue Fluorite is rare, so blue Color Change Fluorite is even rarer. Color Change Fluorite is indeed a collector's piece. Color Change Fluorite is one of the Color Change gem types that begins with a stunning blue color in the daylight and will transition to a purple hue when viewed under incandescent light. Collectors prize fluorite due to its rarity in certain colors, and this Color Change Fluorite is the rarest.
When considering designs with this gemstone, you must think of its softness as it must be protected and worn delicately. Wear the stone in areas that will not be disturbed like as a pendant. It is also to your advantage to be cautious and set the gem in a protective setting if you plan to wear this gem regularly.
New - December Birth Stones and Zodiac Stones Article
Back to Top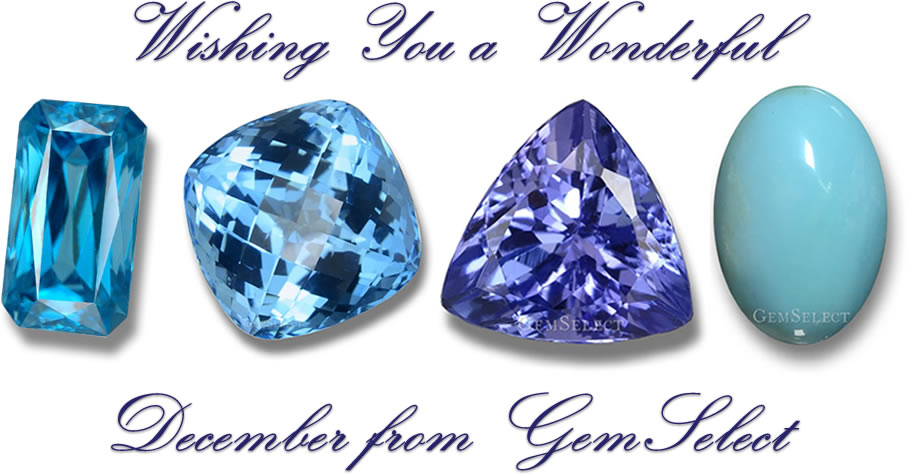 Buy December Birth Stones from GemSelect
Do you or a loved one have a December Birthday?
Read our new December's Birthstone article and learn about some hot stones that are in for December!
History of December's Birthstones: Blue Zircon, Blue Topaz, Tanzanite, and Turquoise.
Zodiac Stones that relate to the signs Sagittarius and Capricorn:
Sagittarius - Topaz, Amethyst, Ruby, Sapphire, Turquoise, Aquamarine, Emerald, Morganite, Cat's Eye Aquamarine, Goshenite, Golden Beryl,
Capricorn - Ruby, Agate, Garnet, Black Onyx, and Lapis Lazuli.
Every month we answer questions of general interest from our customers. Please feel free to send your questions or suggestions to our support team at help@gemselect.com!
Question
Are all Sapphires treated?
Answer
Many gemstones are treated with various methods to improve color and clarity. Some of these methods are widely accepted in the trade today, while other methods are not. The accepted trade methods are the ones that change the color of the gemstone permanently. The majority of commercial grade sapphires have had some measure of treatment, the most common being heat treatment. It is quite rare to find untreated Sapphires but they are available. The main sources of untreated Sapphires are Madagascar, Tanzania and Thailand.
Question
I want to design a ring for me with a setting in which the stone is actually touching my skin. Do you have any recommendation as to how to go about choosing the gem?
Answer
Yes, if you are looking for a large selection of gems to choose from we suggest starting in the Cabochons but if you want a faceted gemstone, the Rose Cut and the Double-Sided Gems are a great choice too. We suggest you choose a stone that isn't sharp on the bottom like a cabochon cut, a rose cut, or a double-sided gemstone. The reason we say these will be great options for you is that they are rounded or flat on the bottom so they will not hurt your skin.
To ensure you can receive our emails, please be sure to add help@gemselect.com to your list of safe contacts, or add us into your email address book! Please feel free to contact us with any questions, comments, and queries! We respond to every email we receive.
Happy Holidays and a Happy New Year!
Your friends at GemSelect