GemSelect Newsletter - The Matrix and Gems
What is Gemstone Matrix?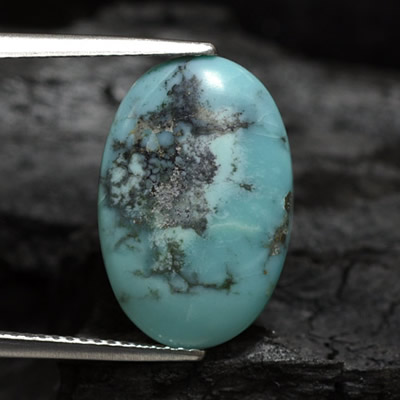 Turquoise with Matrix
Before we all succumb to daydreams of Keanu Reeves kicking butt in black and bullet time, let's rein our minds back to gemstones here. The matrix, in geological terms is the finer-grained, solid matter, or "host rock", on or in which a gemstone is formed or embedded. Some gemstones are finished along with matrix, which can make them interesting and unique. You may have noticed some turquoise gemstones have brown, gray or black, veiny inclusions on them. These inclusions are matrix and can detract from the value of turquoise, which is most prized when a uniform robin's egg blue. However, some matrix is admired in turquoise, such as "spider web turquoise", which has beautiful veined patterns of matrix that look like cobwebs. A little matrix in turquoise also enhances the natural, tribal look of turquoise jewelry. A gem that has a similar appearance is howlite, which is white with dark veins of matrix running through it. Howlite can be easily dyed to look like turquoise, but in its natural form, howlite looks a lot like marble and is sometimes misleadingly sold as "white turquoise".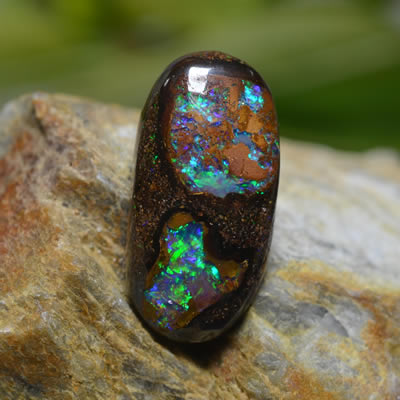 Boulder Opal Cabochon
Boulder opal is another valuable gemstone that contains matrix, in this case, ironstone. Since the precious opal tends to form in thin veins, it is difficult to yield pure opal gemstones from the material, so gems are cut along with the ironstone and sold as boulder opal. Since boulder opal is cut with ironstone, boulder opal gems are more durable than pure opal. Also, brightly-colored precious opal against the dark body color of ironstone makes for an attractive contrast. Boulder opal is unique to Australia and can be described as "opal in matrix", but there is another opal that shares this name. Opal in matrix, or "Honduran black opal", as the name suggests, comes from Honduras and is a black stone with beautiful, multicolored spots of opal dispersed throughout. Unlike boulder opal, which forms with veins of precious opal, Honduran matrix opal forms with tiny fissures of opal in the host rock, giving the finished gemstones an attractive random scattering of opal spots.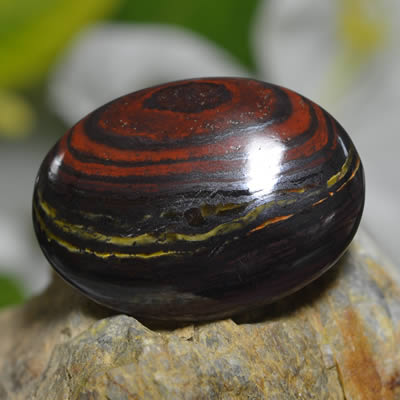 Tiger's Eye Matrix Cabochon
Tiger's eye is another gem that is often finished with matrix. Tiger's eye matrix also contains ironstone, and when tiger's eye, red jasper and black hematite are all finished together, it is also called "tiger's iron". In tiger's eye matrix, the tiger's eye and iron oxide form in alternating layers, giving us cabochons that are a lot more colorful than golden tiger's eye, with yellow, red and black swirls, stripes or spots, making them ideal for bold jewelry designs.
The matrix is clearly featured in gems such as geodes and druzies, where crystals form on the surface or with the cavity of the host rock. In this case, the matrix is the glue which holds the gemstone together and without it, the crystals would be loose. Such gemstones can be displayed as ornaments or used in jewelry and are admired for their raw, natural look.
It is not only in the collector's world of mineral specimens where the matrix can be seen, but also some finished gemstones; the matrix is "out there… and it will find you if you want it to". If you are interested in gemstones that may not be conventionally attractive, but have their own unusual beauty, then gemstones with matrix could be perfect for you. After all, variety is the spice of life and if everybody expressed themselves in the same way with the same jewelry, the world would be a dull place.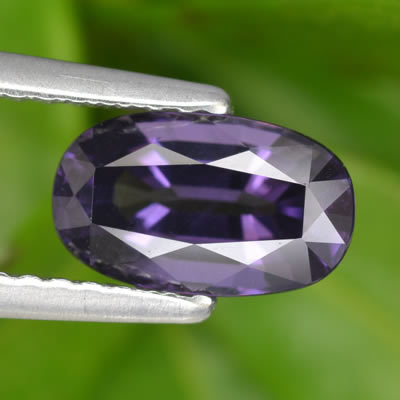 Purple Spinel Gemstone
The August birthstones are peridot and spinel. The traditional August birthstone is peridot and spinel was added to the birthstone list later. Peridot is always green, but spinel has many color choices, including purple, pink, blue, red and black spinel. Fine spinel gems have been mistaken for rubies and sapphires in the past. These stunning gems are unheated, durable and brilliant. No wonder they were added to the official birthstone list.
Round Blue Sapphire Gemstone
Our recent acquisitions include round blue sapphires. These rich blue sapphires from Madagascar are available in eye-clean single stones that weigh 0.5 to 1 carat. Round sapphires of such sizes can be difficult to find, since many sapphires are given oval cuts to maximize carat weight. Measuring 5-6 mm, these classic, diamond-cut blue sapphires are perfect for rings or earrings that will stand the test of time and be admired by all.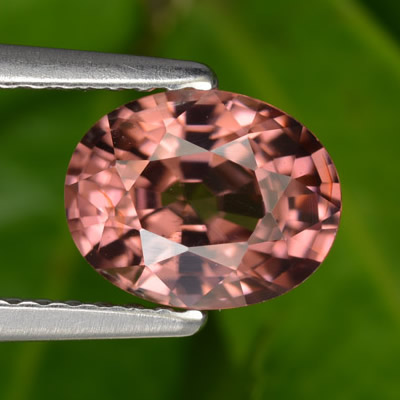 Peach-Pink Zircon Gemstone
The most popular zircon color is blue, though zircon gems are available in several colors, including golden, white, red and pink zircon stones. Some of our favorite zircon colors are peach-pink, orange and rose-pink hues, which can be hard to find in the gemstone world. We have recently been lucky enough to obtain some beautiful peachy zircon gemstones that would look great in rose gold settings.
A lady in Yunnan Province of China accidentally broke a $44,000 jade bangle after trying it on in a Ruili shop. When she tried to remove the bangle, it fell to the floor and broke into two pieces. Upon being told the price of the bangle, the lady began to panic and then fainted in shock. A third party appraisal set the value of the bangle at $26,000.
Actress, Emma Watson appealed to Facebook friends and fans to help find her silver gemstone rings that she removed before a spa treatment. A reward is offered for anyone with information leading to the return of the rings, one of which holds great sentimental value to the Harry Potter star.
In order to warn white diamond buyers of other gemstones being sold as diamonds, HRD, an Antwerp gemology lab has reported that two gemstones believed to be diamonds were actually identified as topaz. The large rough gemstones showed topaz growth lines, revealing their true identity.
Every month we answer questions of general interest from our customers. Please feel free to send your questions or suggestions to our support team at help@gemselect.com!
Question
I love the color of padparadscha sapphire, but it is so expensive and hard to find. Are there other faceted gemstones with a similar color?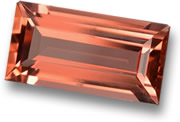 Orange-Pink Tourmaline Gemstone
Answer
The pink-orange color of padparadscha sapphire is rare and there is some debate about the exact color, with gemology labs issuing conflicting reports. Depending on the intensity of color, there are a few options in pink-orange or
peach colored gemstones
. Tourmaline is a great, durable gemstone that is found in pink, orange and various colors in between. Malaya garnet gems can also have stunning orange-pink colors that are similar to padparadscha sapphire. These tend to be softer, less saturated hues. Finally, zircon gems can have fantastic pink colors, sometimes with some orange.
Question
I'm designing a pendant that will swivel and would like the front and back to look the same. What gemstones would have an appropriate shape for this?
Answer
Briolettes
are perfect for pendants, since they are faceted teardrop-shaped stones. Briolettes are often fully-drilled or half-drilled for easy suspension. Also, gemstone spheres (faceted or unfaceted) would work very well. Many gemstones are give a
double-sided
cut and these are quite versatile because they are available in many different shapes, including ovals, cushions, marquises and pears. Our double-sided gemstones include citrine, amethyst, blue topaz, rutile quartz, smoky quartz and lemon quartz. Double-sided gems are often given a
checkerboard cut
, which helps to reflect some light, while retaining symmetry.
We always welcome your questions, comments and feedback! For those who are interested in attending some gem and jewelry events, please see the details below.
Event Name
Reed Gift Fair - Melbourne
Venue
Melbourne Convention & Exhibition Centre & Melbourne Showgrounds, Melbourne, Australia
Event Name
Kempton Park Racecourse Rock, Gem 'n' Bead August Show
Venue
Kempton Park racecourse, Staines Road East, Sunbury on Thames, Middlesex, TW16 5AQ, UK
Venue
WTC Events Center, Av. das Nacoes Unidas, 12551, Sao Paulo, Brazil
Dates
August 7 - 10, 2017
Event Name
East Coast Gem, Mineral & Fossil Show
Venue
Eastern States Exposition Better Living Center, 1305 Memorial Ave., West Springfield, MA 01089, USA
Dates
August 11 - 13, 2017
Event Name
Santa Clara Bead & Design Show - Summer
Venue
Marriott Santa Clara, 2700 Mission College Blvd, Santa Clara, CA 95054, USA
Dates
August 25 - 27, 2017
Event Name
Canadian Jewellery Expos Toronto
Venue
Toronto - The International Centre - Hall 5, 6900 Airport Road, Mississauga, ON, L4V 1E8, Canada
Dates
August 13 - 15, 2017
Event Name
Intergalactic Bead & Jewelry Show - Memphis
Venue
Woodland Hills, 10000 Woodland Hills Dr., Cordova, TN 38018, USA
Dates
August 18 - 19, 2017
Event Name
Bead Fest Philadelphia
Venue
Greater Philadelphia Expo Center, 100 Station Avenue, Oaks, PA, USA
Dates
August 18 - 20, 2017
Event Name
Victoria Gem & Mineral Show
Venue
Pearkes Field House, 3100 Tillicum Rd, Victoria, BC V9A 7C5, Canada
Dates
August 18 - 20, 2017
Venue
Gdansk International Fair Grounds, Gdansk, Pomorskie, Poland
Dates
August 31 - 2 September, 2017
Event Name
Japan Jewellery Fair
Venue
Tokyo Big Sight Exhibition Center, East Halls 5 & 6, 3-11-1 Ariake, Koto-ku, Tokyo, Japan
Dates
August 28 - 30, 2017
Keep up with our new arrivals before they hit the newsletter by joining our thousands of fans and followers on our social networking pages. We love interacting with our customers - you can visit us on Tumblr, LinkedIn, Twitter, Facebook or Pinterest!
To ensure you can receive our emails, please be sure to add help@gemselect.com to your list of safe contacts, or you add us into your email address book! Please feel free to contact us with any questions, comments and queries! We respond to each and every email we receive.
Happy Gem Hunting!
Your friends at GemSelect
First Published: July-25-2017
Last Updated: July-05-2018
© 2005-2021 GemSelect.com all rights reserved.
Reproduction (text or graphics) without the express written consent of GemSelect.com (SETT Company Ltd.) is strictly prohibited.