Frequently Asked Questions (FAQ) / Mystic Topaz Coated Gems
What is Mystic Topaz?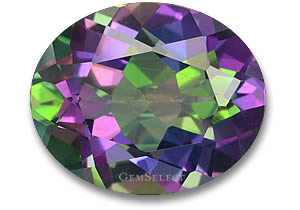 Mystic topaz, like mystic quartz, is the product of a high tech enhancement process that turns colorless gems into brilliant designer gems. The process is known as thin-film deposition. The technology of thin-film deposition is widely used in the optics industry for reflective and non-reflective coatings, and in the electronics industry for building up the layers of integrated circuits in semiconductors. The technology involves depositing an extremely thin layer of film on a substrate material, where the film layer may be only a few microns thick.

In the gemstone industry, the thin metallic film is applied to the pavilion of the gemstone, so that the interesting color effects are reflected from the crown. The film is actually molecularly bonded to the substrate, effectively becoming part of the topaz or quartz material. The film is hard and durable, and since it is applied only to the pavilion of the stone, it cannot be affected by scratches on the crown.