Buy Chocolate Opal Gems
(1)
Click for Details
4 pcs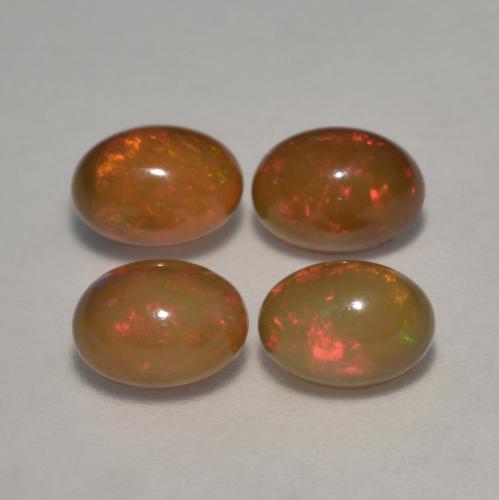 Oval Multicolor Chocolate Opal
0.71 ct (total 2.83ctw)
7 x 5.1 mm
Item in Stock
About Chocolate Opal
About Chocolate Opal
Chocolate Opal is a lovely stone found in Ethiopia. It is sold like most Opal as a Cabochon cut Gemstone. It displays various base colors that can range from dark to light mimicking the shades of Chocolate hence the name Chocolate Opal. The darker base tones generally enhance the stones play-on-color but some lighter stone exhibit extraordinary effects too. Chocolate opal also is known as Ethiopian Opal has a Mohs Hardness of 5.5 – 6.5 and ranges from Opaque, Transparent, and Translucent.
How do I Buy Chocolate Opal from GemSelect?
The best way to purchase this stone is by its appearance and the stone size. Due to this and many Opal varieties rarity, it's available only in limited quantities. This particular Opal, however, is available in lots which are quite uncommon for the rarer types of Opal.
What are the advantages of buying GemSelect's Chocolate Opal?
There genuinely are numerous advantages to buying loose stones when compared to purchasing finished jewelry. One of the benefits is the ability to judge the actual quality of the gem. Another advantage is the vast selection of Gems you can choose from by purchasing online from GemSelect. Additionally, you will find that buying your Opal online from GemSelect will save you tons of money due to our affordable pricing.
What Types of Custom Designs are great for Chocolate Opal?
Chocolate Opal is perfect for Cabochon rings, and they happen to be the preferred stone for men. For men, this stone can be used in tie-tacks, cufflinks, and money clips too. Chocolate Opal is, however, a favorite stone for earrings, pendants, broaches, and pins which can be worn by ladies. Due to the full range of colors displayed by Chocolate Opal, it can be set in any precious metal as well.
Opal is, of course, the Birthstone of October and is an excellent piece of jewelry for anyone who's born in this month. In addition to birthstone jewelry, Opal is also traditionally given for the 14th year of marriage as an anniversary gift.
Certified Customer Reviews
Overall Rating -> 8

I ordered my gems off this website called GemSelect, they have a good selection and it's easy to navigate. You can also have the gems professionally certified when you buy them, but they do provide certificates of their own.
Posted By Neoaikon in March, 2020
Overall Rating -> 10

Good experience with finding a variety of stones. Due to the vast selection, it is important to be able to search, and I had issues with the site not returning matches when I put in a specific size range. I was eventually able to narrow it down by sorting the items by size, but it was slower than if I could have typed it in. I also wish Gem Select would offer lab created stones (fully disclosed, of course!) so I could get some exotic colors more frequently. Overall, I love browsing and will continue to patronize, but this would put the site as my #1 go to.
Posted By Ametrine in March, 2020
Overall Rating -> 10

I have been browsing stones on GemSelect for a few months. They have such a large selection and I found some stones I had never even hear of before visiting GemSelect! I cannot wait to receive my order and show my gems off!
Posted By Meglaw86 in March, 2020
Overall Rating -> 10

I WOULD recommend GemSelect because you can find lots and lots of gemstones. Any size or shape. The selection is good and so are the prices
Posted By Anjolie in March, 2020
Overall Rating -> 9

Gemselect always has an outstanding selection of gemstones at every price point. The gems are great quality and value.
Posted By Retired Jeweler in March, 2020
Overall Rating -> 10

I have shop with you for years and look for gems of beauty and have found bargainsto suit me. I enjoy browsing through gem site.
Posted By Snijess in March, 2020
Gemstone Information
Popular Gemstones