What gemstone should I buy? Star of the future... Spinel
There are a great many different types of gemstones. The choice is vast. A great deal of time could be spent researching and reading hundreds of different articles. Therefore, we have decided to let you in on a little secret. A gemstone that ticks all the boxes, and more. It's just our personal choice of course, and if you already have a preference that's fine.
This article is really for those who do not know what to buy. You may be looking for a little friendly help that will not do any harm, save you a lot of time and hassle, and may well be a very smart move indeed.
It's based on common sense and a little knowledge gained from working in the gemstone world. So, what gemstone would we recommend to a buyer who wants a beautiful stone, a stone that people will notice and admire, but also a stone that is a smart investment for the future?
The answer is spinel. "But why?"
Most likely, you have not even heard of spinel. So first, check out the pictures and you will see what a truly beautiful gem it is.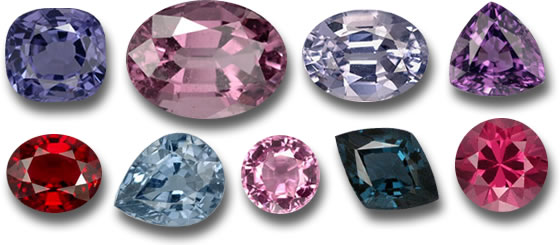 From an aesthetic point of view it is a real looker!
"What colors are there?"
Spinel comes in many different colors, such as pink, blue, green, black, orange and purple. There are also fine pastel colors. To be more precise, spinel offers the largest choice of pastel colors of any gemstone.
"How is the quality?"

The quality of spinel is amazing. Indeed, many in-the-know buy spinel instead of sapphire or ruby!
Not a bad recommendation.
In fact, for hundreds of years spinel gems were actually mistaken for rubies! Since spinel is singly refractive and ruby is doubly refractive, the red color of spinel is actually purer and more intense than red ruby!
Amazing, but true.
"This sounds too good to be true... is spinel treated in any way?"
Unlike most precious stones such as sapphire, emerald and ruby, spinel is always untreated. If prices of untreated sapphires or rubies are compared with spinel then it is clear that spinel is a great buy.


"What about long term value?"
As an investment, being able to purchase a precious gemstone such as emerald, ruby or sapphire that is untreated is not easy. It is also usually extremely expensive. At the moment, spinel is most definitely undervalued.
As untreated stones become more scarce, the value of spinel can only rise.
But wait... it gets better...
"Is this a very expensive gem?"
Actually, no.
Spinel is usually a lot cheaper than, for example, ruby. Up to 50-80% less!
"Is spinel any good for everyday jewelry?"
Due to its hardness, spinel is perfect for any type of jewelry, even for jewelry that is worn daily. Spinel has a Mohs hardness of 8; diamond has a score of 10, so you can see this is a durable gem.
"So, where's the catch?"

There isn't one!
Also, guess what? Professionals in the business have been buying spinel for a long time. If ever there was an argument for adding another gem to the list of "precious stones" it would surely be the spinel. It has long been respected by dealers in the gemstone world.
Yet, spinel is still quite a secret. There isn't a great deal of spinel available on the market and it may be that those who know about it, like to keep it to themselves. When it does show up, they buy it quickly.
However, we at GemSelect.com are very lucky indeed. We get a regular supply of spinel because we are based in the middle of the busiest sector of gemstone activity in South-East Asia, in Chanthaburi, Thailand.
Now you know about it too. It's really up to you...