Danburite Gemstones
A number of gemstones were first discovered in the United States. The most famous ones include:
» Hiddenite, the green form of spodumene found in North Carolina.
» Bixbite, a rare form of red beryl found in Southwestern Utah.
» Kunzite, a pink form of spodumene discovered in San Diego County, California.
» Unakite, granitic rock mined from the Unakas Mountains of North Carolina.
» Morganite, a pink form of beryl, from San Diego County, California.
» Benitoite, rare blue barium titanium silicate sourced in San Benito County, California.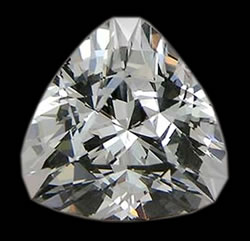 Faceted Danburite
One of the lesser known gemstones first discovered in the USA is danburite, a calcium boric silicate first discovered in 1839 in Danbury, Connecticut. The city of Danbury is better known as the birthplace of Charles Ives (1874-1954), arguably the greatest American composer.
Danburite was discovered by Charles Upham Shepard (1804-1866), an eminent American mineralogist who was a professor of natural history at Amherst College for many years. Shepard began his career as assistant to Benjamin Silliman at Yale University.
Danburite is usually colorless to very light-pink, and some deposits may produce specimens in shades of light-yellow or brown. Danburite is known for its excellent transparency and clarity.
By chemical composition, danburite is calcium aluminum borate silicate. It is quite hard, with a rating of 7 to 7.5 on the Mohs scale. Since it has a reasonably high refractive index (1.630 to 1.636), in the same range as tourmaline, the material can be faceted with good results. Danburite has very little cleavage, so it is easy for lapidaries to cut. Danburite's density is 2.97 to 3.03, about the same as jadeite.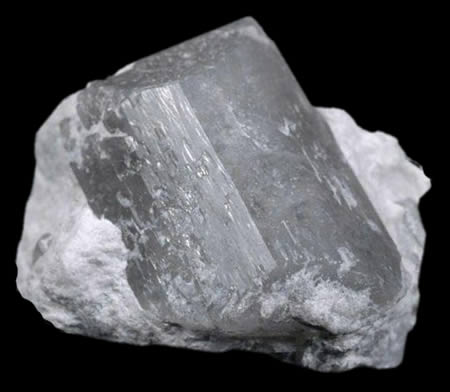 Danburite Crystal
Though danburite was first discovered in Danbury, Connecticut, the original deposit is buried under the city. Other deposits have been found in Burma, Japan, Madagascar, Mexico and Russia. Much of the danburite in today's market comes from Mexico.
Market interest in danburite is caused by the fact that there are relatively few hard, transparent gems available at an affordable price. Since danburite can be found in large sizes - often up to 10 carats - it competes mainly with rock crystal (quartz), white topaz and white zircon.