Diamant et Graphite
Le diamant et le graphite sont deux formes cristallines de l'élément carbone. Basé sur ce fait, on pourrait penser qu'ils sont similaires à bien des égards. Mais en fait, ils sont aussi différents qu'il peuvent l'être, et cela met en lumière certaines vérités importantes sur les cristaux.
Le diamant et le graphite ont une composition chimique très simple: ils sont fait de carbone pur. Mais alors que le diamant est le plus dur des minéraux connus de l'homme (10 sur l'échelle de Mohs), le graphite est un des plus mou (moins de 1 sur l'échelle de Mohs). En conséquence, le diamant est l'abrasif ultime considérant que le graphite est un excellent lubrifiant. Le diamant est un isolant électrique tandis que le graphite est un bon conducteur d'électricité. Le diamant est généralement transparent, tandis que le graphite est opaque.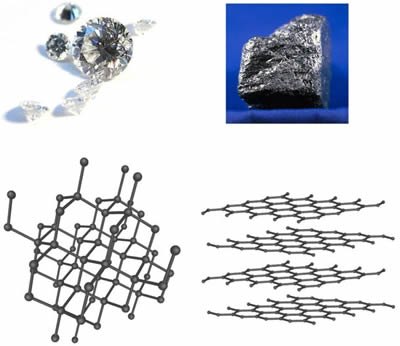 Diamond and Graphite Structure
Le diamant a évidemment beaucoup plus de valeur que le graphite. Le graphite est si bon marché qu'il est utilisé pour faire des mines de crayon. Mais le graphite est un matériau aussi intéressant que le diamant de plusieurs façons. Le graphite est la composante à haute résistance dans les matériaux composites utilisés pour construire des automobiles, des avions, des clubs de golf high-tech et des raquettes de tennis.
Alors, pourquoi le diamant est-il si dur et le graphite si doux? Et si le graphite est si doux, comment peut-il être utilisé comme un matériau high-tech pour des club de golf et des avions?
La réponse se trouve dans les différentes structures du diamant et les molécules de graphite. Le graphite se forme dans des couches ou des tranches, où les atomes de carbone ont des liens forts sur le même plan ou couche, mais uniquement des liaisons faibles à la couche au-dessus ou en dessous. Les atomes de carbone dans le diamant, d'autre part, ont des liens solides en trois dimensions. Dans le diamant, les atomes sont très serrés, et chaque atome est relié à quatre autres atomes de carbone, lui donnant une très solide et rigide structure tridimensionnelle.
Cependant, seules les liaisons entre les couches de graphite sont faibles. Ainsi, lorsque les couches sont roulées en fibres, et ces fibres torsadées en fils, la véritable force de la liaison devient apparente. Les fils sont moulés dans la forme, et maintenu en place par un liant tel qu'une résine époxy. Les matériaux composites en résultant sont parmi les plus élevés des ratios résistance-poids de tous les matériaux.
Les différences entre diamant et graphite mettent en évidence qu'elle est l'importance de la structure cristalline aux propriétés d'une pierre précieuse. Par exemple, toutes les gemmes qui ont une forme cristalline cubique, où la structure du cristal est parfaitement symétrique, ont une propriété importante en commun. Les cubique solides réfracte la lumière dans toutes les directions à la même vitesse. Ainsi, même si le diamant, le grenat et le spinelle ont une composition chimique très différente, ils sont à simple réfringence en raison de leur structure cristalline similaire. D'autres groupes de cristaux moins symétriques sont doublement réfringents, incluant l'orthorhombique, monoclinique et triclinique, qui ont toutes des symétries internes spécifiques et des axes qui dictent la façon dont la lumière tourne à son entrée dans le cristal.
First Published: July-24-2008
Last Updated: March-03-2011
© 2005-2016 GemSelect.com all rights reserved.
Reproduction (text or graphics) without the express written consent of GemSelect.com (SETT Company Ltd.) is strictly prohibited.