Cat's Eye Opal Information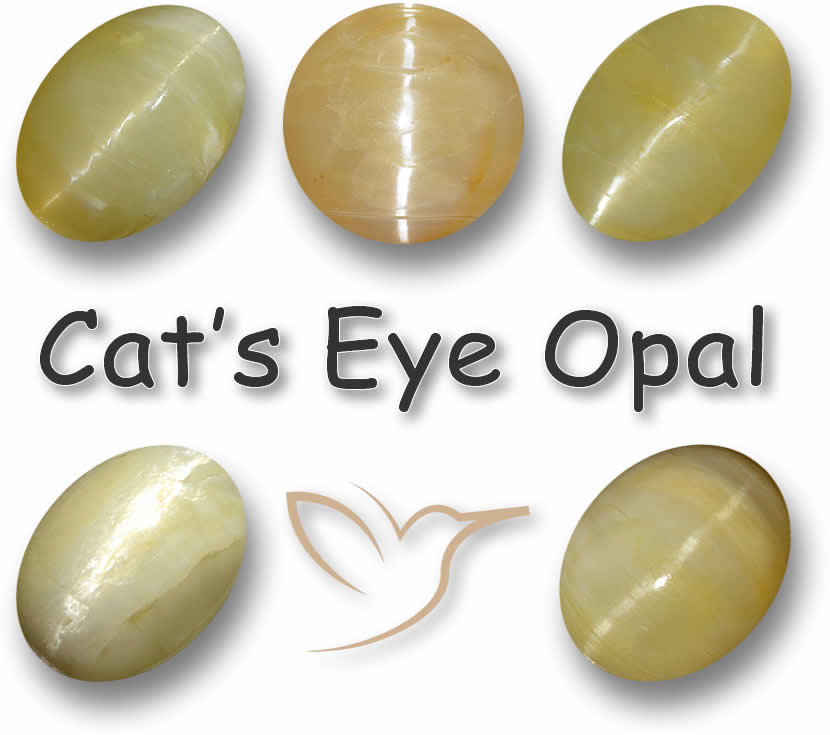 Cat's eye opals are rare and unusual gemstones which are not often found for sale. Information about them is just as scarce!
When they are found, Cat's eye opals can be the most impressive of all with an intense bar of light that stands out wonderfully against the sensual earthy-colored background color.
Opals are created over millions of years by silica gel hardening inside cracks and crevices in rocks. Opals do not have a traditional crystal structure like most gemstones but are made up of countless tiny spheres. In certain circumstances these spheres allow light to bounce around and diffract creating the 'play-of-color' which has made opals so famous, valuable and sought after.
There are also some opals which do not display any play-of-color but come in single colors, usually pastel shades like the pink or blue Peru Opals but also vivid reds and oranges like those found in Fire Opals.
For more information on all types of opals please visit our opal article here
Cat's Eye gemstones are created by the presence of fibers or needles within the stone which can reflect light. When properly and skillfully shaped and polished, the gemstone resembles the eye of a cat, hence the name.
See our detailed Cat's Eye Gemstones article here
Cat's Eye Opal Shape and Cut
Cat's eye opals are almost always cut into round or oval shapes with a domed front and a flat bottom. This is done to not only emphasize the cat's eye phenomenon but also to bring out the best of the gemstone's natural color.
Cat's Eye Opal Color
Cat's eye opals are usually golden honey colored but can also be found in yellow, cream, and earthy brown tones.


The color of the gemstone is very important when evaluating a gemstone but with cat's eyes the most important factor is the strength and sharpness of the eye itself. Cat's Eye opals are well known for the defined, bright line of light that seems to shimmer just below the surface of the stone.
Cat's Eye Opal Sources
Cat's eye opals are particularly rare with only Madagascar and Tanzania seen as reliable sources although Brazil is also thought to be a potential supplier. Idaho in the US and Western Australia have produced some unusually colorful examples which also display play-of-color but quite a weak eye.
Spiritual Meaning of Cat's Eye Opal
Cat's eye opal brings joy and calm. It boosts creativity and confidence and will enhance optimism and sympathy for others. Traditionally all cat's eyes have been used to ward off the evil thoughts of others.
For more information on the healing powers of opal please see this article
Cat's Eye Opal Care
At 5.5 to 6 in Mohs hardness opals are quite soft for a gemstone but durable enough to survive the odd bump or knock however you should always take care to avoid such harm. That is why we always recommended removing jewelry before physical activities, especially household cleaning, sports or gardening.
When storing your opal, care should be taken to keep them away from any other harder gemstones which may scratch, chip or break them. Keep them in individual cloth bags or boxes for extra protection.
Cat's Eye opals are the birthstone for October and can be given as the traditional gift for the 14th wedding anniversary.