Shop By
You Selected (45): Fancy Cut Ametrine - Ametrine
Clear All

VIDEO
ID: 439469

1

pcs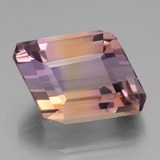 33.96 ct Ametrine
19.1 x 16.5 mm
$
203.76
Item in Stock

VIDEO
ID: 435883

1

pcs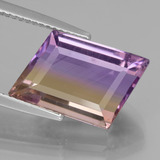 7.13 ct Ametrine
17.6 x 13.6 mm
$
35.65
Item in Stock
Fancy Cut Ametrine
Quartz which occurs in bands of yellow and purple has been given the name of ametrine. It is a bicolored stone which is a mix of amethyst and citrine in one stone, giving it both violet and yellow colors.

Ametrine has traditionally been given an emerald cut with a 50/50 split of colors, and much of the rough is still cut this way. More recently, however, some cutters have begun to cut a variety of shapes, many of which create internal reflections that blend the yellow and purple into attractive shades of rosy gold and mauve, or create mosaic-like flashes of both yellow and purple. These include fancy-cut ametrine in asymmetrical, unusual and checkerboard styles.

From this page, you can filter the results further by using the left-hand menu. For instance, you can shop by using the check boxes at the top, to narrow results by single or multiple gems. By using the top menu, you can search by origin, carat weight, size, price and other factors, to enable you to find the exact ametrine gemstone that you are looking for. All items are in stock and ready to ship.