GemSelect Newsletter - October 2018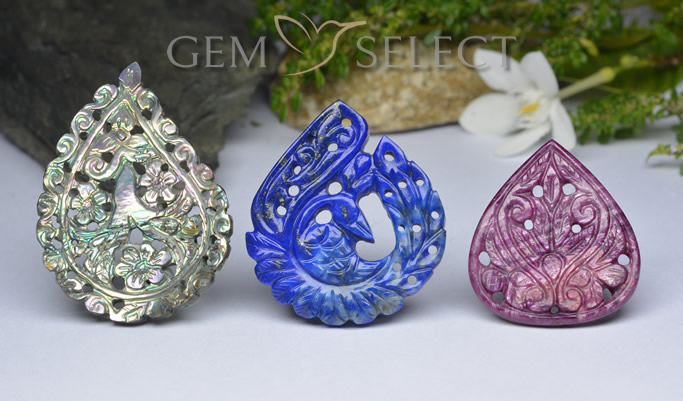 An assortment of Carved Gemstones including: Ruby, Labradorite, Lapis Lazuli, and Mother of Pearl
Maybe you have guessed it already but if not we're going to come out and say it. October is a 'big month!' That is to say, we here at GemSelect are showcasing some of our larger pieces. Pictured above are our hand carved Ruby, Lapis Lazuli, Labradorite, and Mother of Pearl 'some of which' measure bigger than 36 mm!
The amount of effort that goes into engraving a one of a kind carving is unbelievable, and the techniques used have evolved since the first Egyptian scarabs, carved over 4,000 years ago. Stone carving was practiced throughout the middle ages and is still an appreciated art form today!
These Giant hand carved stones are lovely for display and decorative purposes as well as pendants! GemSelect carries a large inventory of hand-carved pieces that range in size, design, color, material, and price. Check our new arrivals of sculpted stones to see what strikes your fancy!
Rare Huge Bi-Color Tourmaline - 13.1 Carats
Back to Top
Most know that Tourmaline and Opal are October's birthstones. But, did you know Tourmailine is also the accepted stone for the eighth wedding anniversary? It is true! We could share unusual facts about Tourmaline all day, but we would prefer to highlight this 'extraordinarily large' and 'newly added' Tourmaline Gem to honor October's birthstone.
There are numerous reasons why Tourmaline is so popular. But this giant stone, in particular, has some extraordinary qualities. Firstly, a bi-color stone of this monstrous size is incredibly rare, and we felt that deserves some recognition! Secondly, the pink and champagne color the jewel displays are 100% natural and might we add impressive, stunning, and just beautiful! At GemSelect we know stones, and this rare 13.1-carat gemstone has a refreshing and modern feel perfect for the creative designs required in contemporary jewelry.
All Tourmaline, including this 13.1-carat stone, possess many other qualities, such as durability and affordability that make them attractive for purchase; additionally, they're available in many colors and sizes. For your convenience 'GemSelect' carries Tourmaline gemstones in all colors, shapes, prices, and sizes so you can search for the specific piece you desire with ease. For October, we invite you to view this spectacular 13.1-carat piece and GemSelect's enormous Tourmaline selection which includes over two thousand Tourmaline Gems.
New Wholesale Lots: Sapphire, Ruby, and More
Back to Top
Lots for Jewelers – Pink Sapphire Baguette, Blue Sapphire Round, Citrine Trillion, Ruby Round, Emerald Square, Topaz Round and Amethyst Trillion
This month we're highlighting our newly arrived wholesale lots for jewelers which include Sapphire in 'blue-round' 'bluish-green briolette' and 'pink-baguette' Ruby in 'round-diamond' shape, and many others.
Sapphire - Pink Step-Cut 'baguettes' – from $70 per carat
Sapphire - Blue Diamond-Cut 'round' – from $53 per carat
Citrine – Trillion-Cut – from $6 per carat
Ruby - Diamond-Cut 'Round' – from $88 per carat
Emerald – Green Square-Cut – from $65 per carat
Topaz – Blue Oval-Cut – from $5 per carat
Amethyst – Many Shapes in Faceted Cuts – from $5 per carat
Sapphire – Bluish-Green Briolette with Hole – from $20 per carat
Every month we answer questions of general interest from our customers. Please feel free to send your questions or suggestions to our support team at help@gemselect.com!
Question
Where does an opal's color come from?
Answer
An opal's iridescent color display is caused by light diffraction. Millions of tiny silica spheres refract light and turn it into the colorful spectrum noticeable in most opals. These spheres have to be just the right size and in just the right position to create enough color for us to see.
Question
Hi, I am wondering if you could share some info on how to best clean gemstones?
Answer
Gems should be cleaned regularly to keep them looking their best. The safest way to clean them is to soak loose stones (not all gems can be soaked) or jewelry in warm, soapy water and then gently clean with a soft brush. Dry with a soft cloth or air dry (not under strong or direct sunlight). Use only a mild soap if needed and avoid harsh cleaners, such as bleach or ammonia.
Soft porous gemstones, such as pearls, coral, turquoise, howlite or amber, should never be soaked. Simply wipe them down with a clean and moist cloth. Organic gems can be damaged by improper cleaning. Filled gems and dyed gemstones, such as fracture-filled ruby or dyed turquoise, should avoid acids or chemicals when cleaning. Even something as mild as lemon juice can cause damage to the color of gems that have been filled or dyed.

Please click here for more specific tips on cleaning different gemtypes
To ensure you can receive our emails, please be sure to add help@gemselect.com to your list of safe contacts, or add us into your email address book! Please feel free to contact us with any questions, comments, and queries! We respond to every email we receive.
Happy October!
Your friends at GemSelect
First Published: March-06-2018
Last Updated: November-02-2018
© 2005-2019 GemSelect.com all rights reserved.
Reproduction (text or graphics) without the express written consent of GemSelect.com (SETT Company Ltd.) is strictly prohibited.