Shop By
You Selected (10574): Cabochon Gemstones
Clear All
ID: 376961

4

pcs
4.05ct Topaz
7.09 x 5.12 x 2.96mm
USD
28.35
Item in Stock
ID: 344939

20

pcs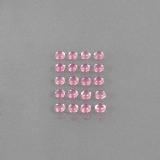 2.99ct Sapphire
2.81 x 1.76mm
USD
150.22
Item in Stock
ID: 348372

1

pcs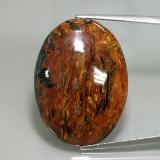 28.89ct Pietersite
30.03 x 22.33 x 5.92mm
USD
115.56
Item in Stock
ID: 391492

1

pcs
47.69ct Obsidian
37.55 x 27.91 x 6.42mm
USD
143.07
Item in Stock
ID: 367978

4

pcs
4.19ct Prehnite
5.73 x 4.12mm
USD
20.78
Item in Stock
ID: 347356

4

pcs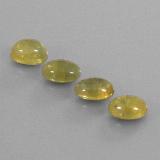 4.90ct Sapphire
7.01 x 4.92 x 3.24mm
USD
58.80
Item in Stock
ID: 436604

1

pcs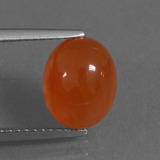 2.89ct Carnelian
10.00 x 8.10 x 4.86mm
USD
11.56
Item in Stock
ID: 365608

1

pcs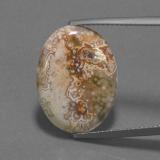 9.83ct Jasper
20.05 x 15.07 x 4.20mm
USD
14.74
Item in Stock
ID: 364011

1

pcs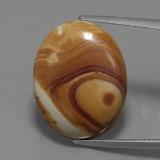 16.29ct Jasper
22.22 x 17.69 x 5.55mm
USD
24.44
Item in Stock
ID: 376759

1

pcs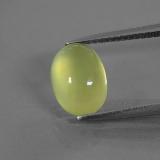 2.80ct Prehnite
10.06 x 7.31 x 4.73mm
USD
23.97
Item in Stock
Cabochon Gemstones
A gemstone cabochon is cut with a highly polished rounded top with no faceting and a flat or slightly domed base. A cabochon may be cut into any shape, though oval is the most frequent. The term, "cabochon" comes from the French "caboche", meaning small dome. Some gem types are almost always cut "en cabochon", including opal, jade, turquoise, onyx, moonstone, and star sapphire. Cabochon is often shortened to "cab" by gem enthusiasts.
Gemstone cabochons are available in pretty much every color of the rainbow and may be star gems, cat's eye gems, transparent, translucent or opaque. Cabochons make excellent necklace pendants, rings, bracelets, earrings and more.
To find your perfect cabochon gemstones, use the filters at the top left-hand side. You can search cabochons by gem type, variety, color, carat weight, size, price and other factors, to enable you to find the exact cabochon gemstone that you are looking for. All items are in stock and ready to be shipped.