GemSelect Reviews
GemSelect.com has an unbeatable record for sales and customer satisfaction. We have been selling gemstones for nearly a decade to over 100 countries worldwide.
We're backed by and in partnership with industry leaders, such as:
GemSelect is a name you can trust.
Don't Just Take Our Word For It, Read What Our Customers Say:
Customer Certified & Verified:

GemSelect.com is committed to listening to customers' feedback and providing extraordinary customer service. With the help of Bizrate, we monitor customer satisfaction based on real customer feedback. Feedback ratings can only be provided to us upon completion of checkout through our shopping cart, which reinforces the fact that the reviews are from real customer experiences.

To see GemSelect's current rating and reviews, visit bizrate.com.

GemSelect has been accredited on the Better Business Bureau (BBB) website, which is a longstanding nonprofit organization concerned with consumer trust. The BBB collects free business reviews and assists in the regulation of business conduct in the US and Canada. When you see the BBB logo, you can be assured that the accredited business meets the high BBB standards for trust and ethical trade.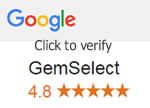 Our Google Seller Rating in July 2016
You can also check out our 'Google seller reviews' for additional GemSelect customer reviews and star ratings. These are based on verified information and customer reviews of the overall shopping experience. Please see our Google seller ratings for yourself by clicking here.
"Review Centre is the UK's largest customer review website".
"Review Centre is a community of real people, just like you, sharing their product and service experiences". The Review Centre website provides unbiased consumer reviews.
To see GemSelect's current rating and reviews, visit reviewcentre.com.
Why You Can Trust GemSelect To Be Your Top Gemstone Source:
Here's a short list of what to look for when searching for the best, recommended and reliable gemstone supplier:
We readily provide contact information - you can find our company name, address, phone and email details on our "contact us" page.
We have been in business for over a decade, servicing jewelers and gem collectors since 2003.
We are committed to customer satisfaction and we guarantee this 100%.
We use actual gemstone photos and descriptions for each individual stone.
GemSelect provides comprehensive information on nearly every gem type in the world. We not only want you to buy gems, but we want you to learn about the fascinating world of gems by vising our gem info center.
We are committed to openly disclosing all gem treatments and enhancements for each and every gemstone we sell. We only deal with natural gemstones, but sometimes they have been treated to enhance color or stability. We will tell you if any gemstone has been altered in any way.
Our website offers a safe and secure checkout with the best SSL security and data encryption.
We offer all of our customers a full 30 day risk-free return policy.
Read more about GemSelect and what makes us the top online loose gemstone website by visiting our "about us" page.
Verify Our Ratings and Read Customer Reviews:
All of our commitments to you can be verified by our real customer testimonials and reviews, provided by Bizrate/Shopzilla. Additional reviews can be seen on the Reseller Ratings website, which shows genuine customer reviews of shopping experiences with GemSelect.
We have excellent store ratings and our customer reviews are proof that we are the best gem online dealer. We invite you to visit our Bizrate review page and read our excellent reviews from our customers.
First Published: February-20-2006
Last Updated: July-20-2016
© 2005-2017 GemSelect.com all rights reserved.
Reproduction (text or graphics) without the express written consent of GemSelect.com (SETT Company Ltd.) is strictly prohibited.