Galet d'Opale Australien
L'Opale est surtout connu pour son jeu de couleur, un étalage de teintes semblables à l'arc-en-ciel qui changent avec l'éclairage ou l'angle d'observation. Tous les types d'opale, non pas cette propriété unique, ce sont seuls les opales connu sous le nom d'opale précieuses. Les Opales de moindre envergure, comme l'opale commune et l'opale de feu, n'ont aucun jeu de couleur.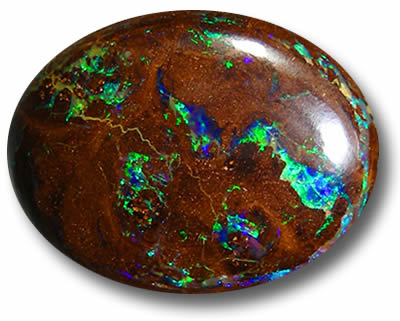 Galet d'Opal
La plus prisée des opales précieuses est l'opale noire d'Australie, découverte à Lightning Ridge, dans le New South Wales dans les années 1880. Bien que l'Australie produise presque toute les opales du monde, 90% de la production australienne est l'opale de couleur claire. La rare opale noir compte pour seulement 8% de toutes les opales australienne. L'opale noir est particulièrement apprécié parce que la tonalité de son corps noir donne au jeu de couleur un dynamisme supplémentaire qu'on ne voit pas fréquement dans les plus commune opales blanches.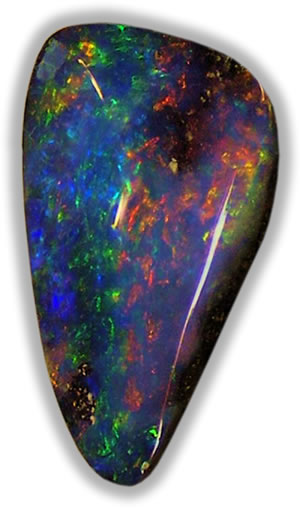 Galet d'Opale Australien
Les 2% restants de la production australienne est la deuxième forme la plus prisée de l'opale, une forme unique connu sous le nom d'opale galet. La première découverte était en Quilpie, dans l'ouest du Queensland environ en 1870, le bloc d'opale se trouve incorporé dans des roches de minerai de fer. L'opale se forme habituellement sous forme de veines fines au sein de ces blocs, et la plupart des pierres sont coupées de facon à inclure un peu de roche hôte de minerai de fer dans la matrice. L'opale galet est parfois appelée opale matrice pour cette raison.
L'opale galet est particulièrement intéressant parce que, comme l'opale noire, elle a un ton de corps noir qui ajoute un dynamisme au jeu des couleurs. le galet d'opale a aussi une densité plus élevée en raison de sa teneur en minerai de fer, et est bien sur, plus durable.
En raison de la nature mince des veines d'opale qui se forment dans des roches de minerai de fer, il est souvent impossible de couper les galets d'opales en dôme cabochons. Les pierres sont donc généralement découpées en forme libre, des formes irrégulières pour maximiser la taille de la pierre et minimiser la perte d'opale.
L'opale galet est encore relativement nouvelle sur le marché, mais elle a un grand potentiel. La région qui a le potentiel pour produire l'opale de roche est beaucoup plus grande que les gisements d'opale noirs et une relativement petite proportion a été explorée. La zone s'étend sur une superficie de 200 à 300 kilomètre dans l'Ouest du Queensland.
First Published: October-20-2009
Last Updated: March-01-2011
© 2005-2016 GemSelect.com all rights reserved.
Reproduction (text or graphics) without the express written consent of GemSelect.com (SETT Company Ltd.) is strictly prohibited.