Comprar Rubíes en forma de corazón Gemas
(2)
Ver Detalles
1 pz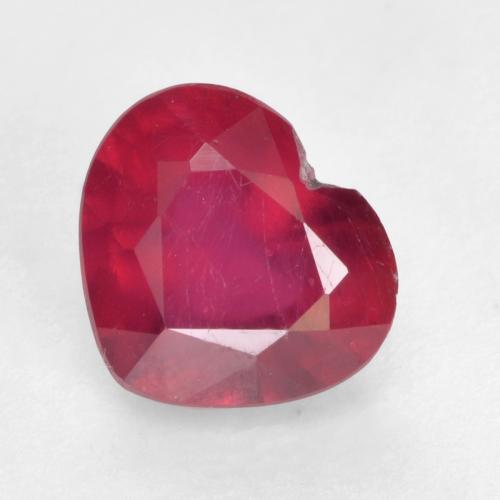 Corazón Roja Rubí
0.7ct
5.8 x 5.1 mm
Artículo en inventario
Ver Detalles
1 pz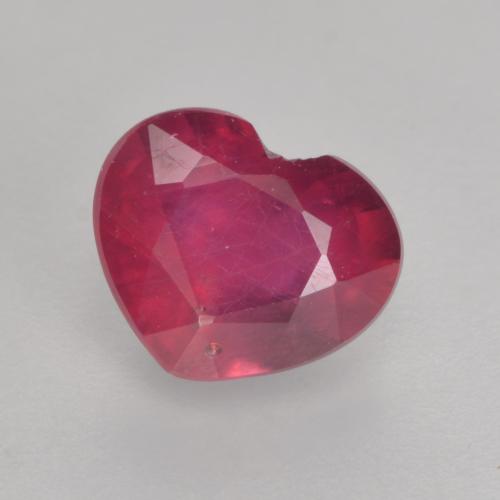 Corazón Roja Rubí
0.8ct
6 x 5 mm
Artículo en inventario
Rubíes en forma de corazón
El rubí es sin duda una de las piedras preciosas más valiosas, ha sido famosa durante mucho tiempo por su notable brillo vítreo y excelente durabilidad, en realidad el rubí es una de las piedras preciosas más importantes de todos los tiempos. De hecho, a lo largo de la historia, se pensó que todas las piedras preciosas eran rubíes. El rubí es un miembro de la familia del corindón, más específicamente, es una variedad de corindón con calidad de gema. Todos los otros colores del corindón se comercializan como zafiro. Aunque el zafiro se considera más raro, el rubí rojo es aún más raro. El rubí tiene una dureza de 9 en la escala Mohs, convirtiéndolo en el segundo mineral más duro conocido por el hombre. El rubí, junto al zafiro, la esmeralda y el diamante, está clasificado como una de las 'cuatro gemas preciosas'. Los rubíes pueden encontrarse en varas formas y estilos de corte, incluyendo formas circulares, formas ovaladas, cojines, peras, trillones y corazones. Las piedras preciosas en forma de corazón son perfectas para aquellos que estén buscando piedras preciosas románticas para joyería. Los corazones de rubí son especialmente raros porque, para comenzar, el rubí es muy raro. Al igual que otras formas, los rubíes en forma de corazón pueden encontrarse en varios estilos de corte, incluyendo cabujones planos así como también gemas facetadas. La mayoría de los rubíes en forma de corazón tienen un corte combinado, con facetas angulares de corte brillante y facetas rectangulares corte step. Los corazones de rubí de fina calidad pueden ser muy costosos, especialmente los rubíes no tratados o calentados solamente. Para aquellos que estén comprando con un presupuesto más pequeño, los corazones de rubí con relleno de fractura son muy asequibles, pero éstos no deben volver a cortarse, pulirse o repararse. Esto no sería un problema, de no ser porque los costos de reparación de un rubí dañado excederían los costos de comprarlo de nuevo. Cuando se reemplazan las piedras preciosas, es mejor seleccionar piedras preciosas por tamaño (en milímetros), en vez de por peso. Esto se debe a que un rubí de 1 quilate puede variar en su tamaño dependiendo de sus proporciones exactas. Casi todos los rubíes exhibirán colores secundarios diferentes al rojo. La combinaciones más comunes incluyen rojo rosáceo, rojo anaranjado, rojo púrpura, rojo azulado y rojo marrón. La mayoría de los expertos coinciden en que los rubíes de buena calidad deben exhibir un tono medio a medio-oscuro. En la actualidad, los depósitos de rubíes finos incluyen Afganistán, Australia, Brasil, Birmania (Myanmar), Camboya, India, Madagascar, Malawi, Mozambique, Nepal, Pakistán, Tayikistán, Tanzania, Tailandia, Estados Unidos y Vietnam.
Comentarios certificados de los clientes
Calificación General -> 10

I always check this site because they have unique options.
Publicado Por Lisa in February, 2019
Calificación General -> 10

Great website to navigate. Awesome Gem selection! Nice photos and discriptions for all of the gems for sale. You can find gems in all price ranges. Checkout was a breeze.
Publicado Por Timmy in February, 2019
Calificación General -> 10

They had an extensive gemstone selection in all different cuts, sizes, and colors. They also had very good and workable prices. All of these aspects pulled me in as a customer.
Publicado Por Josh in February, 2019
Calificación General -> 10

I ordered this really nice pair of Rubies from Gemselect and I love them because of all the detailed information you get. Also if you scroll down you can see other similar items single, in pairs, lots, bigger, smaller, etc and it's such an easy website to use.
Publicado Por Bruno in February, 2019
Calificación General -> 10

I wasn't sure where to go to find a variety of gemstones to choose from in the size and shape that I was looking for. I'm really glad I found this website because the search options and filters made it really easy to find what I was looking for. The prices seem quite reasonable. This will be the first place I go the next time I'm looking for a gemstone!
Publicado Por Pink4302 in February, 2019
Calificación General -> 9

I am impressed with the variety of the inventory and the information provided on each item. I like the pricing. The only reason I wouldn't recommend the site is I do not want to reveal my source.
Publicado Por Bob in February, 2019
Piedras Preciosas Populares