Princess Diana's Aquamarine - How to buy Aquamarine like Royalty
Meghan Markle, Prince Harry's new wife, is beautiful on her own. Add a massive emerald-cut aquamarine solitaire ring to the mix, and you have got a stunning bride! The ring, worn by the young princess during her recent wedding reception, was a gift from the collection of Harry's late mother, the legendary Diana, Princess of Wales. But, do you have to be a royal to wear such a gem?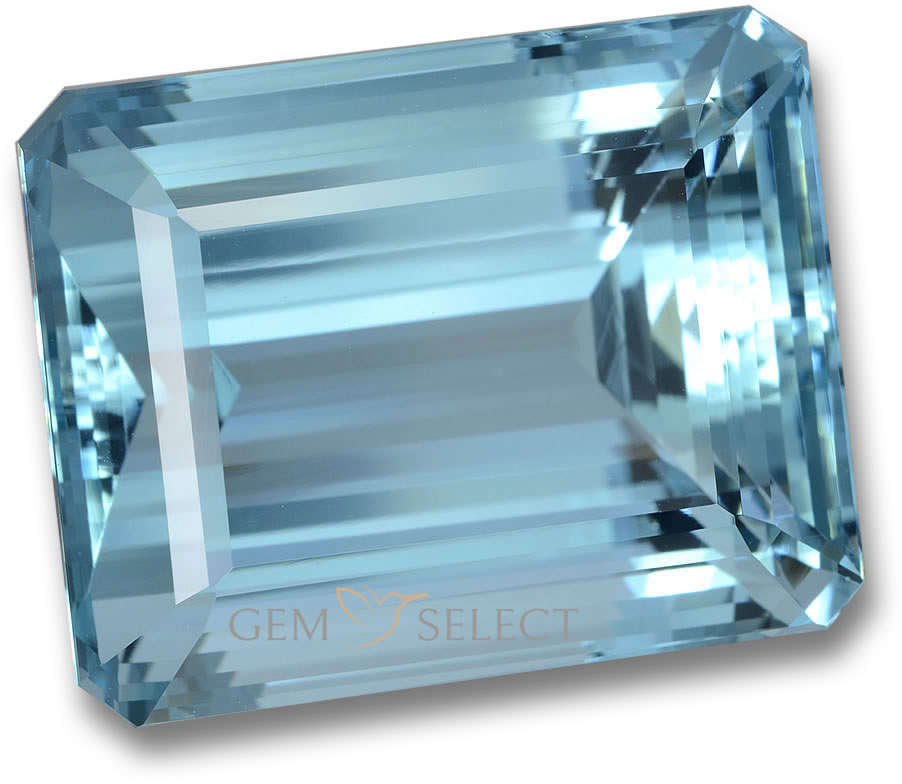 Buy Natural Aquamarine Gemstones from GemSelect
Surely not! Aquamarine is one of many available gems that offer an alternative to the more expensive colored stones- sapphires, emeralds, rubies, etc.-without having to compromise on beauty or elegance.
Aquamarine, valued for its clarity, has been an essential stone for ages. In fact, in the 1300s, it was used to create lenses in the first eyeglasses (the technology of the time was unable to produce glass with enough clarity- nature usually gets it right, even if man cannot). As a member of the colorless family, beryl, aquamarine gets its namesake color from ferric ion (also known as iron II). All colored gems get their color from metal ions, but I'm sure you remember that from chemistry class.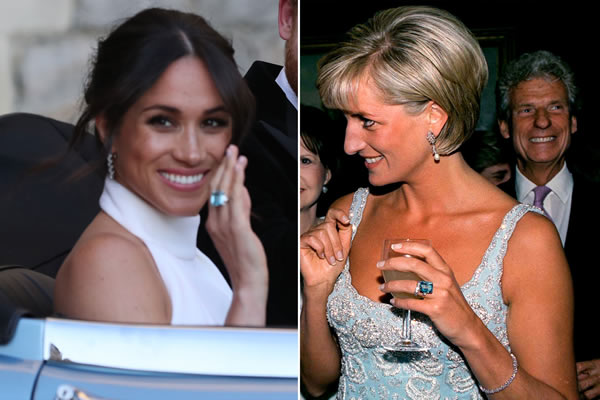 Princess Meghan & Lady Diana; aquamarine solitainre
So, how about getting a nice cut-and-polished bit of that crystal magic?
Well in the rough, aquamarine looks like a chunk of ice from Superman's Fortress of Solitude, but that may not impress your sweetheart (though it may make your comic book buddies jealous). You need to know the best way to buy aquamarine and where to do so. The fact is, Aquamarine is often mined at elevations as high as 15,000 feet, as it is in Pakistan's Kara Korma Mountains, but you don't need to go that high, and you needn't pay a high price, either. With some helpful hints, you can have your special one looking like a princess on a printer's budget.
The Karakoram Mountains
Firstly, reach in your pocket and get out your 4 C's checklist; you will need to consider color, clarity, cut, and carat on this gemstone, as with all others then after reading our shopping hints view our enormous and convenient selection of Natural Aquamarine here at GemSelect.
About Color
Concerning color, it's the tone that matters with aquamarine, not so much the hue and saturation - aquamarine with fuller tones are more valuable especially those with some grey are the most valuable. Light-tone stones can be lovely, too, and 'you may find' that 'you prefer' these tones, as do many connoisseurs.
Aquamarines of any hues and tones are perfect for pieces of jewelry because they have the potential to display color that will compliment numerous skin types, so if you're creating a ring, earrings, or necklace buy what you like.
Aquamarines colors vary from blue to bluish-green and generally either hue is equally valuable. On the contrary, certain tones may increase the value of a piece depending on the location and mode of the market or what's hot at the moment.
Beware of any gems called 'white aquamarine,' which you won't find here because they are anything but aquamarine, and should be called Goshenite or colorless beryl.
About Clarity
When purchasing faceted Aquamarine, you should look for an eye-clean clarity grade, such as VS or VVS; however, a visible inclusion may add a character to the gem, and the flaw may deserve to display-a practice that has recently become fashionable. The fact is Aquamarine is generally flawless, and the pieces that do display inclusions can be quite rare and beautiful in their respect. So choose a piece you desire, if it's not eye-clean but its attractive to you, go for it.

Striking Spiral Inclusion in Aquamarine
About Cut
When selecting a cut, you will typically find aquamarine in an emerald-cut, oval-cut, or a pear-cut; however, it is not uncommon to see large pieces of aquamarine cut into just about any modern shape. Many of the beautiful Aquamarine GemSelect has in stock are Oval Portuguese-Cut, and they are truly spectacular. Additionally, we have numerous oval shapes with heavy faceting on the pavilion that provides a luster which is challenging to outshine.
Gem cutters should use 43° pavilion mains on aquamarine for the highest brilliance. Low crown angles will produce higher brilliance, while high crowns are often used to deepen the color but these terms are very technical. When shopping our selections of Aquamarine feel free to email us at help@gemselect.com if you have any questions about the appearance or quality of a stone. We will be happy to assist you.
About Carat Weight
If it is a significant rock feature you are after to set off a piece of jewelry, aquamarine is the one! Anything larger than 5 carats will show off the tones that make aquamarine such a stunner, and you can quickly pick up a stone of this size to melt a heart without breaking the bank.
Buy 100% Natural Aquamarine Gemstones from GemSelect
Beware: Any stone with a blue hue (blue topaz, for example) may be passed off as aquamarine by unscrupulous scallywags! Fear not, a simple diamond test for thermal conductivity (beryl does not conduct) or a loupe examination can determine whether the stone is legit or a fugazi. A general rule of thumb is to only buy from reputable dealers who offer laboratory certification for their gems.
First Published: December-17-2018
Last Updated: November-04-2019
© 2005-2022 GemSelect.com all rights reserved. Reproduction (text or graphics) without the express written consent of GemSelect.com (SETT Company Ltd.) is strictly prohibited.