Pictures of Gemstones
Capturing the brilliance and luster of a gemstone in a still photograph is not an easy task. Gems reflect light best when they are moving. Capturing an accurate image of the color seems like it should be simple, but it is not. The colors of gemstones change in different kinds of light, and many gems are pleochroic, meaning they exhibit different colors when they are viewed from different angles.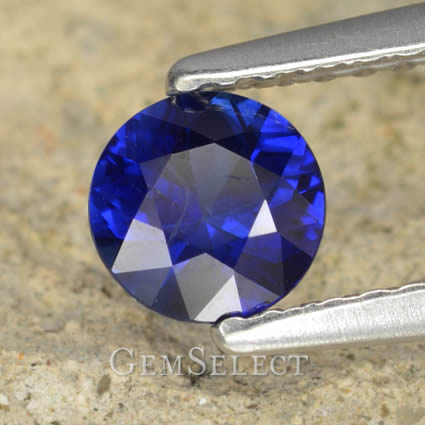 Round Blue Sapphire Picture
You might conclude from this that video is the answer, rather than still photos. This has led us to add videos of some gemstones. But a still photo can show very fine details. This is a critical goal of any good gemstone photograph, particularly if the viewer is looking at the photo with a purchase in mind. A good gemstone photo can be almost as detailed as looking at a gemstone under 10x magnification with a jeweler's loupe.

We have taken hundreds of thousands of gem photographs over the years, and we think we've learned a few things along the way. Since we're in the business of selling gemstones, rather than photography, our goal is not to produce beautiful photos. Rather we aim to produce photos that are as accurate and contain as much useful information as possible.
Since gemstones may show varying characteristics from different perspectives, we photograph each gem from 3 angles, including one shot that provides a detailed view of the pavilion (bottom half) of the gemstone. The different views of the gem allow the viewer to judge the proportions of the cut and the facet angles, as well as detect any inclusions that may be present.

We always take our photos under lighting that emulates natural daylight. We also change the color, texture and reflective properties of the background according to the type of gem we are photographing. Adjusting the lighting environment to get the best result is critical, but success only comes from trial and error.
There is one thing that detailed gem photos cannot show, and that is the weight and size of the gem. When we photograph our stones we always try to fill the frame with the subject, so that our customers can see as much detail as possible. But this means that a 10 carat stone will appear to be the same size as a 1 carat stone! Occasionally a customer will contact us to tell us that the stone he received was much smaller or bigger than he expected. A picture may be worth a thousand words, but please do not overlook the words in the size and weight description.

One of the most important stages in our photography process does not involve the camera at all. Once our photos have been taken, our quality assurance team compares the photos to the actual gemstones to make sure the photos accurately represent the real gems. This is the point at which we simulate the moment when our customer first unpacks his or her order. If our team is satisfied that the photos are accurate, we're confident that you will be pleased as well.