Gemstones as Art
Cutting gemstones takes considerable skill and knowledge, but the job of the lapidary has traditionally been thought of as a craft rather than an art. That is because gem cutting is a skill that virtually anyone can acquire, and modern faceting machines make the task of cutting precise facet angles much easier. Cutting gems is largely a matter of technique, not artistic inspiration and design.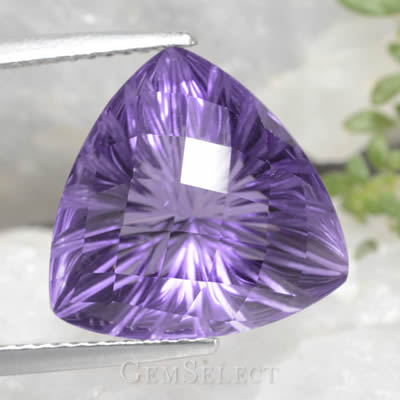 Fancy-Cut Amethyst Gemstone
Of course, there are some lapidaries who have developed the craft to such a high degree that their work is recognized as outstanding. Any craft has its experts. But in the last 30 or 40 years, we have seen the emergence of what could fairly be called gem cutting art.
The trend in innovative gem cutting began in both Europe and America, and many attribute it to a German cutter named Bernd Munsteiner. Munsteiner was trained as a lapidary in his family's workshop in Idar-Oberstein. This region of Germany has been famous for over 500 years for its tradition of fine gem cutting, with techniques handed down from generation to generation. But Munsteiner went off in entirely new directions, shocking the traditionalists.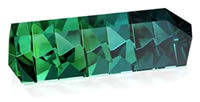 Fancy-Cut Gem by Bernd Munsteiner
In addition to his conventional lapidary training, Munsteiner studied painting, sculpting and jewelry design at the arts academy in Pforzheim, and he began to apply modern artistic ideas to the tradition-bound craft of lapidary. Munsteiner would leave parts of a gem raw and unpolished to produce a stark contrast with the cut and polished sections. Often he would cut and facet only the back of the gem, making the design appear to be embedded in the gemstone. Sometimes he would integrate inclusions into the design.

Fancy-Cut Gem by Bernd Munsteiner
Munsteiner's style was geometrical, abstract and thoroughly modernist. The gem cutting establishment in Idar-Oberstein rejected his work but international critics were enthusiastic and Munsteiner went on to receive many international awards. However, critics had a difficult time classifying his work and used the term fantasy cut to describe his cutting style, which was so different from any known style.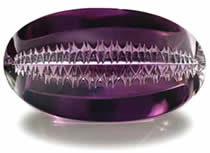 Fancy-Cut Gem by Bernd Munsteiner
However, the term fantasy cut is just an attempt to classify Munsteiner in conventional lapidary terms. In fact he is a gemstone artist whose work includes not only gemstones for jewelry, but also sculptural pieces that can only be classified as art objects. Some of these are quite large, including a large aquamarine sculpture called "Waves of the Sea". This piece was cut from a 10,363 carat aquamarine from Brazil and is 35 cm (almost 14 inches) tall.
Bernd's son, Tom Munsteiner, is continuing the family tradition and has become an important gemstone artist in his own right.
First Published: May-01-2008
Last Updated: November-09-2017
© 2005-2022 GemSelect.com all rights reserved. Reproduction (text or graphics) without the express written consent of GemSelect.com (SETT Company Ltd.) is strictly prohibited.