Careers in Gemology
Gemology is the study of gemstones. It has been described as an art, a science and a profession, and probably encompasses all three of these descriptions. It falls within the category of geoscience as a branch of mineralogy, and its exponents work in all areas of the gemstone and jewelry industry. Here are just a few of the various possible careers for those with gemological training.
Microscope for Gemology
Gemologists use various scales of measurement to identify and categorize gems, including their crystal structure, formation, physical properties and optical properties. Gemologists may work in a laboratory analyzing stones and preparing customized reports for clients, including miners, gemstone wholesalers, retailers and individual gem owners.
Laboratory gemologists use microscopes and other sophisticated instruments to study the internal structure of rough or cut gems in order to distinguish between natural and synthetic gemstones. They can also identify gems that have been heated, fracture-filled or color-enhanced; factors that can greatly affect the value. Some gem labs have built large databases that enable them to reliably identify the geographic origin of certain kinds of gems, such as ruby or sapphire.
Appraising is a rather specialized area of gemology, where science and business meet. An appraiser estimates the monetary value of gemstones using a complicated formula that takes into account the price per carat trend for the particular gemstone variety, as well as its weight, color, clarity and cut quality. The value arrived at by the appraiser may be used for the purpose of adequately insuring a gem as well as setting a sales price.
Some gemologists work on the manufacturing side of the gemstone business, buying, sorting, treating and cutting gemstones. Others become jewelry designers, applying their knowledge of gemstones to the art of fine jewelry.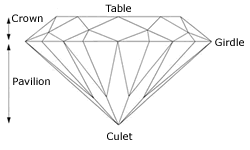 Many gemologists have applied their specialized knowledge to the business world, as gemstone dealers or jewelers. At one time very few jewelry stores had gemological knowledge; now it is not unusual for a jewelry store to have one or more gemologists on staff.
Gemology has become a dynamic field, with various developments in gem treatments. There have been a number of recent cases where gemologists have had to work under pressure to give accurate assessments of gemstones that have already reached the market. This happened with beryllium-treated sapphires in 2001-2003, and is currently ongoing with the case of andesine-labradorite.
Other careers for gemologists include historian, museum curator, researcher, educator and writer. So, if you love gems, and find their attraction irresistible, a career in gemology may be for you.