What to Look For in an Online Gem Dealer
There are hundreds, perhaps thousands, of online dealers offering gemstones for sale. The attraction of buying gemstones online is similar to that of any other product - the buyer is looking for the best possible selection at the best possible prices.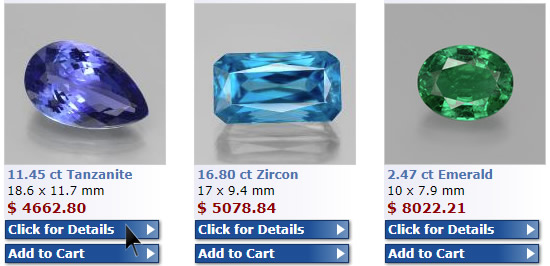 Buying Gemstones Online
However, buying gemstones online is a bit riskier than buying books or cameras. The product is not standardized, for one thing. For another, gems are very small objects and their colors and details are extraordinarily important. Buying a fine gemstone on the basis of photographs and descriptions can be challenging.
Yet the risks in online gemstone buying are balanced by the rewards. Prices for gemstones online can be as much as 25-50% less than retail shops or even wholesale distributors who are far down the supply chain. There are meaningful savings to be found online, especially for buyers who themselves are in the jewelry or gemstone business.
We believe there are many honest and reliable online gemstone companies who offer quality products at fair prices. Unfortunately there are also some online dealers who are less scrupulous, and some of them are located in places where it can be difficult to obtain legal recourse if you have a problem. So if you're thinking about buying gemstones online, choosing a reputable dealer is the most important decision you'll make.
After many years in this business, we can offer the following advice on what to look for in an online gemstone dealer:
| | |
| --- | --- |
| * | Buy from a dealer who has been in business for at least a few years. Bad companies rarely survive that long. |
| * | Does the dealer provide a company name, physical address, phone, fax and email? Don't deal with someone who tries to hide their identity. |
| * | Is the dealer committed to customer satisfaction? Some dealers just want to make a sale, but real businesses want you as a long-term customer. |
| * | Buy close to the source for the best prices. If you're buying on the Internet, your supplier is never further away than 3 days by air courier. Cut out the middlemen whenever possible. |
| * | Buy from suppliers who have a significant stock – it means they are volume buyers and have lower costs. Dealers who buy single pieces will pay up to 100% more than a dealer who buys the same stones as part of a large parcel. |
| * | Buy from a vendor who is committed to the online business. Check to see if new content is added regularly to the website, and if the gem stock is current. Don't buy a gem unless the vendor can guarantee that the specific stone is in stock. |
| * | Does the dealer provide photos and descriptions for each individual stone? Some dealers have stock photos and descriptions and can't be bothered to photograph every stone. Don't buy a stone without detailed information about that specific stone. |
| * | Is the dealer forthcoming with information about gem treatments? An honest dealer will disclose all treatments. Is there sufficient reference information so you can educate yourself about the gems for sale? |
| * | Can the dealer answer questions about the products? A good dealer is knowledgeable about gemstones and gemology and can make useful recommendations. |
| * | Does the dealer provide payment options that offer reasonable consumer protection, such as major credit cards or PayPal? Be very wary of dealers who insist on payment by money order or wire transfer, especially if you haven't done business with the dealer before. |
| * | If you can't return it, don't buy it. Your best protection in any purchase is your ability to return the item for a full refund. Buying a gemstone on the basis of a photograph and a description is not foolproof, and if you're not completely delighted with what you've bought, return it. If the dealer doesn't have a "no questions asked" return policy, buy from someone else. If the dealer stands behind the product, they are unlikely to be trying to pull any fast ones on you. A money-back guarantee means that the dealer is very confident that you'll be happy with your purchase. Beware of unreasonable restocking fees - anything over 5% is not really a money-back guarantee. |
First Published: December-13-2007
Last Updated: January-23-2019
© 2005-2022 GemSelect.com all rights reserved. Reproduction (text or graphics) without the express written consent of GemSelect.com (SETT Company Ltd.) is strictly prohibited.