GemSelect Newsletter - Cornflower Blue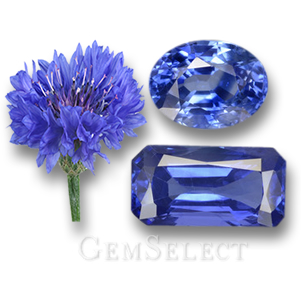 Cornflower and Blue Sapphire Gems
Kashmir & Ceylon Blue Sapphire
Cornflower blue is a term often used to refer to blue sapphires, particularly desirable are cornflower blue Kashmir or Ceylon sapphires, though nowadays, blue sapphires are sourced from other places, such as Madagascar and Tanzania, but what exactly is this treasured color?
Cornflower blue gets its name from the eponymous European flower which is prized for its medium blue color. The blue pigment from cornflower was reported by the 17th century chemist, Robert Boyle, who also wrote "An Essay About the Origins and Virtues of Gems", detailing sources and uses of gemstones. This blue dye was therefore also known as "Boyles Blue".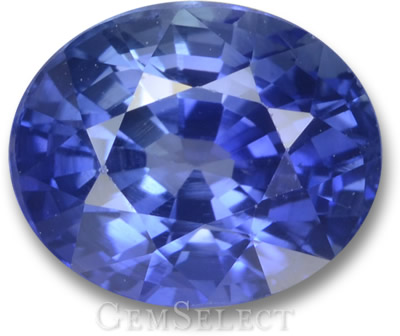 Cornflower-Blue Ceylon Sapphire from GemSelect
When it comes to details, "Cornflower blue" is a description rather than a technical term. The particular shade of blue is somewhat subjective, so it is difficult to determine. This is why "Cornflower blue" will not be seen on official gemstone certificates, but the color will simply be described as "blue".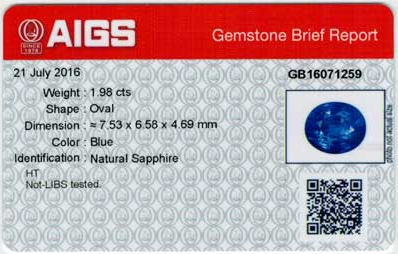 AIGS Gemstone Certificate for Blue Sapphire
Since cornflower blue is defined as pure medium blue it cannot be confused with other color trade names like london blue, sky blue, navy blue or other names describing the blue gemstone color.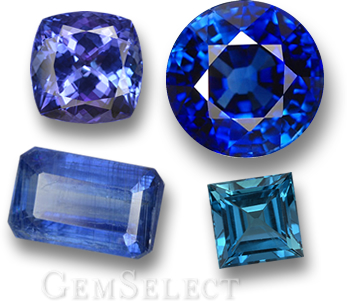 Blue Gemstones - Tanzanite, Sapphire, Kyanite & Blue Topaz
If you are looking for a pure blue gemstone, it is hard to beat beautiful, cornflower blue sapphire, but there are other, more affordable options available, such as kyanite, blue spinel and color change fluorite. Cornflower blue is beautiful, but it is not the only blue stone in the jewelry box.
Natural heated-only Rubies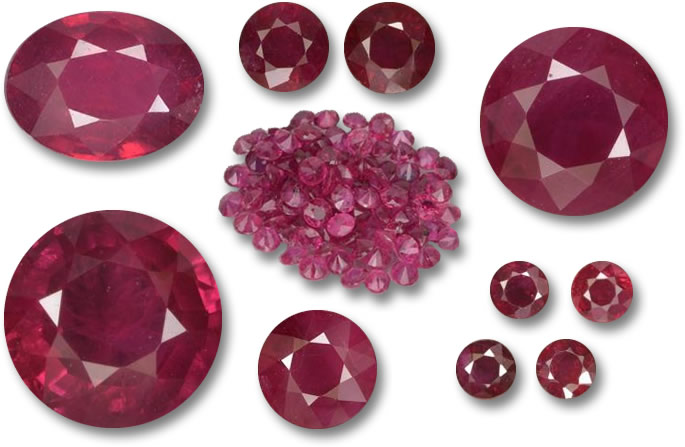 Rubies from Burma (Myanmar) and Mozambique / Heated Only
Calibrated Sapphire Lots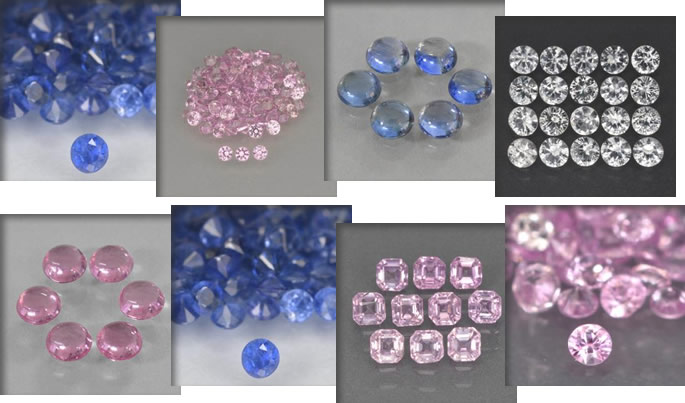 Calibrated Sapphire Lots, ideal for Jewelers
Calibrated Square Emerald lots

Calibrated Square Emerald gems, ready for jewelry settings
Every month we answer questions of general interest from our customers. Please feel free to send your questions or suggestions to our support team at help@gemselect.com!
Question
I want buy a sapphire cabochon and use it for a men's ring, what size would you recommend?
Answer
The perfect size should be approximately 15 x 10mm. The length may range from 14-16mm and the width from 10-12mm. Keep in mind for very small hands it will look too big and the size should be more like in the range of 12 x 10mm.
Question
I just found a beautiful fancy cabochon in your shop, can you recut it slightly so it will fit my existing silver pendant?
Answer
Most of the cabochon gems can be recut without any difficulties. Doublets and triplets like Opal Doublet or Ammolite cannot be recut since it would destroy the created layer structure. Please ask us before buying so we can talk to our gem-cutters at first to confirm that it can be recut.
We always welcome your questions, comments and feedback! For those who are interested in attending some gem and jewelry events, please see the details below.
Event Name
Autumn Fair International
Venue
Birmingham National Exhibition Centre (NEC), North Ave, Marston Green, Birmingham, B40 1NT, UK
Dates
September 2 - 5, 2018
Event Name
International Jewellery London
Venue
Olympia London, Hammersmith Rd, Hammersmith, London W14 8UX, UK
Dates
September 2 - 4, 2018
Event Name
Ambermart 2018 - 19th International Fair of Amber
Venue
AmberExpo Convention & Exhibition Centre, Zaglowa 11, 80-560 Gdansk, Poland
Dates
September 6 - 8, 2018
Event Name
New Orleans Fall Bead & Jewelry Show
Venue
Pontchartrain Center, 4545 Williams Blvd, Kenner, LA 70065, USA
Dates
September 7 - 9, 2018
Event Name
The Retail Quarter - Sydney
Venue
ICC Sydney Exhibition Centre, 14 Darling Dr, Sydney, NSW 2000, Australia
Dates
September 8 - 11, 2018
Venue
Juan Carlos I Exhibition Centre, Juan Carlos I Exhibition Park, Campo de Naciones, Madrid, Spain
Dates
September 12 - 16, 2018
Event Name
September Hong Kong Jewellery & Gem Fair
Venue
Hong Kong Convention & Exhibition Centre (HKCEC)/AsiaWorld Expo (AWE), 1 Expo Dr, Wan Chai/Cheong Wing Rd, Chek Lap Kok, Hong Kong
Dates
September 12 - 18, 2018
Event Name
International Fashion Jewelry & Accessories Group Show
Venue
TBA, New York City, NY, USA
Dates
September 13 - 16, 2018
Event Name
Denver Bead Renaissance Whole Bead Show
Venue
Denver Mart Plaza, 451 E 58th Ave, Denver, CO 80216, USA
Dates
September 13 - 16, 2018
Event Name
Golden Season 2018
Location
Russian Federation
Venue
Grand Hotel Zhemchuzhina, Ulitsa Chernomorskaya, 3, Sochi, Krasnodarskiy Kray, Russian Federation, 354002
Dates
September 20 - 23, 2018
Event Name
VicenzaOro Fall
Venue
Vicenza Fairgrounds (Fiera di Vicenza S.p.A.), Via dell'Oreficeria 16 - 36100 Vicenza, Italy
Dates
September 22 - 26, 2018
Keep up with our new arrivals before they hit the newsletter by joining our thousands of fans and followers on our social networking pages. We love interacting with our customers - you can visit us on Tumblr, LinkedIn, Twitter, Facebook or Pinterest!
To ensure you can receive our emails, please be sure to add help@gemselect.com to your list of safe contacts, or you add us into your email address book! Please feel free to contact us with any questions, comments and queries! We respond to each and every email we receive.
Happy Gem Hunting!
Your friends at GemSelect