Hot Deals & An Exciting New Feature! - July 2019
Our Exciting New Feature
We have finally done it! We took your advice and created our brand new gem Color-Sorter. Currently this tool is only available for desktop mode but we are working on the mobile version already.
This powerful color selection tool will let you search for gemstones in the color you want, quickly and easily. This color-sorter is revolutionary in our industry, and we hope you love it.
Check out this quick guide on how this sorter works.
Step 1 - Choose a color

Step 2 - Choose a sub-color
Step 3 - Browse Gemstones in Your Subgroup's Color Range
TIP - When you start to use filters with this new color sorter, things begin to get very interesting. The size, shape, and gem buttons at the top, under the color bar, will help you narrow your search. When you engage them, the color bar will only show colors that are available with the filers you have applied.
Excited and ready to try the new Color Sorter CLICK HERE to try it out!
If you have any questions, please let us know at help@gemselect.com.
Featured Products
Back to Top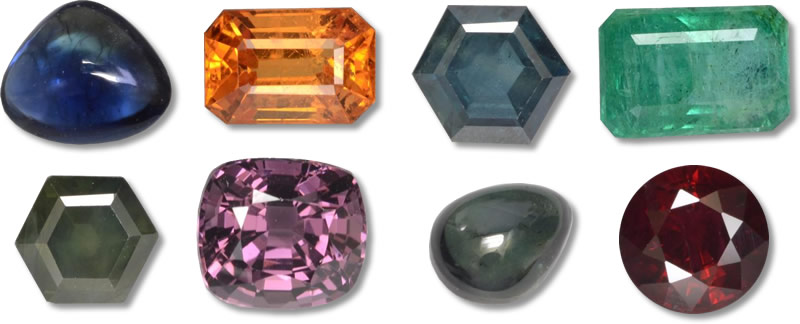 We have some excellent deals on our newly added sapphire, garnet, ruby, spinel, and emerald. The pieces we have show a vast range of quality, color, cut, and size. These are some of the lowest gemstone prices on the net! Don't miss out browse our new arrivals today.
If you would like to shop our entire new arrival section CLICK HERE or on the image above.
Follow us on FaceBook
Do you Like GemSelect? Support our FaceBook Page - Click here to connect to FB.
Positive reviews and likes are appreciated! Please let us know about one of your experiences with us :)
Customer FAQs - Ask Us
Back to Top
Every month we answer questions of general interest from our customers. Please feel free to send your questions or suggestions to our support team at help@gemselect.com!
How do you send the goods, and do I get a tracking number?
We offer two shipping options for our customers.

Express Shipping at $29.90

Standard Global Airmail at $8.90.

When we ship your order, we notify you by sending you a shipping confirmation email with a tracking number for your shipment. You can then track your order online until it has been delivered to your address.
Hello. Someone told me that Chrysoprase can fade in color if exposed to strong sunlight or heat. Is this correct?
Chrysoprase color can in some cases fade under prolonged exposure to heat or direct light, but in many cases, the color may be restored after absorption of moisture. Care should always be taken to avoid any excess or direct exposure to harsh conditions, which can damage the color of your gemstones. Chrysoprase can be easily cleaned using warm, soapy water and a soft cloth or brush. Be sure to rinse well to remove any soapy residue.
To ensure you can receive our emails, please be sure to add help@gemselect.com to your list of safe contacts, or add us into your email address book! Please feel free to contact us with any questions, comments, and queries! We respond to every email we receive.
Happy Gemstone Hunting!
Team GemSelect
First Published: July-01-2019
Last Updated: July-02-2019
© 2005-2019 GemSelect.com all rights reserved.
Reproduction (text or graphics) without the express written consent of GemSelect.com (SETT Company Ltd.) is strictly prohibited.